'Awards can inspire, but cannot change an artist's vision of life'
Sand artist Sudarshan Pattnaik, a resident of the seaside town of Puri, and recipient of the Union Government's coveted Padmashree title talks to Kamal Kumar about his enigmatic evolution and growth as an artist. Excerpts:
Greetings Mr Sudarshan Patnaik! Please enlighten us about your childhood and family.
My house is close to the shrine of Lord Jagannath in the pilgrim city of Puri. I spent my childhood in penury. I had to abandon my studies in Class sixth. My poverty-stricken family was dependent on a paltry monthly pension of Rs 200 which my grandmom received. She was a retired Railway employee. I used to work in my neighbourhood, not for salary but to avail myself of two square meals a day.
How did you develop penchant for sand art?
Despite my poverty, I had a passion for painting and drawing right from my childhood. I started playing with sand on the beach and built colossal structures with wet sand to the amazement of tourists who gathered around me in awe. Their appreciation of my art enthused me to shape sand structures artistically.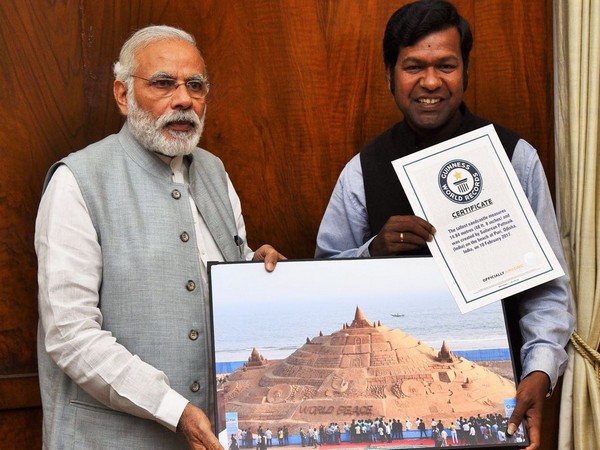 And what about your parents and siblings?
I lost my father in childhood. My mother was a housewife. I have three brothers. My grandmom was serving the Indian Railways. The entire family's burden fell on her income after my father's demise.
When did you start your career as a sand artist?
In 1985-86 when I was about eight-year-old.
How many sand art structures have you built so far? Have you kept a record of those arts?
No, I never maintained any record. And I can't even pick the three best artworks out of my collections. I think each day is a canvas and art for me. No artist can claim the best artwork in a lifetime.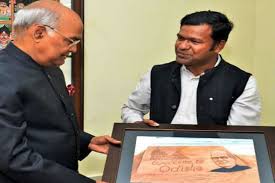 You happen to be five times the winner of the "People's choice award" in Germany. Will you elaborate on the award?
I have been the winner of the "People's Choice Award" in Germany and elsewhere as well. The award is decided on the basis of people's choice. Visitors register their choice of arts on display at the exhibition. I also won the award in Boston last year.
What was the competition's theme?
Plastic pollution. In Berlin. I have won this award eleven times.
Government of India honoured you with the title Padmashree. How did it matter to your artistic life?
It was certainly special. I don't deny the changes this honour has brought in my life. I beIieve awards and honours change people's perception for art, but not the artist. Receipt of the country's fourth highest civilian award has raised my commitment to art.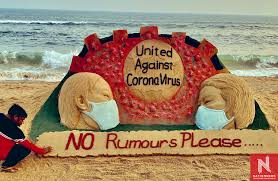 How about the world championship award?
I became a world champion in 2005. Later in 2008. I won the world champion title five times in my life. Nevertheless, Padmashree award recognized sand sculpture as art. There was hardly any room for sand art in the country earlier. Obviously, the title provided me the needed motivation for the cause of art.
You have set up Sudarshan Institute of Sand Art in Puri. What is its vision?
It was set up some 20 years back. If you want to promote art you ought to create more students or artists. Obviously, our school aims at training a great number of artists. We encouraged students to participate in various exhibitions and workshops.
How many students have you trained so far?
I can't exactly give you a statistics right now.
Do you formally enrol students? What is the course duration and at what age do you admit students?
Yes, we do have an admission procedure. It is not a commercial institute. We admit students who are really interested to learn and pursue art.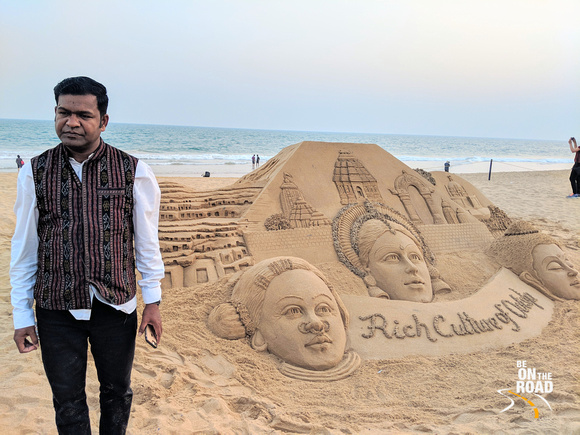 You presented a sand animation show at New Delhi Commonwealth Games in 2010. Can you elaborate?
Much before the Commonwealth Games, I had exhibited sand animation in Ukraine on stage. I was invited by the Government of India to display sand animation. I had to perform my art before the Prime Minister and other towering personalities.
You were the brand ambassador of the "International sand art festival". What was your contribution to the festival?
After winning the world championship title in sand art for the fifth time, I requested the Government to organize International Sand Art Festival in the state so that young artists of Odisha would get exposure and it would create avenues for Odisha tourism on the basis of this art.
Is the festival an annual event at Puri beach?
It is organised every year on the Konark beach.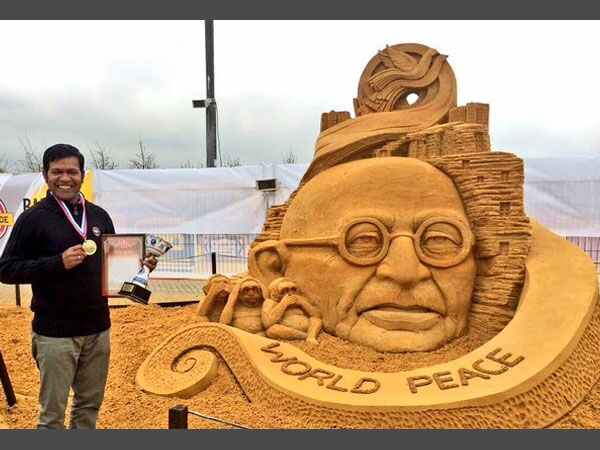 How many artists turn up to participate in the festival?
About 100 artists participate every year.
How does Sudarshan Patnaik want to be remembered?
I don't want to be remembered in any particular way. I am nobody. I am what I am because of the blessings of Lord Jagannath. I was born in a labourer's family. I had no formal education. I am a mere sand artist because the Lord has spread the fathomless canvas of sand on his divine beach at Puri.
English translation from the original interview in Odia is by Mr. Bankim Mund.
(Images from the Net)