Bhubaneswar: The country's leading healthcare provider 'Asha' gives new hope to the general public during every challenge. While there is widespread health in urban areas, this is not the case in rural areas. Hopefuls are the main contributors at a time when pregnant women are struggling in remote areas. During the war, pregnant women from the village were taken to a nearby hospital, where they saved the lives of pregnant women and midwives and played a key role in safeguarding motherhood. Not only this but with the help of this tool you can do better than others.
The World Health Organization (WHO) has expressed satisfaction with the Government of India's work on health and family welfare. He praised the hopefuls for their work. In addition, one million women in India honored Asha volunteers on Sunday by the World Health Organization. During the Karona period, Asha volunteers went from house to house in rural areas to provide health care to the people. Similarly, hopefuls played an important role in the campaign against the coronavirus in the country. Hopefuls have been honored by the World Health Organization for this. Most importantly, when the Karona epidemic in India was at its peak, people were afraid to go to others, and in such a crisis, the hopefuls fearlessly went from house to house providing medical care.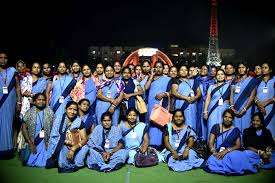 The participation of hopefuls is invaluable
Hopefuls deserve praise. Hopefuls, including doctors, nurses, and paramedics, were deployed as the world progressed through a crisis. Asha workers have been instrumental in inspecting health in rural areas. After being honored by the World Health Organization, Prime Minister Narendra Modi congratulated all the hopefuls. In a tweet, Modi said the role of hopefuls was crucial in building a healthy India. Their contribution is invaluable.
The claim was not met
More than 75,000 hopefuls from Odisha work in the health department under the National Health Mission. "It simply came to our notice then. It is alleged that the ambassador provided the information to Hussein. In 2021, Asha activists, including Anganwadi workers, staged a major agitation in Bhubaneswar to declare themselves state employees. At the time, they were demanding at least $ 21,000 a month. He also demanded allowances and other benefits.