In the beginning the Sambalpuri dramas were lengthy and took hours of time, those were basically traditional. Later on many changes occurred with regard to stage craft. Even a single tree, a small hut, a railway line, a statue, a photo, a banner, a court room, a boat or a ship, place of workship, school, hospital, asylum, single piece of cloth, national flag, sun, moon, horizon, sea shore, river site, ashram, office and many other kinds of concept were seen. Even a small team of theatre organisers today give importance to stage craft as is the trend of different schools of drama now. In the drama of Loo, Padampur headed by famous dramatist Kesharanjan Pradhan, drama of Subas Pradhan of Belpahar, Jharsuguda, dramas of Parameswar Mund, Kalahandi, Pradeep D. Majhi, Bhawanipatna, drama of PradeepBhol, Nabajeeban, Sundargarh, Natya Chetana, Bargarh, drama of Chudamani Rath, Keseipali, Bhatli, Bargarh, Ratatudera, Bargarh, Jana natyamanch, Nandpara, Sambalpur, Adrushya Natya Ashram, Sambalpur, Dharmatma Cultural Association, Sambalpur, drama of Satya Ranjan Behera, Sree cultural association, drama of Pradeep Panda we find different colours and structure in stage crafts. In today's drama stage craft is not an issue. Audience hope for better plot, excellent presentation and Sambalpuri drama has that capacity.
When a person watches a drama of Brajendra Nayak, Ashok Bohidar, Nakula Badi, Dilip Behera he will not feel the importance of gorgeous stage craft due to their heart touching topics. Since the stage design is always appreciable to attract all type of audience, we see that due to the socio-economic factor stage craft is still require in Sambalpuri drama. Since theatre troupes of western Odisha make trips to different places of the country to stage them they come in contact with other national and international teams and get an opportunity to observe various type of updated stage craft and then they experiment with them at the local level in their dramas if required which is positive sign for the development of Sambalpuri drama.
India is a land of ancient civilisation, vibrant culture and multiple religions. It has a glorious past with its own Sanskrit language,evergreen epics like Ramayana, Mahabaharat,Veda,Vedanta,Puranas,Jatakas.Indian lives cannot be complete without the ideology of the great heroes like Rama,Krushna,Radha,Sita,Droupadi,Arjuna,Bhishma,Laxamana,Hanumana and others.Indians dream to make their own lives similar to them. It's needless to say how important the epics are for Indians.So in all languages of India many mythological plays have been written and staged in different places with grand success. In this scenario if we think about Sambalpuri drama/theatre and the number of mythological plays is may be of only one digit. 'Amaba' of Kesharanjan Pradhan,'Mui karna kahuchen'of Satya Ranjan Behera,'Sarmistha' of Prasanta maharana, are some of the few names.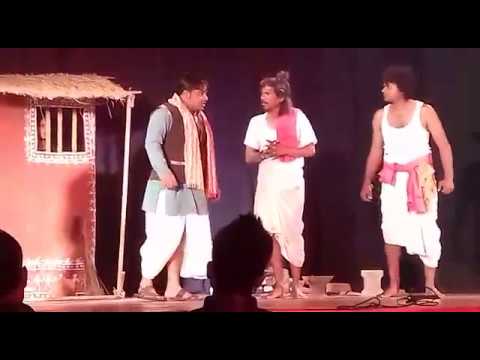 So far as experimental dramas are concerned it is a part of all drama teams.In no team will we find that it is not considered. It is a different matter that only few have been successful in this line in the true sense of view. When we think about experimental play in Sambalpuri theatre the credit may go to Team Srusthi of Dwarika Nayak and allies for drama 'Veer Surendra Sai', Saroj Dash for drama 'Srusthi', Pradeep Bhol  for 'Mau', Satya Ranjan Behera and Brajendra Nayak for 'Mui Karna Kahuchen' and 'Manas'.Dwwrika Nayak for 'Kete dure mo rakash',Nakula Badi for 'Aljhat','Rabiakhia','Maeki','E Phul' Kesharanjan Pradhan for 'Kuili Kuili Kie Raja', 'Asur' and other,Ashok Bohidar for 'Luhur Rang', Ashish Sonar for 'Palta Bagh',Atish Sathpathy for 'Tapaswini' 'Kuhula'of Sumanta Bhoi,' 'Hatir chal' of Shankar Mahanand, Subasas Pradhan for 'Lal Paen' and so on.
It is generally believed that Sambalpuri literature is prosperous for its folk songs.No one can deny the sweetness and graveness of Sambalpuri lyrics. Love and attraction have been the main theme of the lyrics. After folk songs it is drama which has played a vital role in the development and spread of Sambalpuri literature. Sambalpuri theatre not only focuses on present scenario but also maintains value in it. Indian respect the value of its religion,culture. Sambalpuri dramas are sensitive enough in this regard and expose the reality of Indianisation. Though several thought, idea, ism are there in the themes still no dramatist has neglected the humanitarian aspect of real India. On the other hand Lord Jagannath,Goddess Samaleswari,River Mahanadi,local deities,traditions get highest respects in the dramas.We can say that style of early drama has changed today and play writes create character as per the requirement. So in Sambalpuri drama also we can see army personnel, scientists, philosophers, saints, ministers, freedom fighters, gods, goddesses, terrorists and maoists, etc too.
In the present context when the people are well acquainted with multiplexs, laptops, video games, mobiles that are easy modes of entertainments it is a challenge to persuade them into a theater to watch Sambalpuri drama, but it is good sign that in spite of several modern facilities of enjoyment they happily enter the auditorium with ticket to be watch a drama of their own language. It proves that time can be modern; people can be highly educated still they have fondness for indigenous culture and tradition. This also proves that the theatre troupes are producing good dramas. They are seriously visualizing the situations of the world and also understanding the taste of audience.It is indeed very good sign for the betterment of Sambalpuri drama.
(The views expressed are the writer's own)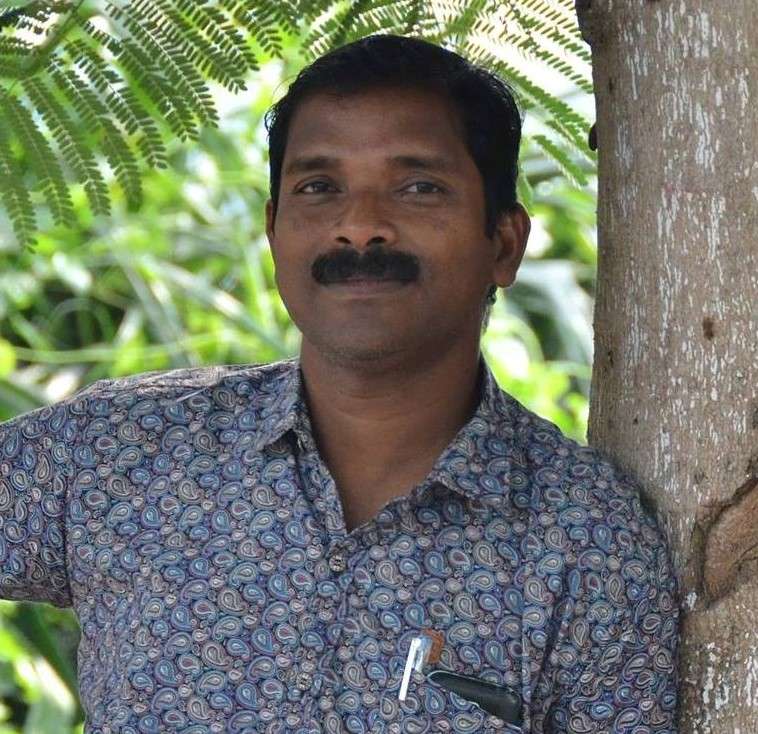 Satya Narayan Thakur is a Lecturer and lover of art, culture, literature, religion philosophy and social activities. He has been working as a Lecturer in History at Mandhata Baba Junior College, Maneswar, Sambalpur, Odisha since the last 24 years. He has good experience in the field of social work. He has completed his M.A. in both History and MSW. He likes to write articles on the topics mentioned above. His articles and features have been published in Odia, Sambalpuri, Hindi and English in state and national level magazines and journals. He is associated with different social and religious organizations and gives time for the development of the society. He is passionate about Yoga and teaches it. As a scholar of Sambalpuri drama many articles and dramas have been written from his pen.