Bhubaneswar : (25/05) Hon'ble Governor of Odisha Prof. Ganeshi Lal released the Odia version of the book "Gita Acharan – a practitioner's perspective" called (Gita Acharan – Eka Sadhakara Dristikonaru) at Abhisek Hall of Raj Bhavan. The book has been written by Punjab Cadre senior IAS officer K. Siva Prasad.
Addressing on the occasion Hon'ble Governor who has authored a book titled "non-attached attachment" based on Karma Yoga of Bhagavad Gita said that Gita helps to take everyone to the state of realisation by removing identify crisis. Among many paths prescribed in the Gita, Hon'ble Governor said he considers Karma Yoga to be the best path to attain it.
Terming Bhagavad Gita as a unique gift of India to the entire world, Governor further said that it lays foundations for the independent living based on contentment and joy from within. These teachings are more relevant today as everyone needs guidance in the fast changing world. He further stressed that the equanimity taught in the Bhagavad Gita should be meticulously adopted by everyone in their life especially when we are celebrating our Azadi Ka Amrit Mahotsav and equality is the foundation of our constitution. He appreciated the efforts made by K. Siva Prasad to make Bhagavad Gita early understanding even to common man.
K. Siva Prasad said that this book is an attempt to elaborate the concepts of Bhagavad Gita in a simple manner in the form of short articles where complex issues were simplified using contemporary scientific understanding. He expressed hope that this will help even a beginner and especially youth to understand Gita and make lives joyful managing the stress and tension of daily life.
Mr. K. Siva Prasad said that the quest for contentment led him to write their book Gita Acharan and he said that the experience he gained with various people of different situations helped him to understand the preaching of the Gita. He studied western thinking processes and behavioral sciences to supplement his daily. He hoped that this translated work on Bhagavad Gita in Odia will help Odia readers across the world for its better understanding.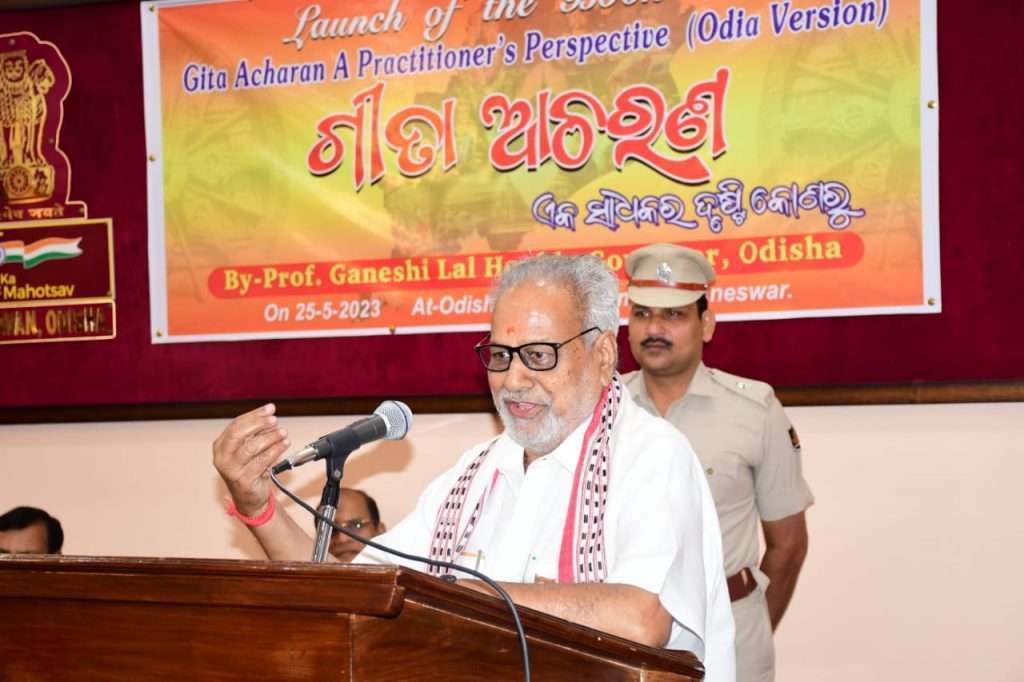 It is to be mentioned that Gita Acharan is already available in English, Hindi, Telugu and efforts are going on for Punjabi and Bengali editions at the earliest.
Principal Sectary to Governor Saswat Mishra, Addl. Chief Secretary Home Department Deoranjan Kumar Singh, State Chief Electoral Officer Nikunja Bihari Dhal, Addl. DG of police and State Crime Research Bureau Director Binaytosh Mishra, Addl. DG of Police (SAP) R.P. Koche, Odia translators Pradip Kumar Puhan, AVS Rao were among the distinguished invitees attended the function.