Ingredients
Mandia(Ragi/ Finger millet) flour- 350gm
Wheat flour-150 gm
Ghee –4 to 5tbs
Oil -for frying
Jaggery-250 gm
Green cardamom powder- 1 tsp
Grated coconut – ½ cup
Fennel seeds-1 tsp
Preparation method
Put a pan on medium flame and boil 2 cups of water in it.
After a boil, add jaggery in the water and stir till it melts.
Once the jaggery is melted, switch off the burner and put down the pan.
Allow the syrup to cool at room temperature.
Take a plate/ bowl, mix wheat flour and mandia(Ragi/ Finger millet) flour & sieve them to remove any husk or other impurities .
Take a small pan and heat ghee till it becomes light hot.
Pour the light hot ghee into the mixed flour along with grated coconut, fennel, and green cardamom powder and mix well.
Add jaggery syrup in mixed flour, knead for a minute and form a hard dough. (Make sure the dough is not too soft. It has to be hard )
When the dough is ready, make small balls with your hands.
Press them flat, you can use a cookie cutter to give them shape. (or you can also decorate a design on them if you wish to make them look attractive).
Put a kadhai on the flame and heat oil in it.
When the oil is hot enough, add thekua (a flattened piece of dough) and deep fry them till golden brown in colour. (You must keep the flame low so that the Thekua is cooked from the inside).
Repeat the procedure and deep fry the remaining thekuas.
Now Thekua is ready, cool them in room temperature and store in an air-tight container, and enjoy.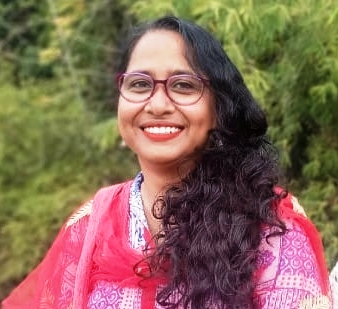 Prepared by: Sabnam Aferin
Cuttack, Odisha
You can reach her at [email protected]