Nayagarh: Postcards, the age-old mail, from a queen penetrating through Pandemic problems and predicaments, and reaching the panic people with a balm of empathy, even in this IT-oriented virtual era, seem more a reality than a mere imagination in the wake of the queen's quintessential approach towards people for combating Corona.
The royal descendant is none other than Pratyusha Rajeshwari Singh, the queen of Nayagarh, and the former M.P of Kandhamal as well. The queen, in a bid to let people feel her potential presence both in their pain and pleasure, has started sending postcard letters to people querying their wellbeing and stating therein her firm commitment to support them for combating the lethal Corona unitedly. "I was, I am and I will be with you irrespective of your good or bedtimes. I pray God for your well being during this Pandemic havoc, Stay home stay safe," quotes the postcard.
The queen's adhering to obsolete means of communication mustered unprecedented momentum as the age-old mail suddenly recreated in them the nostalgic emotions of their bygone days. Receiving a postcard, that too from their queen, and reading the words therein turned out to be an enthusiastically emotional experience resulting in the refreshment of past memories tinged with a mystic pleasure and contentment.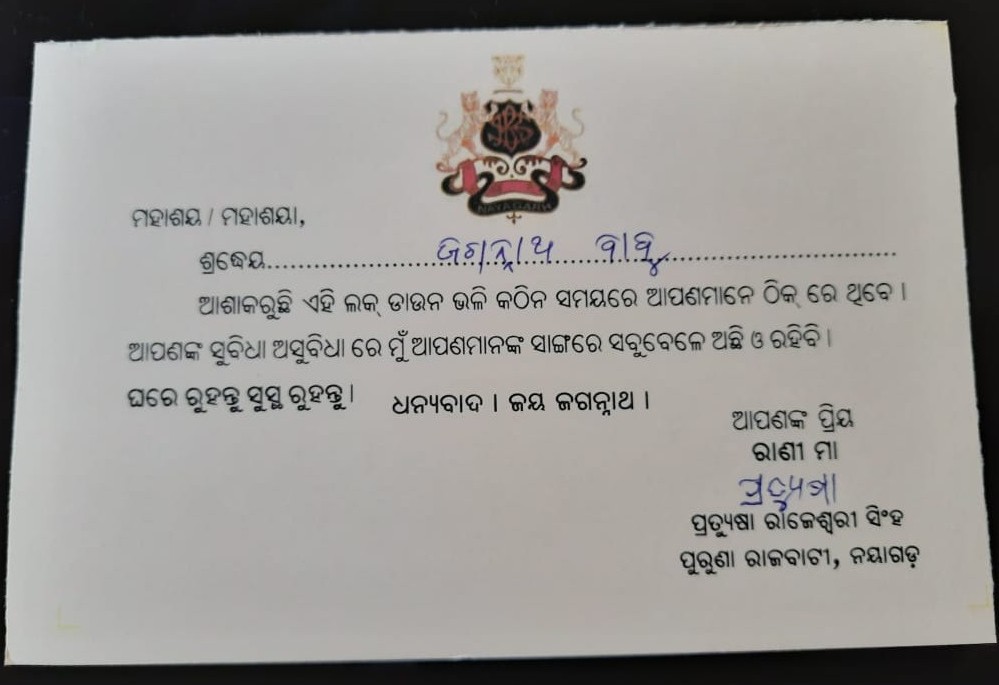 Unlike the Young, who seem to be wizard of the digital world, the old are just the beginner to the system, having no knowledge even how to open an android mobile. That is why the queen, in a bid to boost the morale of the old and to do away with their seclusion ,unlike the young being busy with their android set,has made them her target group.
To one's utter surprise, she has already mailed about 800 postcards so far addressing the people from various sections of the society that include retired teachers, retired company workers, retired army personnel, village heads, farmers etc, and more precisely the valiant corona warriors waging a war against the lethal pandemic at the grassroots in a rustic ambience.
People's instant response on receiving the postcard is overwhelmingly ecstatic. Grabbing the card from the Postman, they cried out delightedly, "oh!, my goodness, a letter from 'Rani maa'!!". And the postcard thus posting the empathy in panic people, even amid pandemic, quintessence the queen.