The Sangeet Natak Akademi, National Academy of Music, Dance and Drama, the apex body of performing arts in the country selected 32 artists of India who have made a mark as young talents in their respective fields of the performing arts for Ustad Bismillah Khan Yuva Puraskar 2018. The Ustad Bismillah Khan Yuva Puraskar is conferred upon artists below the age of 40 years with the objective of identifying and encouraging outstanding young talents in diverse fields of performing arts and giving them national recognition early in their life, so that they may work with greater commitment and dedication in their chosen fields. In the field of Odissi dance, it was given to Madhulita Mohapatra, an Odissi dancer, originally from Bhawanipatna & now based at Bengaluru. The award ceremony was held on August 19, 2019 at Jawaharlal Nehru Manipur Dance Academy Auditorium, Imphal, Manipur, in esteemed presence of Dr. Najma Heptulla, Honourable Governor of Manipur, Shri Shekhar Sen, Chairman of Sangeet Natak Akademi and Smt. Rita Swami Choudhary, Secretary of Sangeet Natak Akademi. Excerpts from the interview:
A little about Madhulita Mohapatra's journey in dance?
I was born in the year 1978 at Mill Colony, Amba Gachha Para in Bhawanipatna. Her father worked in a state government department office in the town. She started her initial schooling at Pradesi Para UP School & studied there from Class I to Class V. As her family shifted to REO Colony in Asha Sagar Para, she joined Tarini ME School and completed her Class VI & VII. She completed her matriculation at Town High School in 1993. She joined Government School in Bhawanipatna and completed her senior secondary in 1995 & graduation in 1998. After completing her graduation, she moved to Bhubaneswar for further studies.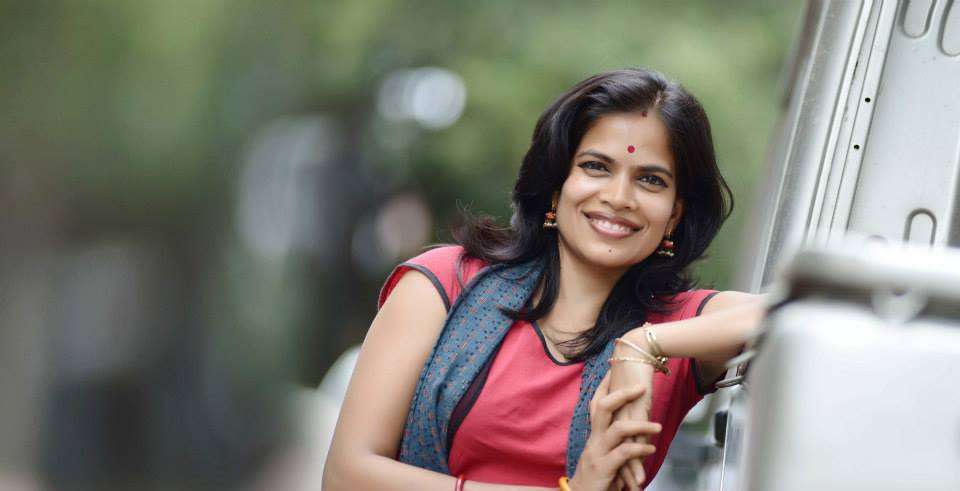 Since childhood, Madhulita was mad about dance. It was Guru Shri Bhimsen Sahoo who initiated her into Sambalpuri folk dance when she was a child. She has leant under him and has extensively performed with the Sambalpuri troupe of Manoranjan Club. She has performed Sambalpuri folk at many notable festivals, like Puri Beach Festival, National Integration camps in Karnatka & Pondicherry, Youth Festival, the 50th year of Independence celebrations and many other esteemed events across the country. While she was learning & performing Sambalpuri folk dance under Guru Shri Bhimsen Sahoo, she also assisted him at his institute.
However, it was always her dream to learn & perform Odissi dance. Bhawanipatna did not have much scope when she was a child. Luckily, an Odissi institution opened, although very late, she was 19 years old then, when her first Odissi guru, Shri Krushnachandra Sahoo moved to Bhawanipatna from Bhubaneswar and started his Odissi dance institution, Kalahandi Kala Kendra. Madhulita started learning under him. For her, learning Odissi dance, was a dream come true. She continued learning under him for 3 years. She has performed at Doordarshan & All India Radio programmes, Kalahandi Utsav, Cuttack Bali Jatra, Jharsuguda Festival, etc. She also participated in Dream Fest. After completing her graduation, she moved to Bhubaneswar for further studies. There she joined Odisha Dance Academy and starting learning there under the guidance of Padma Shri Guru Gangadhar Pradhan, Padma Shri Guru Aruna Mohanty & Guru Pabitra Kumar Pradhan. She continued her training at Odisha Dance Academy at Bhubaneswar for almost 10 year before moving to Bengaluru.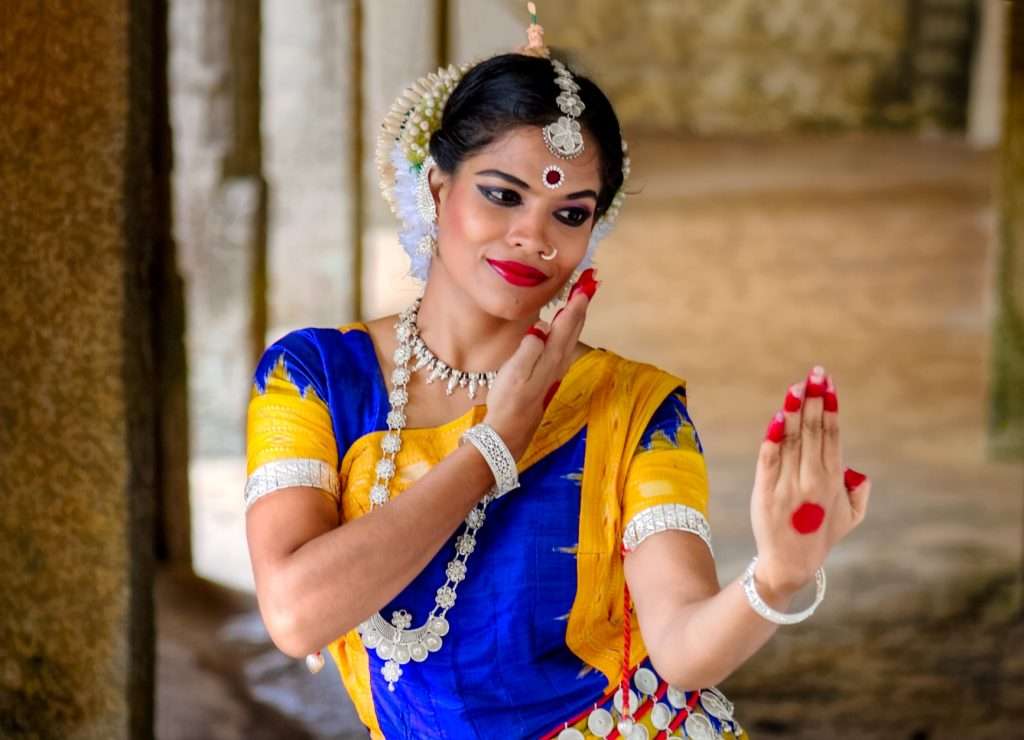 It was just over 10 years ago when she moved to Bengaluru and started her Odissi dance institution, Nrityantar, to promote & popularize Odissi dance in that part of the country. It her sheer passion & dedication towards her dance, that Madhulita is now counted among the leading Odissi dancers of the present younger generation & has carved a niche as one of the leading Odissi exponents in south India. She is admired & applauded by the connoisseurs & critics alike, for her profound artistry and her innate abhinaya quality. She is an 'A' grade artiste of Doordarshan & an empanelled artiste of Indian Council for Cultural Relations (ICCR), she is the recipient of the prestigious IIDF 2017, BCKA Yuva Kala Pratibha, Arathi Kala Ratna in Phoenix, Arizona, USA, the GTF Women's Excellence & the Aarya Award 2019 (for Women Achievers). She was recently awarded with the prestigious Ustad Bismillah Khan Yuva Puraskar in the field of Odissi of by the Central Sangeet Natak Akademi, New Delhi. Madhulita Mohapatra has performed at several prestigious events across the country & abroad.
Madhulita feels that Indian classical arts are so vast & deep, there is there is so much to learn always. She is thankful to God that she has a kind & motivating guru like, Smt. Aruna Mohanty who continues to teach & guide Madhulita.
Empanelments & recognitions
An 'A' grade artiste of Doordarshan (DD-National), Delhi
Empanelled artiste of Indian Council for Cultural Relations (ICCR), Delhi
Empanelled artiste of SPIC MACAY (The Society for the Promotion of Indian Classical Music & Culture Amongst Youth)
Awards / honours
Ustad Bismillah Khan Yuva Puraskar in the field of Odissi dance
Aarya Award (for Women Achievers) 2019
GTF Women's Excellence Award 2018
Arathi Kala Ratna in Phoenix, Arizona, USA in 2018
Guru Surendra Nath Jena award 2018
India International Dance Festival (IIDF) Award for Odissi dance in 2017
BCKA Yuva Kala Pratibha award in 2014
Choreographic works
Satyam Prema Amaran – a dance ballet on the tragic story of Mirza & Sahiba
Malhar Pallavi
Legend of Dharmpada
Janasammohini Pallavi
Hari Smarane Mado (Kannada devaranama)
Ishwari (an ode to Devi)
Savitri & Satyavan
Malkauns Pallavi
Sajani (Odia abhinaya)
Aja Juba Raja (Odia abhinaya)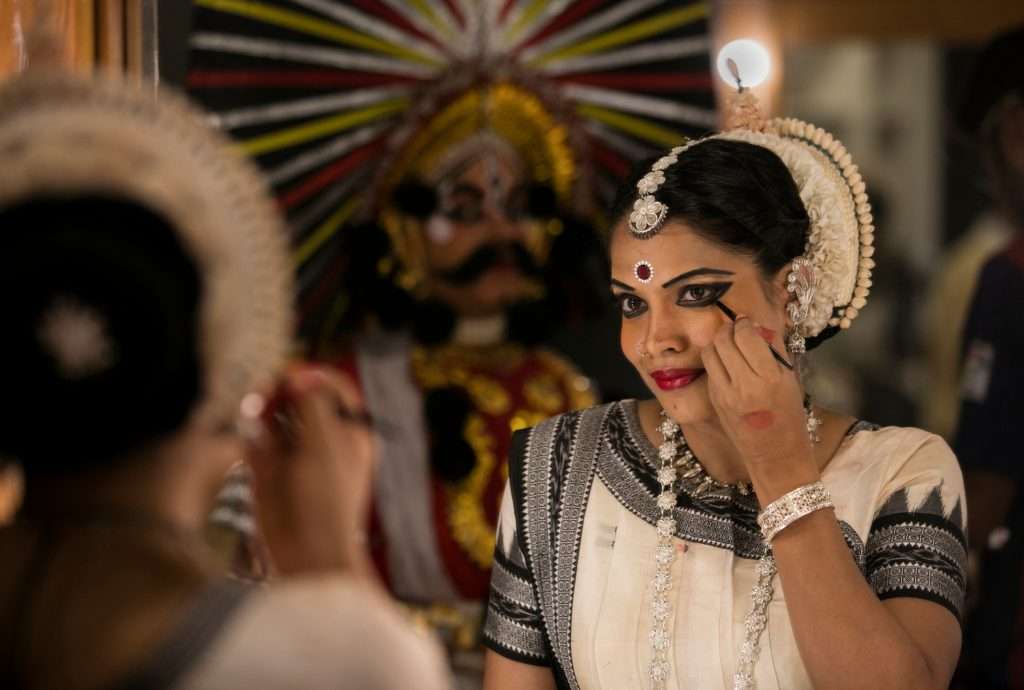 An obstacle, difficult situation or experience that you encountered?
My place Bhawanipatna didn't have any scope of Odissi dance when I was a child, as there was no Odissi dance school then. I always dreamt of learning & dancing Odissi. I started learning Sambalpuri folk dance. Luckily, an Odissi institution opened in town, although very late, when my first Odissi guru, Shri Krushna Chandra Sahoo opened his Odissi school. I started learning under him. For me, learning Odissi dance, was a dream come true. Right from start, my parents were not very supportive of my pursuing dance as they preferred academics. There is general perception that dance acts as a deterrent to studies and is not a viable career option too. The absence of my family's moral & emotional support to my dance, was a little discouraging for me. At times when the hindrance was forceful, I used to hide & secretly go to dance classes, sneaking out the house, jumping compound wall, making stories, etc. Somehow I tried to keep the balance, did well in studies too and completed my Masters in Commerce and Business Administration. I joined a job and worked on audits and accounts for 3 years. These 3 years were challenging for me as I found it difficult to manage my dance with my job. I left the job to concentrate fully on my dance, to be able to practice more and perform to connoisseurs' delight and satisfaction.
Your learnings from this experience?
There will always be challenges in life, no matter what, we all face them. Challenges are blessings in disguise. They are the gifts that allow us a chance to enhance our lives. They illuminate our paths in our pursuit of enlightenment. As we encounter them, we learn to address them, in wisely & timely manner. We learn more from our adversities & our mistakes. They transform us for good. Personally, there was so much for me to learn from these experiences …. faith, gratitude, compassion, patience, positivity, humility ….. I thank Lord Jagannath for showering His kindest blessings on me.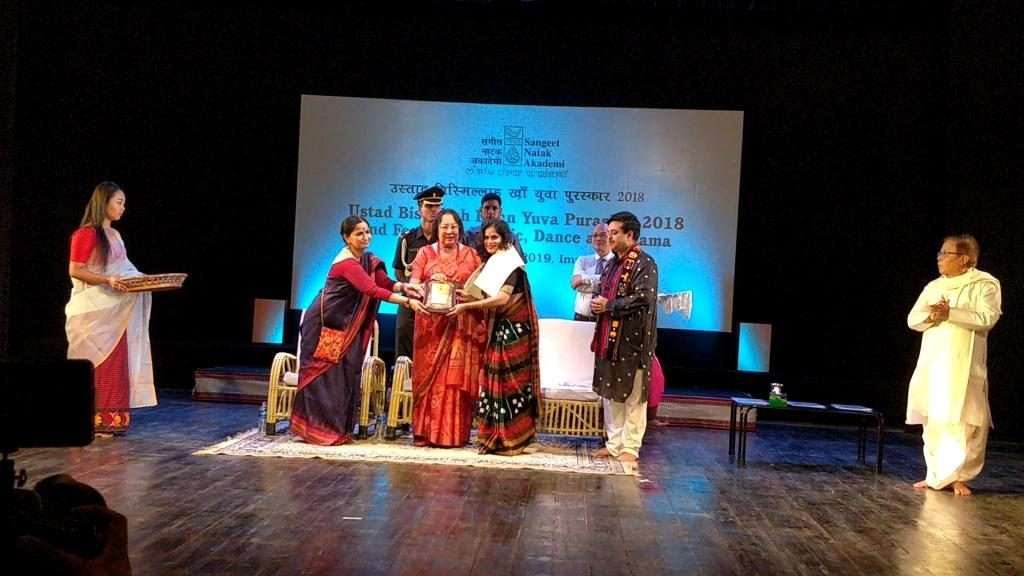 At a very young age, your art achievements are noteworthy, you're performing everywhere, acknowledged & admired globally …. how do you see this?
I've never thought of any success or achievement to what I call my passion & my life. I thank Lord Jagannath & pray to Him that he gives me health & energy to keep me dancing forever, improve and get better. The field is so big and the art is so deep, that there is so much to learn always. I thank the Lord for having chosen me to dance and to serve it. My shifting to Bengaluru has helped me to concentrate more on my dance. Bengaluru's dance community has been very kind, encouraging and supportive to me. I thank my gurus, Guru Gangadhar Pradhan, Guru Aruna Mohanty and Guru Pabitra Kumar Pradhan for teaching and guiding me.
Dance for an artiste is worship of the divine. When dancing, the joy & bliss one gets, as if she is one with the art and one with the divine. Dance, emotionally elevates us from mundane worries of the world. This is a great source of spiritual inspiration that motivates us to face the problems of the world. As we pursue our passion with sincerity & hardwork, we overcome all hurdles on our way and with the grace of God, we achieve what we aspire.
Art is a continuous journey for me and I pray Lord Jagannath for giving me energy and strength to continue to serve Odissi till I breathe my last. Hope Odissi reaches every home in Karnataka.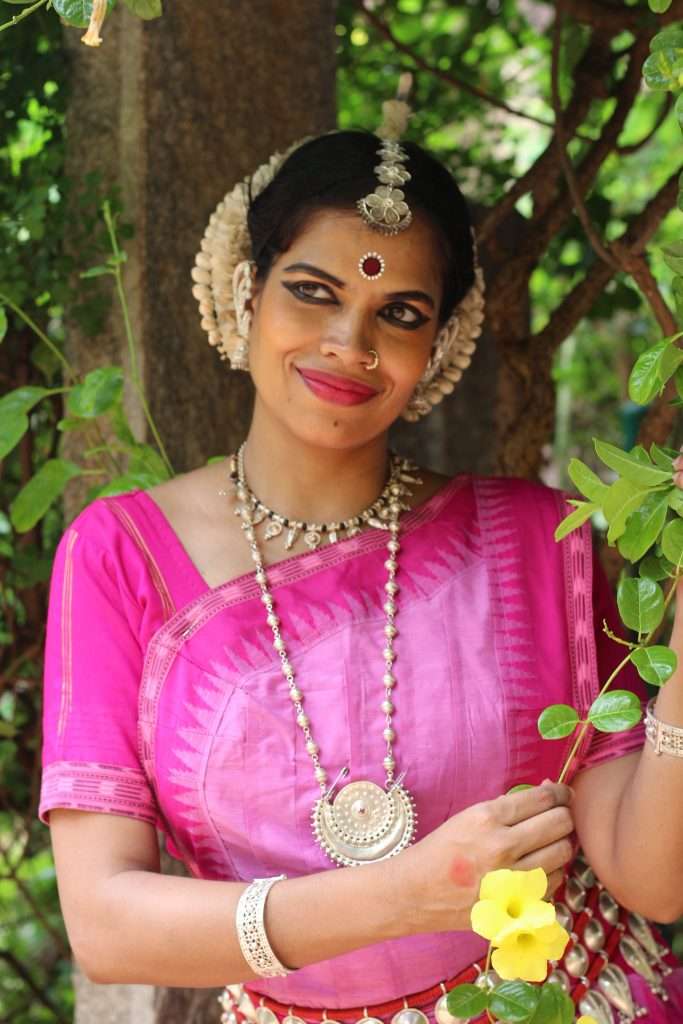 How will you describe the impact of your art endeavours and the growth of Odissi dance in Bengaluru?
As we know that Odissi is a dance form, very beautiful, sculpturesque and divine, originated in Odisha, as a form of worship by the Devdasis (known as Maharis) at the Lord Jagannath temple at Puri. Now the same dance form has evolved and grown so much internationally. In Bengaluru, Odissi came with Nrityagram more than two decades ago, when the famed dance village, Nrityagram was established in the outskirts of the city at Hasserghatta by renowned Odissi exponent, late Protima Bedi. Ten years back, when I started teaching at many government schools, the children were not familiar with Odissi dance. The only classical dance style, they're aware of, was Bharatanatyam. Now they proudly say, they are learning Odissi. We have more than 300 regular Odissi students learning the dance form at the six branches of Nrityantar in the city. Our outreach programmes have reached many more, over 1000 children learning Odissi dance in dance classes in schools. With more practitioners, learners, aspirants & Odissi enthusiasts in the city, I see, interest of people in learning Odissi dance is increasing.
Which has been your favourite place for Odissi performance and why?
Without a doubt, Odisha is my favourite and will always be. It is the land of Odissi dance and excitement & feeling to perform there, is always special.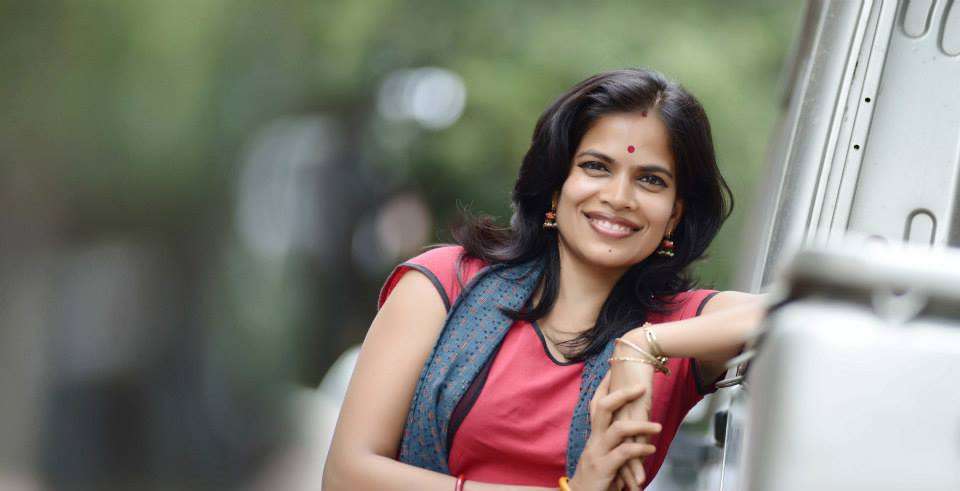 How often do you travel to Odisha? How different is it performing here?
I frequently travel to Odisha for performances. It is the land of Odissi dance, the excitement & feeling to perform in Odisha is always so divine. To perform before senior gurus & dancers, is a biggest blessing.
Which performance has remained closest to your heart and why?
There are many performances which are very dear to me. A couple of years back on the occasion of Karnataka Rajyotsava, in the cultural programme to commemorate the state foundation day, I premiered my choreographic presentation based on a Kannada devarnama in Odissi style. It was so heartening to see the response & applause on the special day. On another occasion, I remember I performed on an ashtapadi, Harirabhisarati from Jayadev's Geeta Govinda, a lady from the audience came to me after my performance, and said, she could see & experience Lord Krishna through the performance.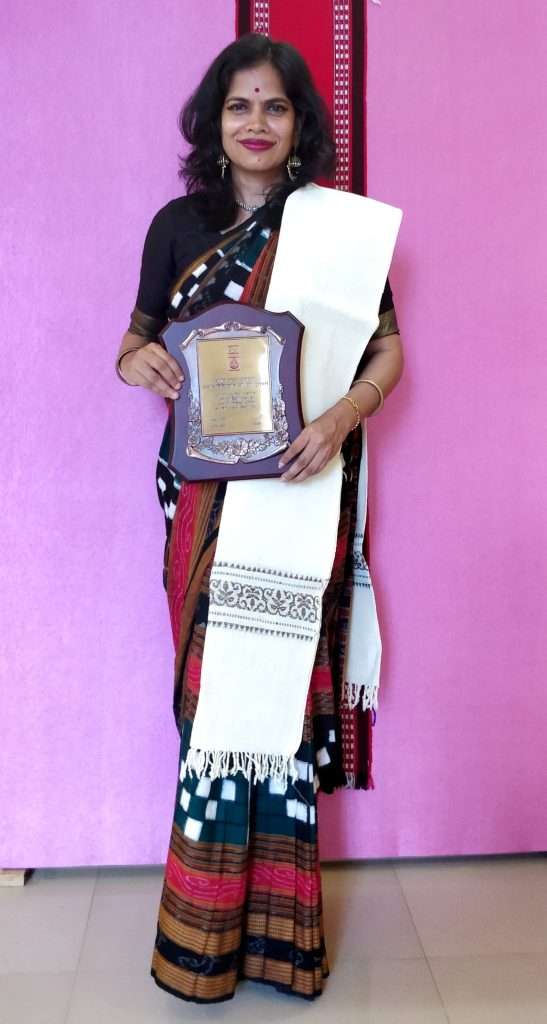 A memorable moment …
It was the inaugural year of our annual Odissi dance festival, NAMAN in 2010 when my guru, Padmashri Guru Gangadhar Pradhan came & stayed at my place. Those were the most memorable & happiest days of my life.
Any advice and suggestions to other artists …
As Albert Einstein said, "Dancers are the athletes of God". I'll suggest, these athletes of the highest calibre should take care of their health and wellbeing first, and keep always fit to be able to pursue dance. I'm too inexperienced myself to give any advice to upcoming artistes, but I can certainly say that the artistic journey is a long and arduous one and there are no shortcuts or quick fixes in it. However, with commitment, hard work and humility, one can overcome all the hurdles and can accomplish what one aspires.