Bhubaneswar, 20/05/2023: Towards the last phase of his 3-day long tour to several parts of Western Odisha, the Principal Advisor to Hon'ble CM and Chairman of WODC, Shri Asit Tripathy reviewed various developmental works implemented with WODC grants. At the outset of his visit, he inaugurated the Mango Sale Point of WSHGs & Farmers of Bargarh at the heart of the town, organized by Mission Shakti and ORMAS named 'Gaon Amba Pasara'. He lauded the efforts of Mission Shakti for accelerating the pace of women's empowerment through income generation activities. Sri Tripathy laid the foundation stone of Mini Stadium at Jamurda High School Play Field with a project cost of Rs.50 lakh out of WODC Fund. Five Acres of land has been alienated for this purpose. Collector was advised to explore some more land adjoining to the play field for different sports related infrastructures to make it a model stadium in the district in line with the Kalinga Stadium. He supervised the ongoing construction work of Kalyan Mandap adjoining to Panra Pat Mandir, Barhaguda of Bargarh GP.
Completion of this project is being done dovetailing funds from WODC. Sri Tripathy interacted with the villagers and committee and advised them for its proper maintenance and sustainability. He supervised the ongoing construction work of 500 seated Auditorium out of WODC Fund amounting to Rs.9. 17 Crore. Completion of this project is expected by December 2023. Interacting with the Executing Agency, Sri Tripathy desired to make advance planning of procurement of materials like tiles, AC & fire safety equipment, etc. to get it completed within the time line. reviewed the District Officials in Bargarh DRDA Conference Hall, especially on promotion of entrepreneurship in Agriculture, Horticulture, Fisheries, Animal Resources and Skill Development sectors. Sri Tripathy focused on active involvement of Mission Shakti and ORMAS for diversification of crops from the traditional income generation practices.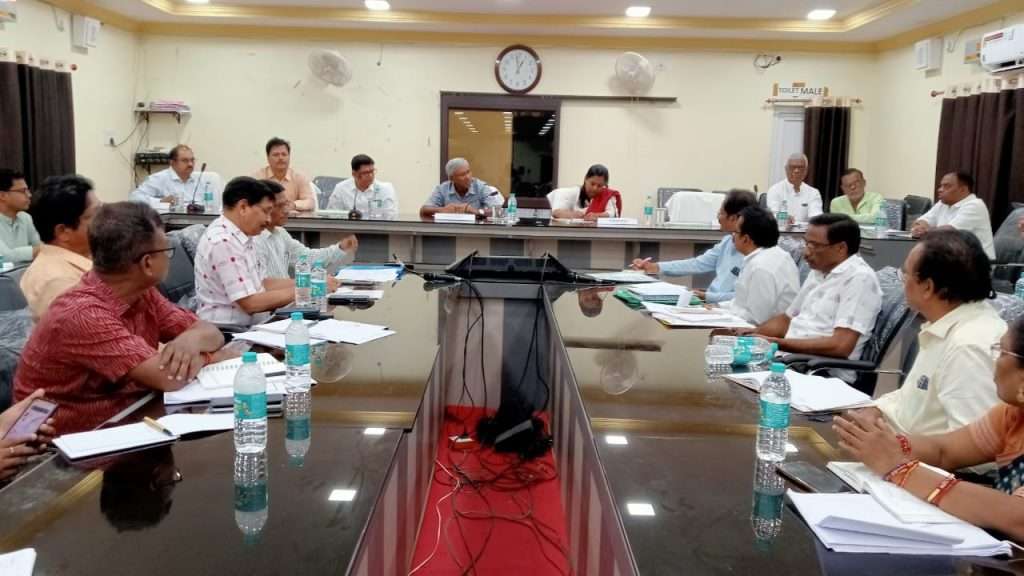 Sri Tripathy advised that Private Sector needs to tie up for promoting the produce of Horticulture Sector of the District with market linkage for better results. FPO formation need to be further improved. He advised the district officials of Agriculture, Horticulture, Animal Resources Development and Fishery to work in a coordinated effort instead of working in a silo mode. They must instill new process of thinking in the district for skill development as per changing market demand. All of them must plan as per SDG. Shri Tripathy advised the line department officials to work in a convergence mode as per 5T mandates for achieving economic transformation taking into consideration of the available resources. He impressed upon the District Administration to involve the people's representatives & FPOs for identification of the potential entrepreneurs in the district. During this visit Sri Debesh Acharya, Hon'ble MLA, Bargarh, Ms Monisha Banerjee, Collector, Bargarh; Sri Narayan Sahu, Advisor; Sri Gati Krushna Mishra, Expert Member; Dr Ajit Kumar Mishra, CEO WODC and Shri Sunil Kumar Nayak, Technical Consultant, WODC and many senior officials were present.