The biggest fallout of the Corona pandemic has been the migrant workers crisis. But there are lessons that the migrant workers have taught us.
As soon as lockdown was declared on 25 March, the migrant workers crisis too started. One might wonder as to why they opted to walk back to their home states in the first place which was thousands of kilometres away.Well, there are many reasons, here are some-because the small units and construction sites that they were working for shut down due to lockdown , some got their salary some didn't, because their landlords asked them to vacate because due to job loss they were not in a position to pay the rent, because they think they will be safe in their homes like us, because like most of us they also want to be with their families and die in their homes (if the Corona is to kill them). Not because they got a chance to take leave or want to party or picnic like it's made out to be.
In all of this they have given us many life lessons. Here are a few: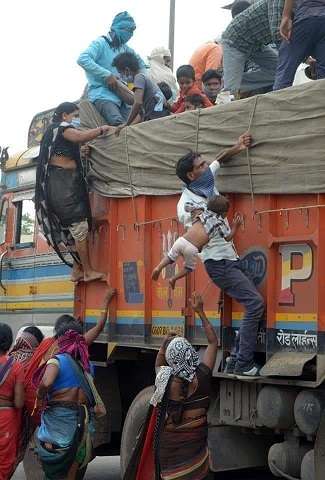 Home is where the heart is
No matter where you are home is home, no matter how big or small. These migrant workers have taught us that home is our final destination our final resting place.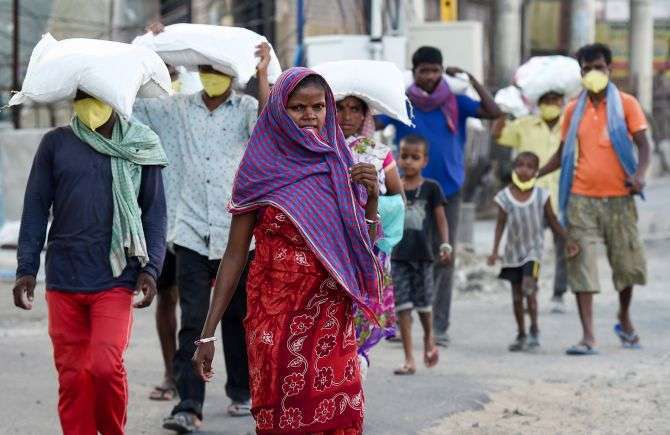 The strength of a mother can never be questioned
There was a heart-wrenching report on Mother's Day ie May 10. Which told the story of Shakuntala. When she started walking back home from Nasik in Maharashtra she was nine months pregnant. After walking for 70 kms she had delivery pain and finally she gave birth to her baby on the roadside. And what was surprising was that after resting for an hour or so she picked up her baby and started walking again.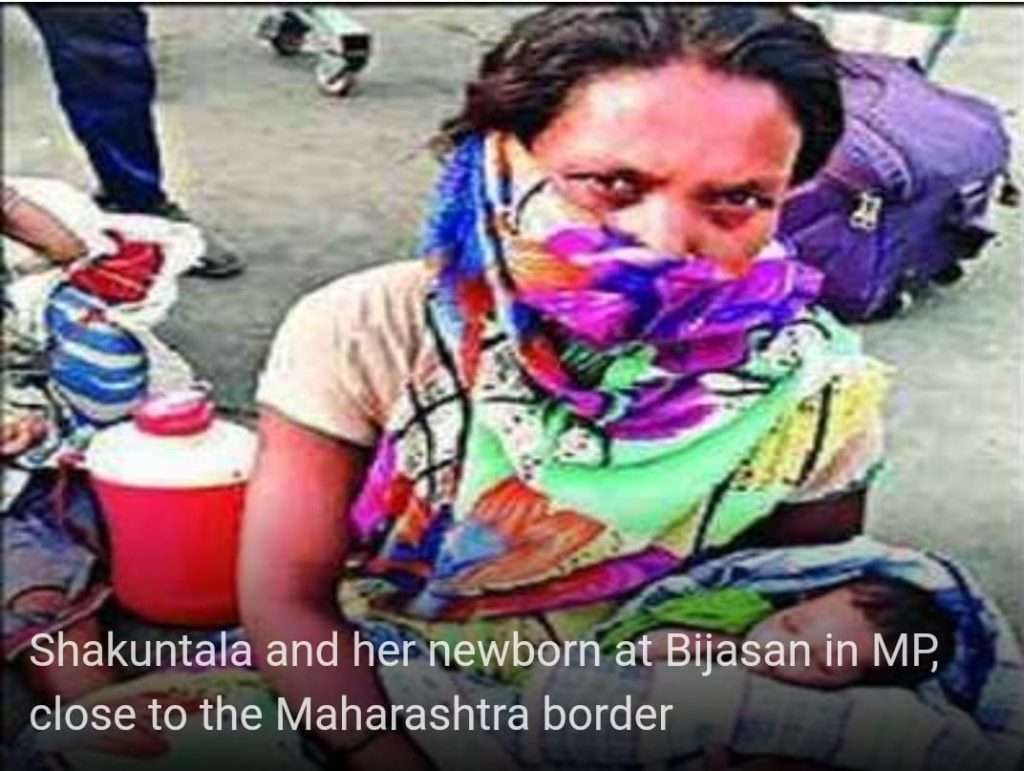 They have larger hearts than us
This picture of a family of a migrant worker was viral on social media. They were walking on the Mumbai Nasik Highway along with their belongings. The woman was carrying their pets-a puppy and a duck along with them, which was heart warming. On the other hand we have reports of rich people abandoning their pets due to fear of transmission of Corona virus from animals, even though there have been no reports of the virus transmission from pet animals.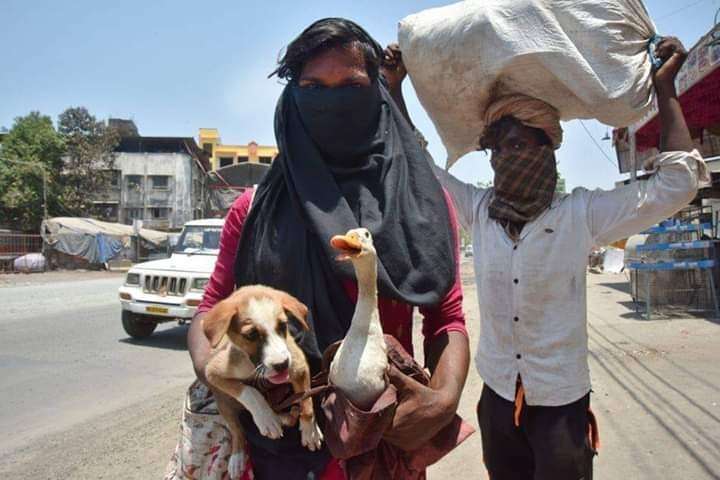 A worker's feet never stop
Saw these painful pictures of workers without footwear? Yet they walk, their destination their only goal. Some made their own footwear with plastic bottles. The physical pain did not deter them.These pictures have touched a chord with all netizens.
For them their elderly are their responsibility
Unlike most educated, earning, well-to-do families in the cities, the poor will never leave their elderly behind no matter if they have to carry them on their shoulders.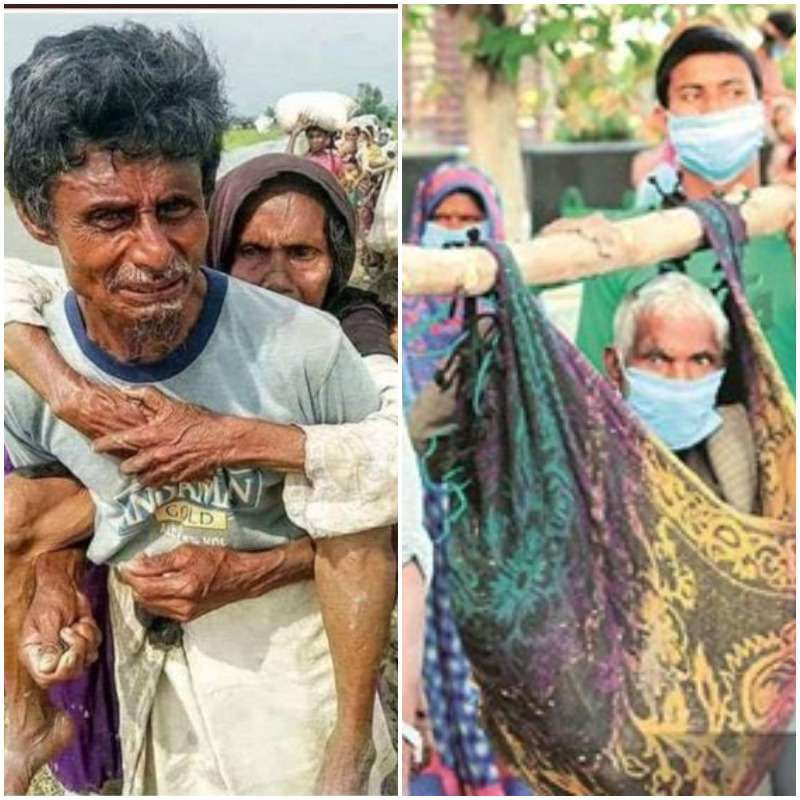 In support of the migrant warriors we say, as far as these workers are concerned now they are needed, now they are not by everyone. We ask shouldn't the states they belong to take care of them, build job opportunities, so that they are not forced to migrate to other states and be stripped of their dignity like this. The state or region they seek employment in doesn't consider them as their own that's obvious.
In the end all we say is that these visuals will haunt us for long but they have also left us a message that there is still hope. They have taught us 'hope'.
(The views expressed are the writer's own.)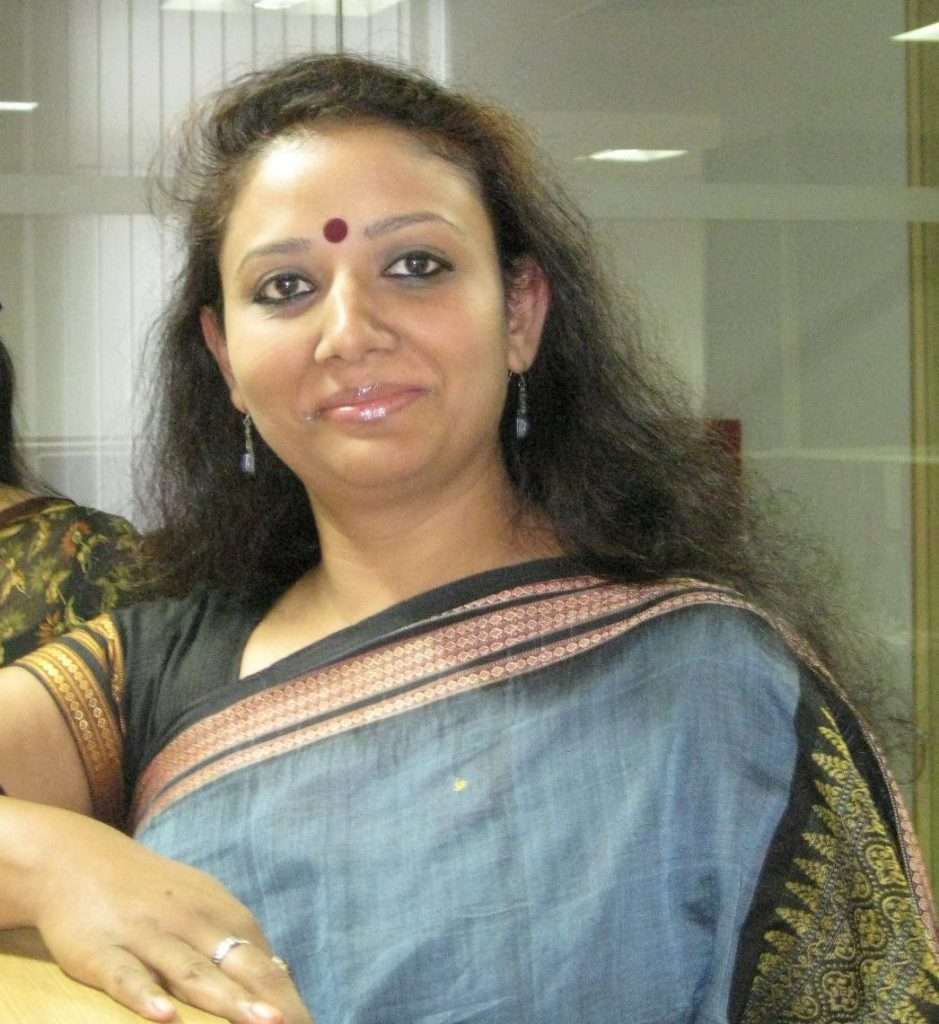 Smita Singh is a freelance writer who has over 17 years of experience in the field of print media, publishing, and education. Having worked with newspapers like The Times of India (as freelancer), National Mail, DainikBhaskar and DB Post, she has also worked with Rupa& Co, a book publishing house and edited over 30 books in all genres.
She has worked with magazines like Discover India and websites called HolidayIQ and Hikezee (now Go Road Trip). She has also written for Swagat (former in-flight magazine of Air India), Gatirang (magazine of MarutiUdyog), India Perspectives (magazine for Ministry of External Affairs) and Haute Wheels (magazine of Honda).
After turning freelance writer she wrote on art and architecture for India Art n Design. She also worked for Princeton Review as a full-time Admissions Editor and then IDP Education Private Limited as an Application Support Consultant. Smita has her own website called bookaholicanonymous.com which supports her love for books and reading!
You can reach her at: [email protected]