Phanindra Pradhan
Sambalpur, Jan 01: While many people have confined themselves in their houses fearing Covid-19, 36-year-old ASHA worker Rabiya Khatun has been serving people selflessly in the Sunapali area under ward no. 33 in Sambalpur city despite many challenges.
Rabiya was performing her routine jobs seriously before the Covid-19 outbreak. However, she has her hands full. Her job has expanded now from watching out for symptoms of Covid-19 to counselling people.
She leaves her house at Rahematnagar in Sunapali by 8 am everyday and goes house to house, checks on the people of her area. She focused especially on the aged persons, pregnant women and children. She also keeps touch with the people suffering from Non Communicable Diseases (NCD) like diabetes, blood pressure and cancer as they are more vulnerable to the deadly Covid-19 disease. On an average day, she visits 20 to 25 homes.
Rabiya, who is a matriculate, said her Covid duty started in the month of March in 2020. Initially, she was identifying those who were coming to her area from outside. After identifying them, she was putting them in home quarantine with the help of the staffs of Samablpur Municipal Corporation and Health department. As many as 205 people were under home quarantine in her area. She was forced to send 80 people of her area to quarantine centre as they had no requisite facility for home quarantine in their houses, she said.
She said it is really a tough job to keep tab on the people, who were under home quarantine, and to ensure that they were following the Covid-19 guidelines during the quarantine period. She was visiting the houses of the home quarantined people twice daily. If she failed to reach them due to some other works, she never forgot to call them up on their mobile phones and ask them about their health conditions. Even she had ensured Covid test for the suspected home quarantined people, she said.
"I faced many challenges while taking the suspected people for the Covid test. Despite stiff opposition and verbal abuses from the family members of the suspected people, I ensured Covid test for them," she said.
Remembering an incident, where she had to face stiff opposition from a family comprising a couple and their two children, who were under home quarantine after returning from Rourkela, Rabiya said they were reluctant for the Covid test and threatened that they would not go for the Covid test under any circumstances.
However, she was determined that she would take the family for test at any cost. After toiling hard amid verbal abuses, the family was taken for the Covid test and one among them was tested positive for Covid-19. It was the first Covid case of her area.
Altogether, Rabiya covers 440 households with a population of 1,661. The major challenge for Rabiya is that majority of the people of the area are illiterate. Apart from the people belonging to the minority community, many dalit and tribal families also reside in the area.
"Despite all the challenges, her only motive is to check spread of the deadly Covid-19 in her area," she said.
Apart from conducting door-to-door NCD survey to identify persons with diabetes, high blood pressure and cancer in the month of June and September/October last year, she also participated in the month-long active surveillance, moving from door-to-door in her area to detect persons with Covid symptoms.
"Some of the families in my area are not cooperative at all. They treat me like their enemy. Some persons of my area are still calling me up and threatening me of dire consequences. Even some persons do not hesitate to pass comments and call me 'Corona didi'," she said.
Despite her active role during the Covid crisis, she has never neglected her regular jobs like carrying expecting mothers to hospital, immunisation of children and pregnant women besides other routine works. She had taken as many as 22 pregnant women to hospital for institutional delivery between April and September last year.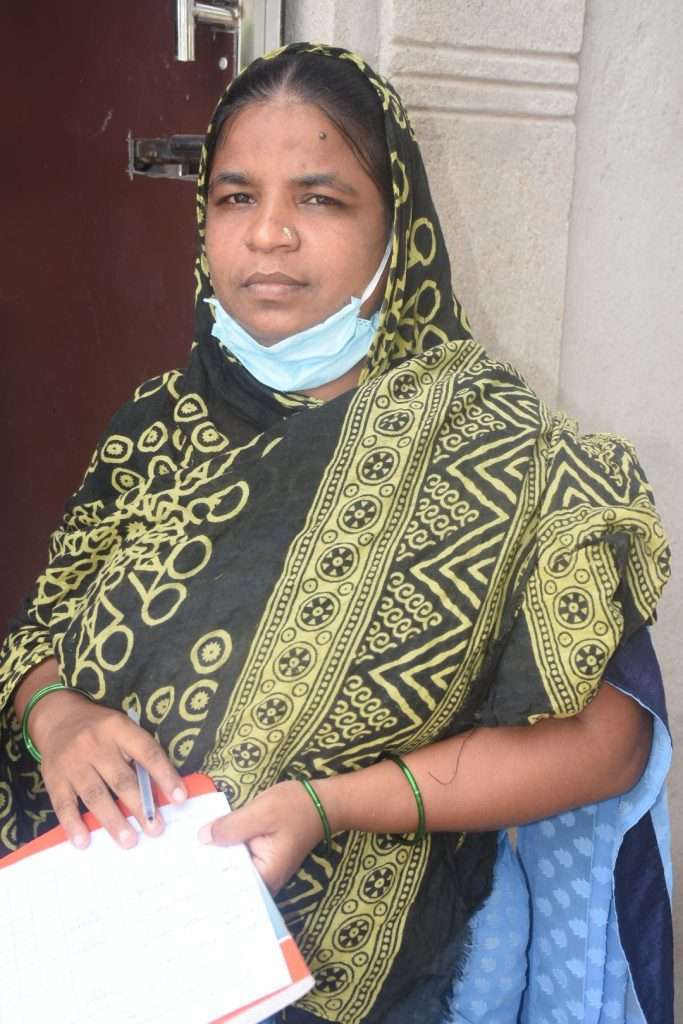 Apart from her routine work, she had even provided PDS to some of the families in her area while they were observing home quarantine.
When asked about the support of her family in such a period of crisis, Rabiya said initially, her husband, who is a tailor by profession, was not happy with her work fearing Coronavirus. Even, he was forcing her to leave the job. However, the discouraging words of her husband failed to deter her from performing the duty as usual. On seeing her dedication for the job, her husband gradually started supporting her whole-heartedly and he is one of her admirers now.
The good work of Rabiya can be well gauged from the fact that she was one of the Covid warriors whose framed posters were hung on the main roads of Sambalpur city by the Thakurpada Sital Sasthi Yatra Committee during last year Sital Sasthi festival as a tribute to her for her commendable job during such a period of crisis.