Dalma (or daalmaa, the spelling that reflects the way it is pronounced by the Odias), a typically Odisha dish, is essentially yellow dal – muga (moong), if cooked at home in the coastal part of the State or harada (arhar), almost everywhere else – cooked with plenty of vegetables, preferably of the local variety: brinjal, radish, pumpkin, raw banana, gourd, saru (arbi), potato (not the root variety), certain types of beans, raw jack fruit, jack fruit seed, drum stick, among others, and then tomato and potato, which committed conservatives still shun since they regard these as non- local vegetables. One could choose at least two or three from these vegetables and the now-inevitable tomato.
The connoisseur says that tomato brings out the natural taste of the vegetable or vegetables with which it is cooked. But the conservatives think that because of the degenerate city dwellers' sick fascination for the foreign stuff, the tomato has come to acquire a celebrity status of sorts and become a necessary ingredient for any vegetable dish and even daali (dal).
Those who love to generalize at the drop of a hat would argue that Dalma is merely the local version of sambar but it is really not; with a lot of vegetables, it is thick, and it's not sour at all, and to make it tastier, there is the stuff that can be added to it liberally, like delicately cut pieces of coconut, jeera powder and Kali Mirch (black pepper) – seed or powder, and some other spices as well, which is not the case with sambar.
An incorrigible non-vegetarian would put some deep-fried small fish in Dalma for taste or aroma. Can you think of sambar with a sprinkling of cute, little prawns in it?
In certain ways, it's quite a useful dish, although some would prefer to view it as a deprivation dish: if there aren't enough vegetables or enough dal to cook separate dishes, dalma is the solution. This apart, one cannot make just dal for a meal; there has to be one vegetable dish to go with it and preparing a vegetable dish needs attention and takes time. So, if one is in a hurry, then dalma is the best option.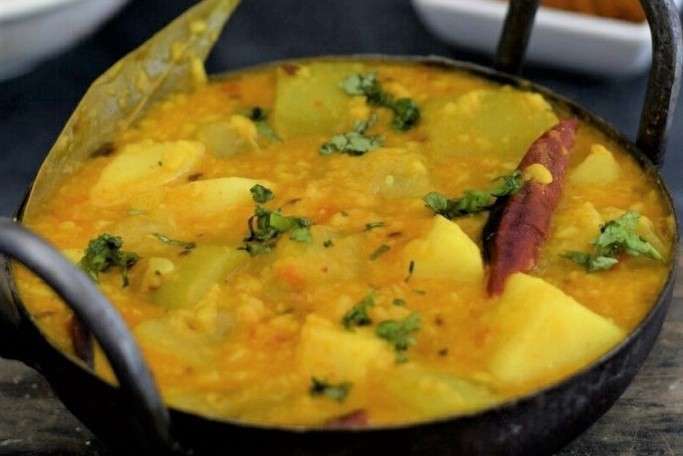 For the same reason, it can be a distress dish as well – when on a rainy night, guests arrive all of a sudden and there is neither enough vegetables at home nor enough time for the hostess to cook separate dishes of dal and vegetable for the guests, Dalma is not just the best option, it is the only option. It's thus a problem- solver, which accounts for its increasing popularity among the urban lower and middle classes.
However, despite all its plus points, this useful dish still lacks dignity; at a feast, be it traditional or modern, what is served is dal, not Dalma, and one doesn't find many mentions of it in Odia literature.
Dalma, until recently, was a basically Puri dish. In this holy city some pronounce it "dalna", with some fondness, as though it is its pet name; some others, "dalema", probably to feel the word a little longer in the mouth. For the locals of this temple town, it's a dinner dish rather than a lunch dish. They say that that on account of the humid climate, it is healthier to eat roti and dalma for dinner than rice, daal and vegetable fry or curry – in any case and anywhere roti and dalma is a better combination than rice and dalma.
There are eateries in the town, which specialize in Dalma making, and these have a roaring business selling roti and Dalma from late evening to midnight. The Dalma-makers of Puri has experimented on various lentil and vegetable combinations to make it worthy of the tourists' palate. Locals prefer to eat Dalma with sweet and salted pithas (Indian fried or steamed vegetarian pancakes) and with puri and even with crushed and sweetened flattened rice, called chudaghasa.
A few, who have an unobliging stomach, are obliged to have Dalma with roti made of boiled atta (wheat flour), called Khali roti. But this sick food, Khali roti, and Dalma, has a special status in a certain context and there, it is not a sick food but a satwik (pure, in the religious sense) food; it is offered to Lord Hanuman in the famous Siddha Hanuman temple on the outskirts of Puri, as a special offering.
Seventy years ago, when I was growing up in a village in Cuttack district, near the coastal part of the State, Odisha, dalma was unheard of there. One had dal and some mashed potatoes in case no other vegetables were available at home. If some vegetable was to be cooked with dal, it was either potato or brinjal, which were taken out of it after cooking and carefully mashed into a nice dish. In the sixties and the early seventies, in the hotels of Cuttack, dalma was not served. My own exposure to dalma was in Puri in the mid-sixties.
It is only during the last two or three decades that dalma has become more or less a pan-coastal Odisha dish. However outside of Puri, it is still a "marked" or non-normal dish, using a jargon from modern linguistics; the "unmarked" or the normal one is dal. More recently, the establishment of a chain of excellent, affordable eateries, called "Dalma", in several cities in Odisha and outside has given dalma a brand name.
These popular restaurants offer a range of delicacies, both vegetarian and non-vegetarian, but do not really specialize in Dalma. People in fact do not go there to eat quality Dalma. For the tastiest Dalma, one still has to go to Puri, not to the well-known hotels for the affluent tourists but to some of the unpretentious roadside dhabas in the narrow lanes of this celebrated temple town.
In this connection and even otherwise, for a connoisseur, no story of dalma can be complete without a mention of the small eatery of Brundabana Sahu, more known as Burundu Sahu of Puri – where else, in the context of dalma! From the Heragohiri Sahi lane, as you step into the narrow lane to go to the Municipality Market, on your left is his modest establishment.  Sahu himself is memory now and there are challengers.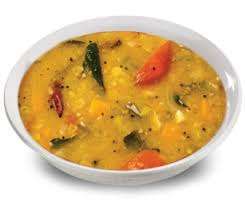 Take the turn from the Bada Danda at the Municipality Market to go to the Chandana Pokhari, and on your left, right at the turn, there you meet the challengers. They, say the present generation of gastronomes, serve great dalma. But for me, who, more than fifty years ago, was a fairly regular customer of Burundu Sahu, no dalma can be a substitute of his Dalma. The reality, no matter how much-hyped, can ever challenge memory and hope to win!
Sahu kind of liked me. He would serve me himself or if it is cold, wrapped in a coarse shawl, he would tell the 'boy" from the corner of the room, where he usually sat folding himself, what to serve me. Sometimes I would ask for hot puris but he would tell me almost in a whisper, "Babu, eat roti; it is good for you. Puri, you eat in the morning."
Actually, roti or puri, it did not matter; dinner there was, for me, like for most others, Dalma with roti, not roti with Dalma.  "Burundi Sahu Dalma", for me at least, was, and forever will remain transcendental – both for itself and for his sake!
(The views expressed are the writer's own)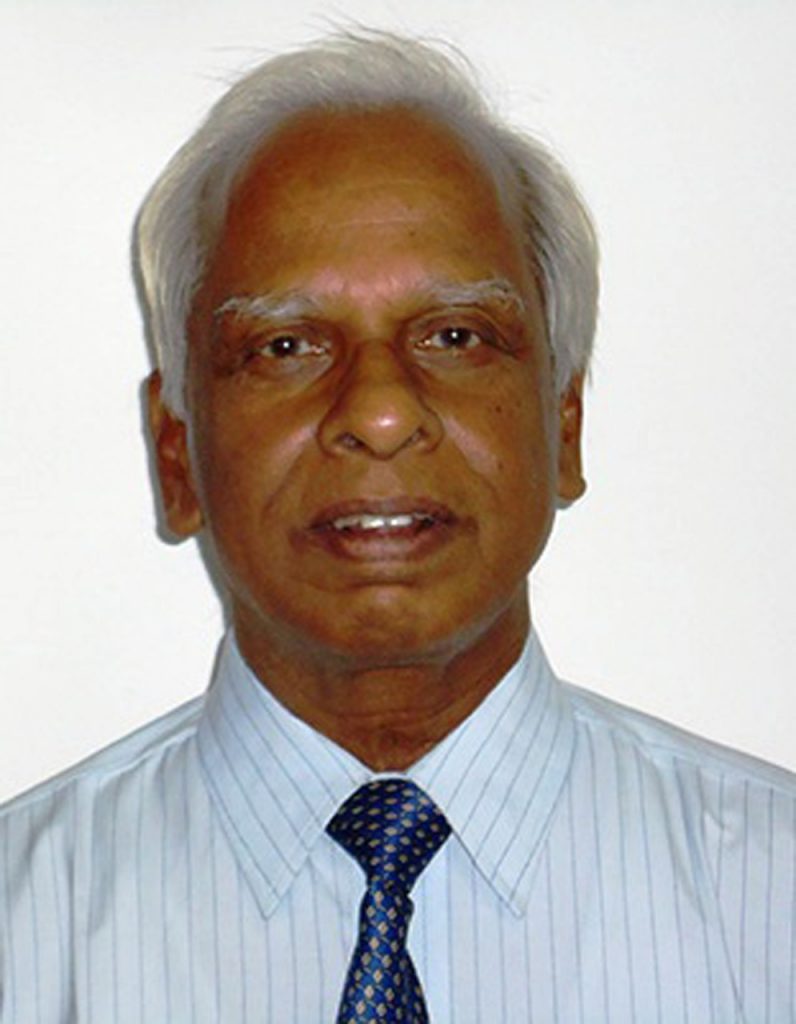 Prof. B.N.Patnaik
Retd. Professor of Linguistics and English, IIT Kanpur
Email: [email protected]
(Images from the net)