Phanindra Pradhan
Sambalpur, Jan 27: Eminent poet of Gujarati language, Komal Vora was conferred with the prestigious Gangadhar National Award for Poetry-2020 by the Sambalpur University on the occasion of its 55th foundation day on Thursday. While Vora joined the function online, Registrar of Sambalpur University Nruparaj Sahu received the award on behalf of the poet from Vice Chancellor of the University Sanjiv Mittal.
Named after Odisha's famous poet Gangadhar Meher, the award is given to poets of national repute every year during the foundation day celebration of the University. The award was instituted by the University in the year 1989 and the award carries a cash prize of Rs 1 lakh, a shawl and a citation. Vora is the 30th poet to receive the coveted award.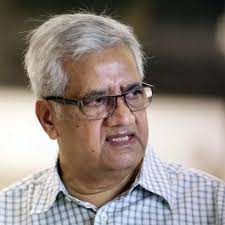 By profession an engineer and an eminent scholar of management, Vora was born in the year 1950. He relentlessly pursued poetry by choice as a strong passion and emerged as a major voice of Gujarati poetry. His impressive oeuvre comprises Arav (published in 1991), Distances (1997), Anek Ek (2012), Anekanek (2014), Vruddha Shatak (2015, Adhunika Bharatiya Kavita (2017) and famous poems such as 'The Magician', 'Crow'. 'Sheets of Paper'. 'Pruthvi Nau Golo' (The Sphere of Globe). In 'Triju Vishwa Yudh' (The Third World War), he discusses the significance of poetry in the troubled times of Corona, Vora has also composed a memorable poem on Mahatma Gandhi's 150th birth anniversary where he spells out the holistic ideologies of Bapu. His poems try to explore the aesthetic and artistic human relationship. In his poetry, the ordinary truths of life acquire extraordinary reflections and universal human values. His poems have been translated in Hindi, Marathi, Bengali, Kannad and English and published in Indian Literature, Anthology of Asian Poets, Muse India and Chicago Review.
Vora has been widely acclaimed and honoured with many prestigious awards including Umashankar Joshi Award, Gujarat Sahitya Akademi Award and Central Sahitya Akademi Award.
Earlier eminent poets like Ali Sardar Jafri, Kedar Nath Singh, K Ayyappa Paniker, Shakti Chottopadhyay, K Sachidanandan, Dillip Chitre, Jayanta Mohapatra, Gulzar, Nabakanta Barua, Prof AMK Shahryar, Nirupama Kaur, Vinda Karandikar, Haraprasad Dash, Ramakanta Rath, Surjit Patar, Balraj Komal, Vasdev Mohi, Dr Soubhagya Kumar Mishra, Subodh Sarkar have received this award for their excellence in the field of poetry.