The word 'Kirtan' is associated with Prabhu Sri Chaitanya who was born in Nabadwipa in West Bengal and propagated devotion for Lord Vishnu by way of Kirtan. He came to Odisha and stayed at Puri for 18 years. During his sojourn in Odisha he mesmerised the people of Odisha by propagating kirtan and instilling sense of devotion in the minds of the people. Even Pratap Rudra Deva, the king of Odisha, was enthralled by Chaitanya's personality and started chanting 'Hare Krishna Hare Rama' in the public. Even the wild animals were captivated by Chaitanya's singing style.
Originally the word kirtan means a particular style or 'raga' of singing devotional songs. In due course of time, it became a symbol of devotion. By Chaitanya's endeavour, kirtan spread like wild fire in Odisha. Kirtan came to western part of Odisha also. One Shri Pranabandhu Baba brought kirtan to western Odisha. He came to a village named Turum on the bank of the river Mahanadi, in erstwhile Sambalpur district (now Bargarh district).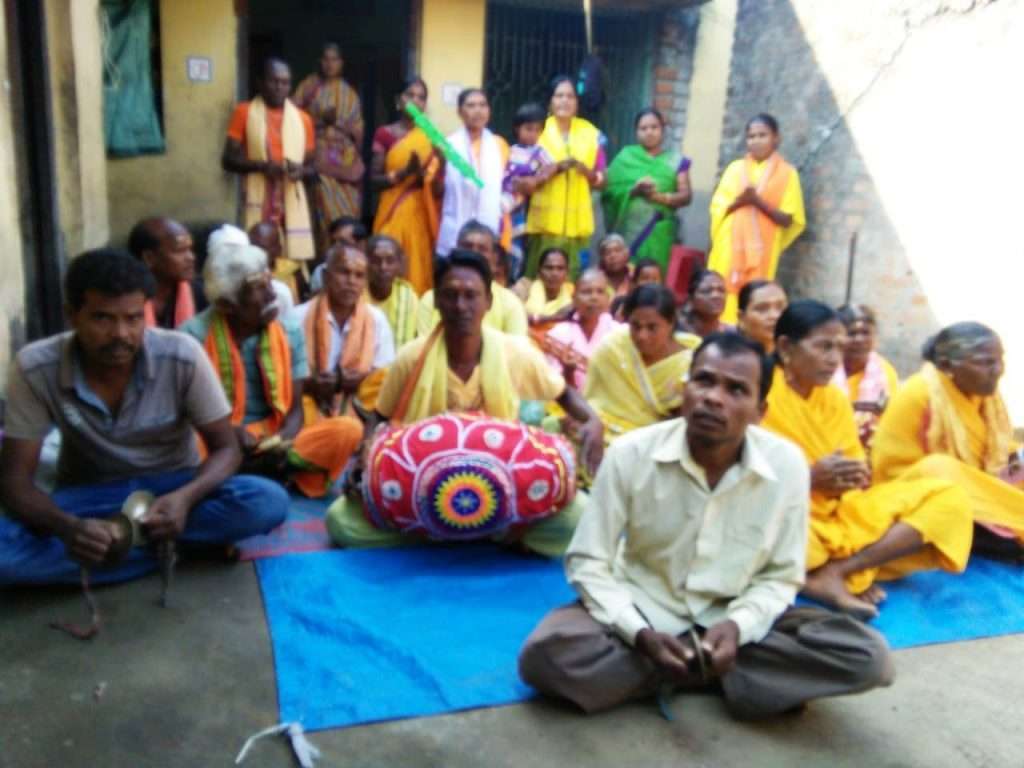 He was a great devotee of Lord Vishnu. Till his death he remained in Turum village and propagated kirtan and Nama Yajna in different places of Sambalpur district. A devotional atmosphere set in in this part of western Odisha.
Another person – Purna Baba, who was a skilled Mridanga vadyakar, also propagated devotional kirtan like his mentor Pranabandhu Baba. Purna Babaji, as he was known, was a legend in his lifetime. His Mridanga vadya was very entertaining and technically perfect. His vadya was seen to be believed. During my high school days, I have seen him. Purna Babaji did a yeoman service for kirtan in Sambalpur district. Another two peers and competitors of Purna Baba were Mridangists – Netra and Chhauni. They were also outstanding Mridanga vadyakars. There was stiff competition between these three – Purna, Netra and Chhauni. Unfortunately, I have not seen Netra and Chhauni.
After the departure of seniors, many juniors especially singers came to the front. The kirtan singers became known by their village names in which they live – Piplipali, Ganthiapali, Manpur, Jugipali, Mudhomahul, Devala, Badmal, Heromunda, Satupali, Maitkhai, Kainshpain, Panchphut, satsama, Kot Samalei, Bugbuga, Dumerpali, Bhutapali, Bahidarkanta, Golabandh, Senhapali and many others.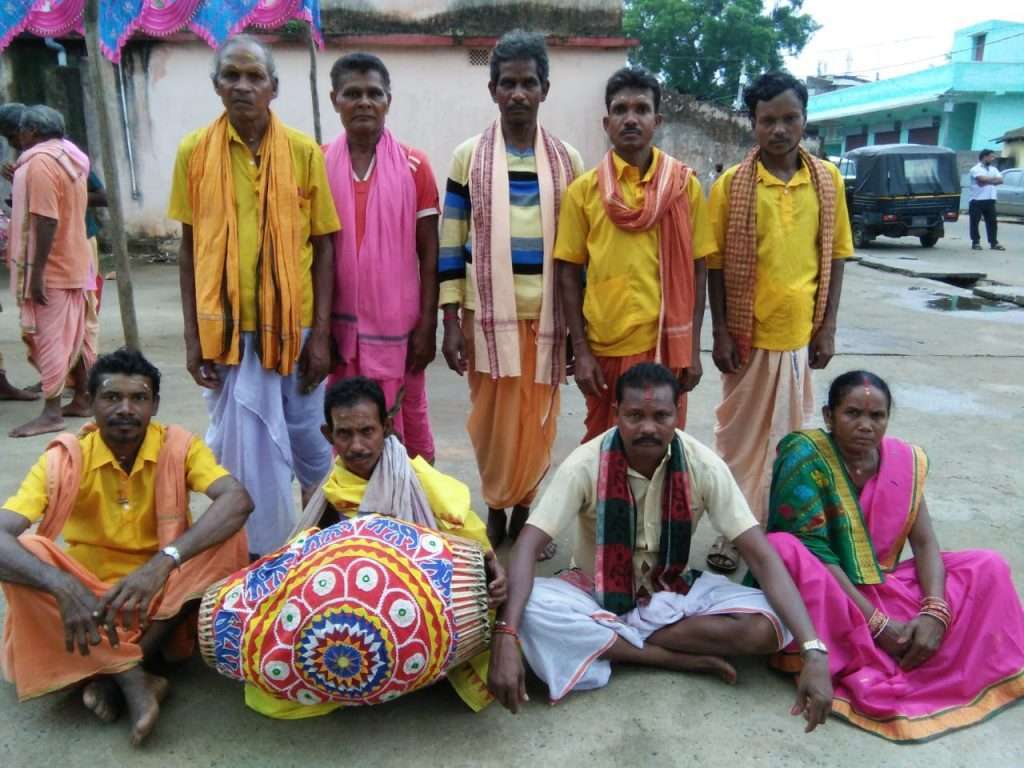 Another outstanding Mridanga vadyakar was RajendraAgrawal of village Golabandh. He was Marwari by caste. Initially, he was opposed by his father – Jagannath Agrawal. But later on he accepted his son's reputation and talent. Audience were spellbound by his Mridanga's sound.
So far as kirtan singers are concerned, some frontliners are – Rajendra Behera of Ganthiapali, Santosh Sahu of Mudhomahul, Lalit Bhoi of Piplipali. Pranabandhu Padhee of Devala, Duryodhan Chhand of Heromunda, Madan Mohan Dash of Badmal, Sahadev Matari of Satupali, Khetramani Bag of Jugipali, Nandi Kishore Pradhan of Kainshipain, and many others. They are all outstanding singers. They have their own styles. Rightly it is said – Style is the man.
Since last four decades, a special form of kirtan has developed in this area. It is called – 'Kirtan Baithaki'. It is a competitive kirtan like Bada Pala. Here arguments are made regarding knowledge of Puranas, epics and other dharmasastras. Also regarding knowledge in technique of singing and vadya. It is performed for one night only, whereas in Bada Pala, it may continue for several nights. Kirtan baithaki may be called – gem of kirtan. Not a single night passes in the villages of western Odisha, when Kritan baithaki is not performed. Of course at present, due to Corona lockdown, the kirtan baithakis have come to a stand still. God knows when it will restart.
Kirtan brings peace of mind – peace of abyss. So the people of western Odisha are peace-loving. Their daily life is very simple. They are God fearing and do not go for complexities of life.Chaitanya's ambition is fulfilled here. Matter will not give you happiness. The mere chanting of 'Hare Krishna Hare Rama' gives enough peace – unlimited peace – peace of eternity. The famous English poet – W.B. Yeats rightly said – God is Joy and Joy is God.
(The views expressed are the writer's own.)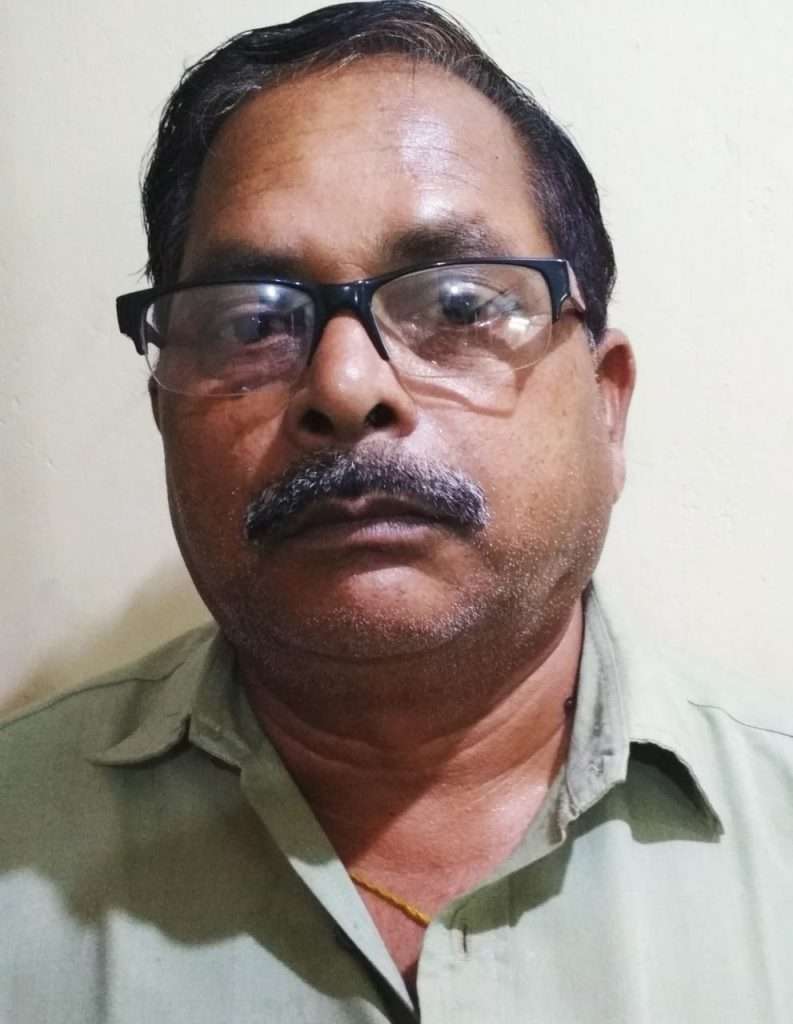 Radhakanta Seth is an Income tax officer in Sambalpur. He is a Freelance writer and his articles have been published in some Oriya dailies like Sambad, Samaj, Dharitri and English dailies like The Telegraph and in a sociological journal 'Folklore' published from Kolkata.
He can be reached at [email protected]