An agrarian ritual of worshipping of rice Goddess and the position of caste
Worshipping rice goddess is as old as the domestication of rice in India. Lakshmi also worshipped outside like Lāhākxīmǐ in China, and Kishijoten in Japan. Lakshmi also worshipped in the same or different names in Jain and Buddhist tradition. The rice goddess is also known in a different name in different Indian tribes and worship differently.
Dhānamānikā or Mānabasā and Sudashā Brata are the age-old rituals of worshipping rice goddess. It is a pleasure for the Odia community that the Mānabasā Gurubāra has been included in the National List of Intangible Cultural Heritage (ICH) of India on 18 April 2018.
Lakshmi Purāna is written by Balarama Dasa, a significant poet of Odia in about the 16th century. This text is famous as well as sacred to every Odia household who believes in it. In several parts of Odisha, and the neighboring regions in Chhattisgarh, Jharkhand, West Bengal, and the Srikakulam area of Andhra Pradesh, where Odia people dwells, women perform a special one-month-long Puja in the month of Mārgashira or Agrāhayan.
The Māna Oshā is celebrated weekly every Thursday of that month, and mostly the married women worship Goddess Lakshmi with all rituals. One day Nārada and the sage Parāsharawere approached to a village after wandering a lot. That day was Mānabasā Gurubāra. They found people are observing a kind of Puja. Nāradaasked the sage Parāshara, "What kind of Puja is this"? Parāshara said, "It is Dhānamānikā Gurubāra. It is observed on the Thursday of the Mārgashira.
If the Thursday is Shukla Dashami or Gaura Dashami, i.e., the tenth day of the bright moon, then Sudashā Brata falls. Nārada again asked, "How she is worship?" Parāsharaexplained the details about the worshipping of Lakshmi. It is essential to note that Parāshara is not saying a new concept; it only explains it was unknown to Narada. So, there was a tradition of worshipping rice goddess when Balarāma Dāsa narrated Lakshmki Purāna.
"eka dine Jagannātha pāse Lakshmi thile
karapatra jodina tahānku janāile
aji mora bārara brata padilā gosāin
tumbhe agyān dele nagra bulijibi muhin"
(One day, Lakshmi was with Jagannath; she requested him by folded hand that today is my day of worshipping my lord, please allow me to visit the place of worshipping).
Lakshmi took the human form of an old Brahmin lady and went for visiting. She stepped down in the front of the door of Sādhaba or the businessman, asked Sādhabāni (the wife of the Sādhaba), and today is Mahālakshmi Brata Gurubāra why you have not made any arrangement? Sādhabani had no idea, so she asked, "How the brata is observed? Whom to have worship?
First, explain to me if it is convincing, then I will follow". So, the businessman community did not observe the Dhānamānikā. However, Balarama has narrated earlier that "brāhmanankathāru je chāndāl prijante / lakshminka pujāre rata achhanti samaste" (from Brahman to Chāndāl, i.e. people from lower to upper strata all are observing Lakshmi Puja)? It was only an agricultural ritual related to the rice goddess only? As the Sādhaba's are not involved with agricultural works, they were not following the same in a time.
In the Lakshmi Purāna, the poet also mentioned about Sudashā Brata "mahālakshminkara āu eka brata acchi / sudashā boli tā nāma loke prakatichhi (there is another ritual of Lakshmi that is named as Sudashā in tradition)". So, Sudashā and Dhānamānikā were there before Balarama Dasa narrating these.
In this context, it is essential to mention an oral narrative named Shyāmādeira Dhānamānikā Puja where Lakshmi came as older women equipped with an adā gauni (an artefact of measuring two to eight kilograms grains made of brass or cane), bamboo basket (used as to measure or store rice as well as other grains), and Gauri Beta (rattan cane supposed to be held by village goddess on her nocturnal rounds as people believes) in hand and asked to worship Lakshmi.
Still, the Sādhabāni rejected her suggestion and drove away from her. The frustrated Lakshmi met Sādhabāni's daughter named Shyāmādei on her way driven out by. She listens to her and worships Lakshmi near the pile of paddy sheaf.
In oral narrative and practice, we could see the details of chitā (the artistic design on floor and wall by rice flour-paste) like badabaduā chitā, duāra chitā, erundi chitā, kāntha chitā, and kotha chitā. Chita of paddy sheaf and shishā (rice panicle) drawn on the wall, and kotha chitā near the māna or place where the worshipping takes place, the Lakshmi Pāda Chitā were drawn from the door to the māna. We also found that the details of food offerings according to different pāli or Thursday.
In the oral tradition, no food is offered on the first Thursday, known as alāgi pāli. On second Thursday, jāu offered, chitāu pithā on third Thursday and mandā, sarapuli, barā, kākarā with banana, chhenā are offered on rest Thursdays. In contrast, no different kinds of food offerings are described in Lakshmi Purāna, according to other Thursday. In Lakshmi Purāna, Lakshmi visited as a Brahmin lady, but in oral tradition, Lakshmi is an old lady and have no reference that she is a Brahmin. So, it is not wrong to say that Lakshmi Purāna is the oral tradition's literary narrative. But, why Balarāma incorporated Lakshmi with the Dhānamānikā?
Is it because Lakshmi is considered as the goddess of wealth and prosperity in Hindu tradition? Lakshmi is also believed as the wife of Vishnu or as narrated in the Sanskrit texts. On the other hand, Jagannath is thought to be another form of Vishnu, so the husband of Lakshmi and the text linked with the Bada Deula or Lord Jagannath's temple of Puri. But, there is no reference of Shriyā Chāndāluni in the oral tradition, i.e. Shyāmādeira Puja, the poet, deliberately incorporates it. Why Balaram did this? Did he want to challenge the caste discrimination in Jagannath Temple?
Balarama Dasa has used the word jāti for the first time in the sense of caste hierarchy. "Jagannātha kahuchhanti Lakshmi mukha chāhin / āmbha jātire ta chhādapatra chale nāhi" i.e. Jagannath is saying looking Lakshmi's face that there is no tradition of divorce in our caste. Lakshmi accused Hari Balaram that Lakshmi is visiting Chandāl, Hādi, and Pāna's house and entering the temple without bathing and polluting us. So he directs Kanhāin to evict Lakshmi from the Bada Deula. It is essential to mention here that Hari Balarama knows this when he was in 'mrugayā' i.e. likely in hunting.
However, Lakshmi countered Jagannath. "You have also taken food from Bidura and Nimā, and have fruits from Jarā Sabara already tasted by him. But as you are the lord, so all are getting secret, no one is discussing it– "prabhu hetu sabu jāuchhi gopya hoi". It is not an easy job to question Jagannath tradition at that time, whether in poetry or any other form, but Balarama Dasa has dared to do this, I think for the first time, and what happened all know.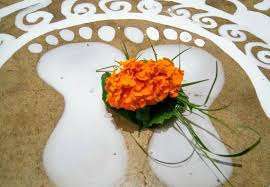 However, finally, Lakshmi returned to the temple. She (Jagatamata) asked Gobindafor his words that Mahāprasāda (the sacred food) must have partaken without any caste considerations. A Brahmin would eat it from the hands of a low caste person, and after partaking it, one must not wash one's hand rather wipe it on one's head, which is intended to show that the sacred food is not polluted.
As Prof. B N Patnaik pointed out, one can ask why "she had not demanded that cooked food would not be taken as polluted if a low caste person had cooked it and that the high caste people must have no hesitation therefore to consume that food? She had asked for the elimination of caste considerations only concerning Mahāprāsāda, the food cooked by her". Lakshmi cursed Jagannath and Balaram that you both will never get any food, clothes, and water for twelve years till I the Chāndāluni have not served you anything. She may curse like 'you could only get food if a visit to Shriya's house,' but did NOT.
However, in another version of Lakshmi Purana (published by Odisha Sahitya Academy), Jagannatha and Balabhadra visited Shriya's house. Still, she refused to give food as she is from a lower caste- "subedi brāhmana tumbhe aTa benibhāi / kemante mun arnadāna debain gosāin" because she was born as a Chandāla, and eat pork- "janmahun chandāla dekha atai je muhin / shukara maenas gheni bhojan karain".It is essential to mention here that Shriyā also did not ask about her social position except the wealth, son, cows, and an amara bara, i.e. live forever. Lakshmi fulfills her all wishes except 'live forever' as the narrative goes on.
Balarama Dasa, though, narrated himself as 'Shudra,' but he was not an achhaba. He incorporated Aryan goddess Lakshmi with age-old rice worshipping. It is not wrong to say that he has Sanskritized the local tradition, rice-goddess Lakkhi, Lachhmi, or whoever may be transformed into the 'Lakshmi' and associate with the Jagannath cult. Balaram Dasa was an ardent devotee of Jagannath. Scholar likes Kedarnath Mohapatra saying that because of Balarama Dasa's narrative, all people were allowed for a couple of years and mentioned that a British named William Bruton had visited the temple in 1633.
It was restricted again in the year 1710 as a Brahmin was appointed as temple administrator. But it does not seem that Bruton has ever visited the temple if we go through the article 'A Brief Relation of the Great City of Jagarnnat' of his book Voyage to Bengalla.
Whenever the entry of Dalit in Jagannath temple is a concern, one can review the history. In 1934 when Mahatma Gandhi and his follower Binoba Bhabe wanted to enter the temple with their Muslim, Christian, and Dalit followers, they were not allowed. They protested against it before the Lions' Gate. In 1945 Dr. B.R. Ambedkar, founder of India's Constitution and crusader of depressed classes, had come to Puri in July. But he was not allowed.
Dr. Harekrushna Mahatab, the first Chief Minister of Odisha, had supported all castes' entry to the temple. In 1948, with his direction, the police made a lathi charge on the people who opposed the entry of Dalits to the temple. Under his initiative, the Harijans and the tribals from different regions of Orissa were brought to Puri to enter into Lord Jagannath's temple on the very day when the ashes of Mahatma Gandhi were immersed in the sea.
Where entry of non-Hindu in Jagannath Temple is a concern, a two-judge bench of the Supreme Court urges Jagannath temple to allow the non-Hindus hearing to PIL filed by Mrinalini Padhi of Cuttack in 2018. It has been denied by saying, "It is clearly written at the temple entrance that only orthodox Hindus are allowed inside the temple. We have already diluted it to allow all Hindus in. And now this move to allow non-Hindus into the temple. It is against Bharatiya and Jagannath Sanskriti and hence, completely unacceptable," as said by Suryanarayan Ratha Sharma and reported at that time.
It is interesting that recently a case has been filed by Anil Biswal of Shree Jagannath Sanskruti Surakhya Parishad, in Capital Police Station Bhubaneswar against a Twitter comment of mythical narrator Devdutt Pattanaik dated 3rd January 2021 "for attempting to instigate divide in the Hindu society based on caste by spreading blatant lies, fake news about the Puri Jagannath Temple in Odisha" as was reported. Devdutt's Twitter was, "People are upset when Dalits are not allowed to enter Puri Temple (the Brahmins there can be must be unpleasant), but no one is upset that Hindus, Dalit or Brahmin, are not allowed to Mecca.
You can only if you convert". Biswal claimed in his complaint letter that 'Dalits are not allowed to enter Puri Jagannath Temple is only a false narrative.' "There is no restriction on entry of any Hindus, Buddhists, Jains, and Sikhs to Shri Jagannath Temple. There is no restriction of any Hindu who may be Dalits, SC, ST, maybe OBC or else all can visit Mahaprabhu Jagannath Temple".
In all and last, Mānabasā Gurubāra or the Māna Oshā was and is a simply an agrarian ritual to appease the rice goddess and practiced earlier to Balarama Dasa; it will be observed till the agrarian Odia community loves to keep it live as their one of the cultural marker whatever the history and status of the entry of Dalit or Chāndāla in Jagannath Temple.
(The views expressed are the writer's own)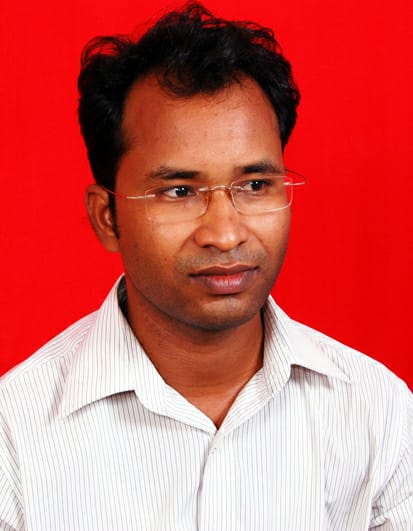 Dr.Sanjaya Kumar Bag
Koksara, Kalahandi, Ph.D. on folklore studies from the Department of Modern Indian Language and Literary Studies, the University of Delhi. Presently he teaches Odia in the Eastern Regional Language Centre, Bhubaneswar, Odisha.