Gracy Andrew
Rashmi Prava Mohanty "with inputs from Gracy Andrew"
What is definition of health?
The World Health Organization's definition of health is "a state of complete physical, mental and social well-being and not merely the absence of disease or infirmity." They assert that physical and mental well-being is a human right, enabling a life without limitation or restriction.
How can were main healthy ( physical-mental and social)?
Physical health :
"Physical health is when your body systems and organs are working well. Keeping our bodies strong enough to engage in daily activities, and preventing sickness and injury are important to keep ourselves physically healthy."
Mental health :
"Mental health is relatedto liking who we are and accepting ourselves. It includes being able to express our emotions in a healthy way and managing difficult emotions."
Social health :
"Social health includes feeling a sense of belongingness, feeling connected to people around you and in your community."
What are difficult emotions and how does one manage difficult emotions?
Emotions are an integrated part of our lives and it is important to be aware of them. Some emotions can be over whelming and can drive us to act in a way that we may regret at a later point. What is important to remember is to be aware of our emotions, acknowledge them and not to act or make a decision when we are emotional.
You can try to get out of an intense emotional state where you are experiencing a difficult emotion such as anger or anxiety by
Listening to music
Getting involved in your favourite hobby
Meditating or Praying
Talking to a friend
Painting etc…
Drawing the cartoon pictures to capture your family activities.
However, once you are feeling better it is worth looking at what triggered the difficult emotion and tackling the cause.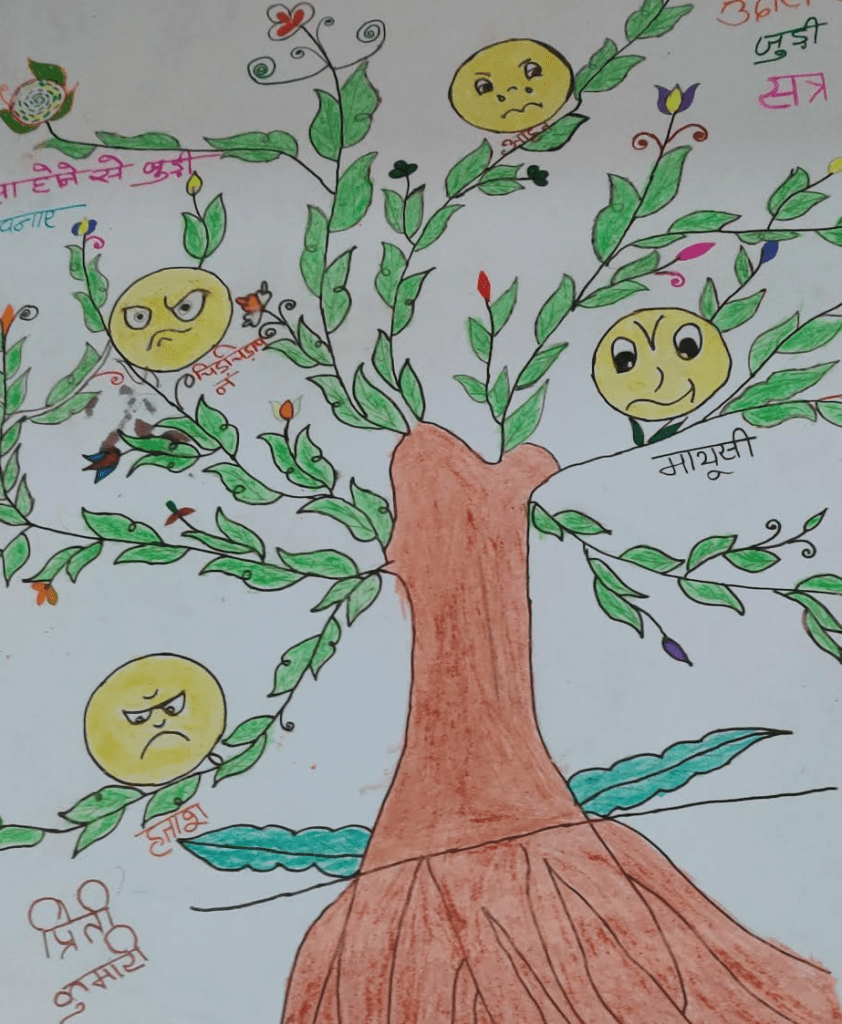 ( Drawing from girls receiving emotional resilience program)
How do we manage well when we do office work at home (work from home), some tips that may help?
Having a designated space in the house as own work space.
Having a bath and getting ready as we usually do and trying to keep a regular time to start work in the designated work space.
Not pushing own self too hard but keeping some targets to complete every day.
Distributing house chores among family members.
Taking short breaks but stopping in the evening and spending time with family / watching something on TV / reading etc… (reading or watching something funny brings forth the humour).
Doing an exercise routinely at home.
How to engage children when they are at home, some tips that may help?
Engaging children in drawing , painting, short writings.
Playing music with them ( songs, lyrics, key board, harmonium, flute etc. of their choice).
Parents spend time to play with them, eat with them and do some exercise them with physical distancing.
Having a designated space in the house for them to play indoor games ( Ludo, chess, carrom, business games) and outdoor ( at home)- foot-ball and cricket in own home courtyards.
Engaging them in gardening activities.
Spending time with them and studying together.
Engaging them in self-study ( what they might be otherwise studying at school).
Story-telling and discussion on things they want to know.
Discussing with them about how does COVID-19 spread and how to protect own-self and physical distancing.
Encouraging to compose songs, small write ups about the thing of their choice.
Sharing Information currently circulated by the local administration.
Organising video calls with their friends and relatives.
Watching fun games, Ramayana( currently telecasted) together.
Express gratitude to feel good may help you to be happy !
Express gratitude to your grand-parents ,parents, friend or brothers or sisters to whom you may want to thank who might did something for you and you feel happy about it.
You may like to write in your diary the things you are most grateful about.
You may like to plan your day to achieve something that you want to achieve for yourself. Which may help you to feel good and you may thank yourself.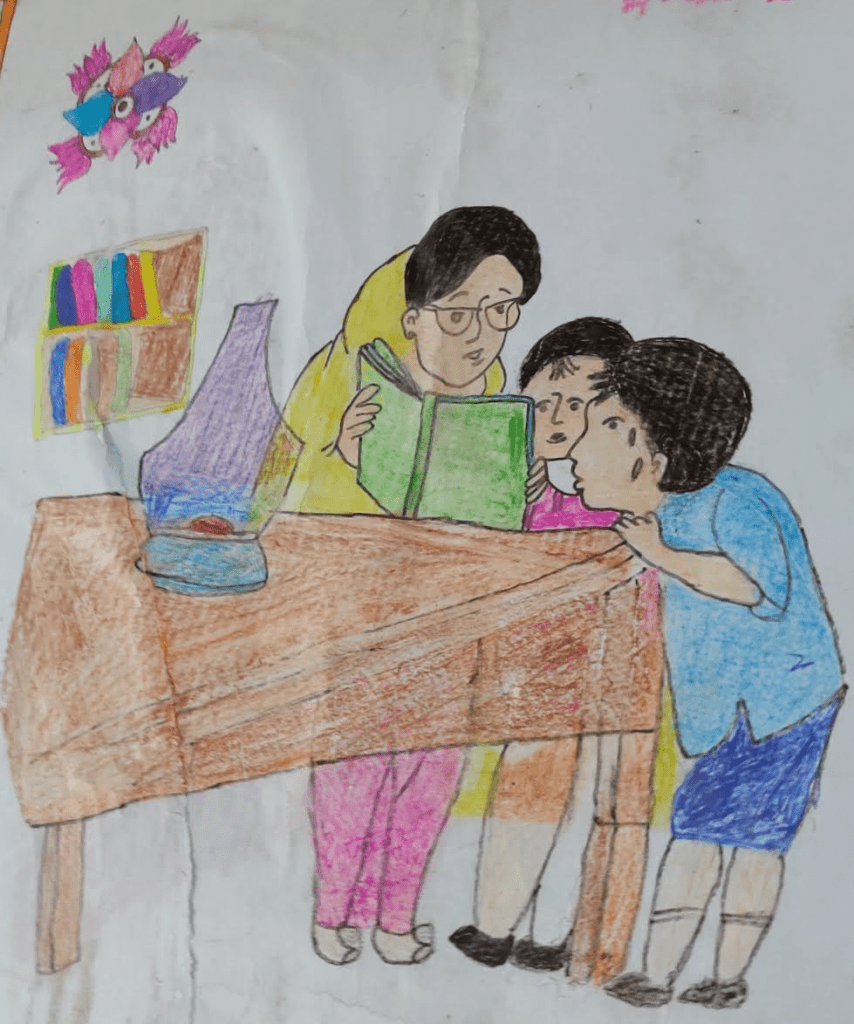 Mindfulness – can this help us?
. Mindfulness is a state in which you pay attention entirely to the present. In this state you observe your thoughts and feelings without judging them as good or bad. At every moment you neither dwell in the past or think about the future.
Mindfulness helps a person to deal with stress – however it needs practice. To start you can begin by sitting down and just becoming aware of your breath. Focus on each breath, focus on what you hear around you, the scents that you can smell, the temperature. You can then shift your attention to your thoughts – just allow each thought without judging and be aware of the emotions that the thoughts evoke in you.. just be aware without judging.. practicing mindfulness for even 10 minutes every day and increasing the time will help you manage your stress.
Bio: Gracy Andrew is a Clinical Psychologist by profession and presently is Country Director of CorStone's India Program. CorStone develops and provides personal resilience programs to improve well-being of youth. We presently work in India and Kenya and plan to expand our work to other countries in the near future. Gracy has worked in the area of youth mental health for more than 20 year.