Phanindra Pradhan
Bhawanipatna, Sept 19: DIG of Police, Southern Range, Berhampur, Satyabrata Bhoi said there is no dearth of resources in Kalahandi but there is lack of willpower among the inhabitants of the district.
Speaking during a webinar on 'Chala Dekhma Amar Kalahandi-4' (Let's see our Kalahandi-4) on Sunday, he said development of the district and its people can only be possible through strong willpower and hard labour.
He further said there is availability of many government schemes for the betterment of people in various sectors including farming and entrepreneurship. People should take benefit of the available government schemes to strengthen their source of livelihood, he said.
Apart from the willpower of the people, the government officials should extend helping hand to the people for their overall development, he added.
Senior Vice President (HR), India Power, Kolkata, Prakash Panda said great ideas make great entrepreneurs and one can create wealth through entrepreneurship. Apart from creating wealth, entrepreneurs play a pivotal role in nation building, he said.
He also said there is scope for setting up of food processing units in the district. Besides, there is huge potential for renewable energy and tourism in the district, he said.
He said career counseling for the youngsters is the need of the hour and steps should be taken for proper career counselling of the youths.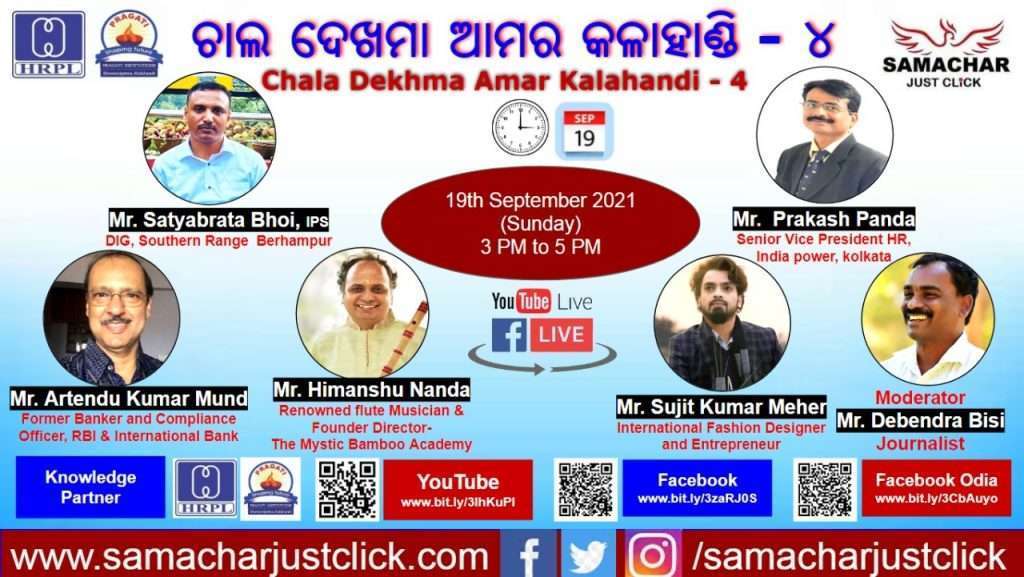 International fashion designer and entrepreneur, Sujit Kumar Meher said there is a need to popularise Kalahandi's own Habaspuri handloom saree and fabrics.
He said he has already started his work to popularise the Habaspuri handloom saree and fabrics.
Meher said people should know about the various art of Kalahandi and awareness should be created among the people to promote our own culture. There is a need to introduce courses on textiles and fashion designing in the district, he added.
Renowned flute musician and Founder Director-The Mystic Bamboo Academy, Himanshu Nanda said culture plays a pivotal role in maintaining unity in diversity in India,
Shedding light on music, he said music is a part of our life beginning from birth to death. There is a need to introduce a course in music in the Kalahandi University, he said.
He further said art cannot be a hobby, it is a passion.
Former Banker and Compliance Officer, RBI and International Bank, Artendu Kumar Mund said road connectivity and telecommunication besides banking services have been improved in the district. However, there is a need for quality education in government run schools so that students belonging to economically weaker sections can benefit from it, he said.
Laying thrust on crop diversification, he said farmers should opt for non-paddy crops to generate more income.
Furthermore, eminent writer Yashodhara Mishra and stage artist Pravas Chandra Mishra were felicitated for receiving Kendra Sahitya Akademi Award and Odisha Sangeet Natak Award respectively. This apart, President of Mahavir Sanskrutik Anusthan, Bhawanipatna, Jayanta Kumar Behera was felicitated for receiving Ila-Bansidhar Panda Kala Samman of Imfa for Ghumura Artist.
The role of moderator of the webinar was performed by journalist and host, Debendra Bisi. The technical support was provided by Niranjan Mahapatra of Odisha Library Academy. The inaugural song was sung by the noted singer Sangita Rout. Er Ajay Panda of Pragati Group of Institution and Bibhu Prasad Sahu of Harapriya Refractories Pvt Limited were the knowledge partners of the webinar.