Phanindra Pradhan
Bhawanipatna, Aug 22: Former union minister, Bhakta Charan Das said people of Kalahandi had fought relentlessly for development of the district, which was once known for its poverty.
Speaking during a webinar on 'Chala Dekhma Amar Kalahandi-3' (Let's see our Kalahandi-3) on Sunday, he said there was acute poverty in Kalahandi and people were struggling to get food to eat before the 80s. However, reforms were initiated during the tenure of former Prime Minister of India, Rajiv Gandhi for development of Kalahandi and all the development works were being monitored directly by the Prime Minister's Office (PMO) during that period. The union government had allocated Rs 1 crore to each block of the undivided Kalahandi district at that time, he said.
Currently, Kalahandi is the second highest paddy producing district of the state. Apart from paddy production, Kalahandi is famous for production of cotton, maize and pulses besides vegetables, he informed.
Moreover, irrigation has been strengthened in the district, he added. However, there is a need to set up agro-based industries, improve the electricity distribution system and develop tourist places of the district, he said.
Additional Secretary cum Additional Commissioner, Board of Revenue, Govt of Odisha and writer, Nihar Ranjan Dash said there is lack of equitable land possessions by landowners which is feudal and loan burden (loan taken from private money lenders) on people are the two major issues of the district. Government has planned to go for high tech survey to make it complete and error free, he revealed.
He also laid thrust on proper water management, establishment of a career planning institution, proper procurement of cotton, setting up of maize and pulses processing units and pisciculture for overall development of the district.
Former Director Medical Education & Training, Govt of Odisha, Prof Dr Sunamali Bag said there is need to promote para medical education in the district. The para medical education helps to generate employment and there is ample scope for students pursuing para medical courses, he said. He laid thrust on awareness campaigns to make people health conscious.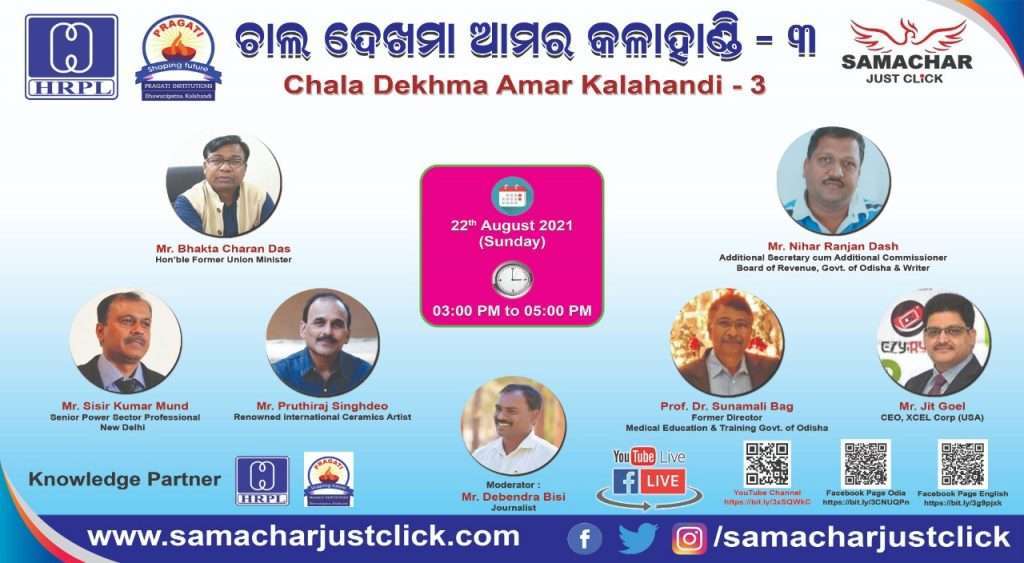 Renowned International Ceramics Artist, Pruthiraj Singhdeo said the Kalahandi University should introduce courses on art and design besides courses on textiles to promote the traditional art and textiles of the district.
He said there is ample scope for pottery in the district. He would provide training to the potters of the district, he said.
Senior Power Sector Professional, New Delhi, Sisir Kumar Mund said there is a need for local generation of electricity to provide uninterrupted high quality power supply. It can be possible through solar power. Even solar power is cost effective. The solar tariff is less than Rs 2 per unit, he informed.
CEO, XCEL Corp (USA), Jit Goel said Kalahandi is in fast-track mode now. We will have to make Kalahandi a technology hub, he said. There is scope for development of entrepreneurship in the district and we can connect them globally, he added.
Furthermore, Regional Manager & Head, NRDC-IPFC & WIPO-TICS, Innovation Valley, Government of India, Dr Bijay Kumar Sahu and Punchman of India, Satyapira Padhan were felicitated for receiving National IP Award as a best Technology & Innovation Centre for managing IP & Technology and creating new Guinness World Record of 348 in attempt for most extension punches respectively.
The role of moderator of the webinar was performed by journalist and host, Debendra Bisi.The technical support was provided by Niranjan Mahapatra of Odisha Library Academy. The inaugural song was sung by the noted singer Nilanchal Pan. Er Ajay Panda of Pragati Group of Institution and Bibhu Prasad Sahu of Harapriya Refractories Pvt Limited were the knowledge partners of the webinar.