Phanindra Pradhan
Sambalpur, Aug 08: In a major breakthrough, Sambalpur police busted an inter-state gang involved in printing and circulating of fake Indian currency notes and arrested six persons with seizure of fake currency notes with a face value of Rs 13.85 lakh from their possession.
Police have also seized a printer, mobile phones, fake stamps, colours, one motorcycle, one bundle of paper, whitenerand cutter.
The accused have been identified as Satyanarayan Nirala (26) and Abhiram Jhangde (48), both from Koshir area of Raigarh in Chhattisgarh, Shiv Sankar Bania (30) and Gunanidhi Bhoi (38) alias Afi, both from Ambabhona area in Bargarh district besides Sagar Sahu (26) and Ashok Sahu (27), both from Bhatli area in Bargarh district.
Reports said, a case was registered in Town police station here on Saturday based on the report of complainant Sankar Singh of Sambalpur city, who had alleged about circulation of fake currency note of Rs 100 denomination by two unknown persons.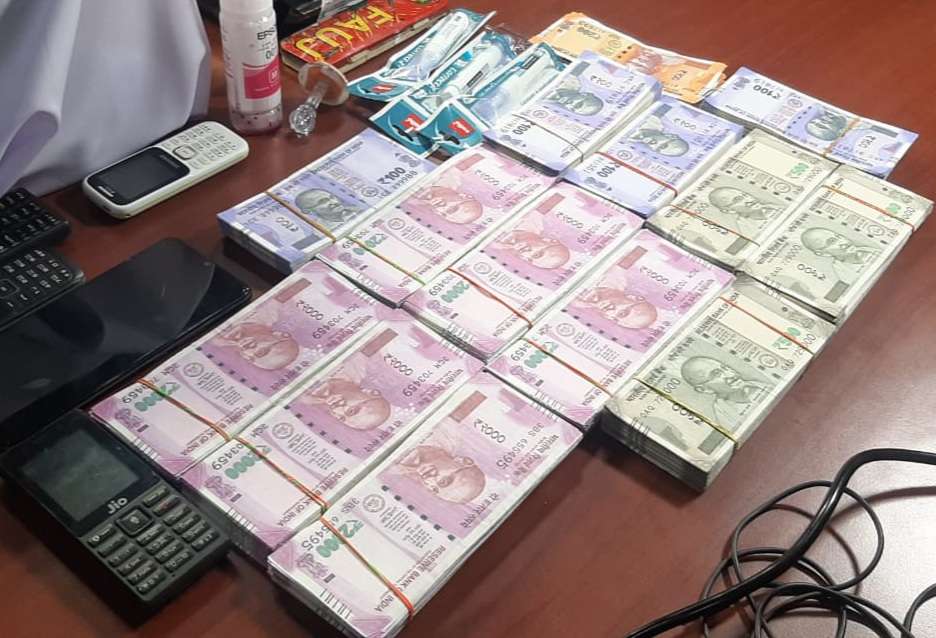 Addressing the media here on Sunday, Sambalpur Superintendent of Police, B Gangadhar said based on the information regarding circulation of fake currency notes, a special team was formed to investigate the matter. Subsequently, the team conducted search at various places of Sambalpur city and arrested the six accused persons and recovered fake currency notes with a face value of Rs 13.85 lakh from their possession, he said.
He informed they have seized 600 pieces of fake notes of Rs 2000 denomination, 362 pieces of fake notes of Rs 500 denomination, one piece of fake note of Rs 200 denomination and 44 pieces of fake notes of Rs 100 denomination.
He further said the fake currency notes were being printed in Raigarh of Chhattisgarh and the accused persons were trying to circulate the fake currency notes in busy market places in different parts of Odisha. The illegal act was started by the accused persons around six months before, he said.
They are taking all sincere steps to nab other accused persons involved in this case and to recover more counterfeit notes, he added.