Ingredients
Mandiaflour- 500gm
Suji- 500gm
Sugar/ jaggery- 250gm( more or less as per taste)
Salt- as per requirement
Oil- as required
Green cardamom powder- 2 gm
Cow ghee- 25 gm
Fennel seed/ saunf- 3 gm
Grated coconut-400gm
Black pepper powder/ coarsely crushed -2 gm
Preparation method
Sieve Ragi( mandia) flour and mix with suji and keep aside.
In a pan/ kadhai boil water with the salt, sugar,fennel seeds and ghee.
Bring the water to a boil in a medium flame. once the sugar melts in water , add Ragi and  suji mix.
Stir continuously for 4-5 minutes over a low flame.
Cook till all the sujiragimix  is swollen and the mixture starts coming together like a ball.
Once the mix thickens like halwa, turn off the flame.
Remove the mixture on a plate and allow it to cool down for about 8-10 minutes.
Grease your palms with a little ghee and knead the mixture to form a smooth dough and keep aside with a cover.
Heat another pan.
Add grated coconut and sugar/ jaggery , cook for 3-4 minutes till the sugar/ jaggery melts.
Once the sugar/ jaggery melts completely, add cardamom powder and black pepper.
Mix and roast everything for half a minute, switch off the flame and keep aside.
Check the dough after 15 minutes. Apply a little ghee on hands and knead the dough to make it smooth.
Divide the dough into 35 equal portions. Apply a little ghee on your hands and pick a portion of the dough.
Roll it between your palms. Use your fingers to give it a shallow bowl shape.
Fill the dough with stuffing and close the mouth of the dough by collecting the corners and pinching it at the top.
Press the ball between your palms to flatten it. Press the ends slightly. Similarly, stuff and prepare all the Pithas.
Heat the oil ,Keep the flame medium-high. Once oil turns heat then reduce the flame to medium low.
Drop the Pithas in the oil and fry them for 1 mins from one side. After 1minutes, turn them upside down and fry Pithas from both sides till golden brown.
Once they turn golden brown, pick them up with a slotted spoon. Tilt the spoon at the corner of the pot. This will discard the extra oil back in the pot.
Take the Pithas out on a plate and serve them warm.
Fry all the Pithas similarly; each batch will take around 6-7 mins to fry up.
MandiaKakaraPitha is ready to be serve.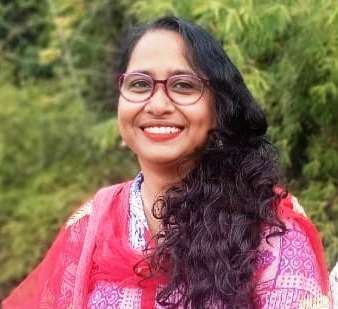 Prepared by:

Sabnam Aferin
Cuttack, Odisha
You can reach her at [email protected]