Phanindra Pradhan
Sambalpur, Sept 11: The inhabitants of Western Odisha on Saturday celebrated the agrarian mass festival, Nuakhai with religious fervour and gaiety on the backdrop of Covid pandemic and prevailing drought-like situation.
The Nabanna (newly harvested rice) was offered to Goddess Samaleswari, the presiding deity of undivided Sambalpur district at the stipulated lagna (auspicious moment) between 10.15 am and 10.25 am. Households also offered the Nabanna to their respective Ista Debata (presiding home deity) and Goddess Laxmi (Goddess of wealth) as a mark of gratitude hoping for bumper crops and favourable farming weather.
President of Samaleswari Temple Trust Board, Sanjay Baboo said the Nabanna was offered to the Goddess Samaleswari as per the stipulated lagna fixed by the pundits and the presiding deity of Sambalpur was adorned with new saree and ornaments on the occasion. After offering the Nabanna to Goddess Samaleswari, the Nabanna was also offered to Paswa Deva Devi (other deities on temple premises), he said.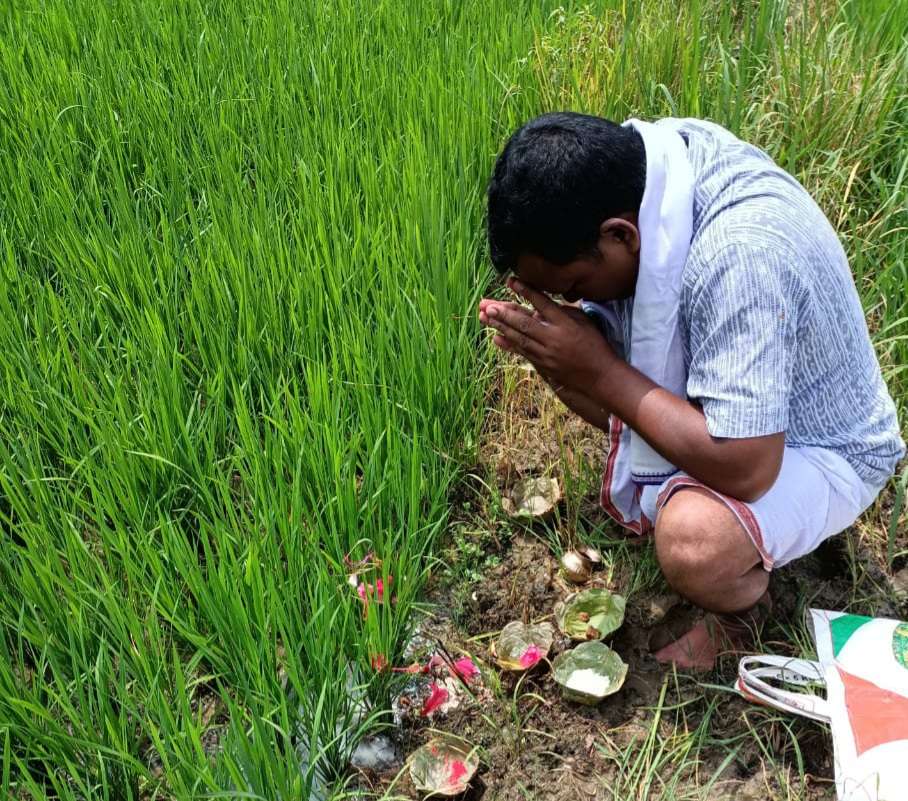 The devotees were allowed for the darshan of the Goddess Samaleswari after offering the 'anna bhoga' to the Goddess.
Unlike last year when the devotees were debarred from the darshan of the Goddess Samaleswari during Nuakhai due to the Covid crisis, thousands of devotees visited the temple to get the darshan of Goddess on the occasion of Nuakhai this year. The devotees were allowed to visit the temple from 12.30 pm to 5.30 pm adhering to the Covid guidelines.
While it was Goddess Samaleswari in Sambalpur, it was Patneswari in Balangir, Sureshwari in Subarnapur and Sekharbasini in Sundargarh who were worshipped on the occasion.
Being an agrarian festival, the eldest male family member of each family in rural pockets worshipped their paddy fields, cattle sheds and cattle. Women, who play a vital role in the Nuakhai celebration, woke up much ahead of the dawn to get ready for the rituals. They began with drawing of beautiful 'Jhuti' in their houses while the later half of the day was spent in the kitchen preparing special delicacies.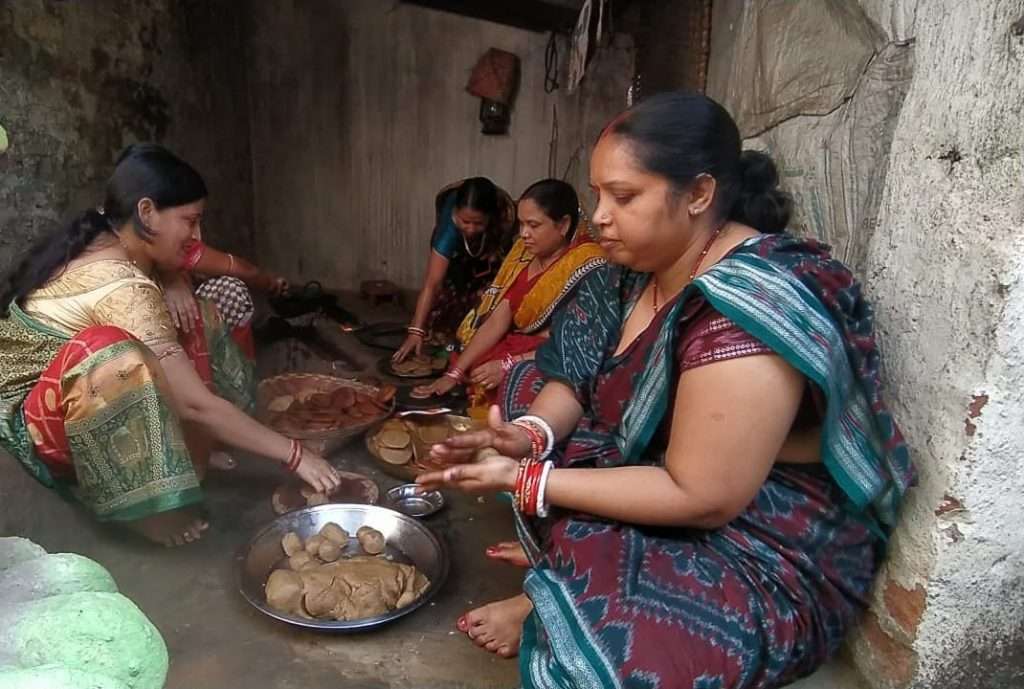 Various traditional dishes and pancakes including Moong Bara, Ras Bara, Suji Manda, Chaul Manda, Kakra Pitha, Kheeri besides preparation from Saru and Saru Saag (leaves of taro plant), Makhan Saag (leaves of Pumpkin creepers) and Kardi (bamboo shoots cut into julienne) are common menu in households across the region.
While children donning new clothes enjoyed their holiday partaking in traditional delicious food, people thronged temples of the respective presiding deities to seek blessing of the Goddess. The complete atmosphere was filled with festive mood. Later in the evening Nuakhai Bhetghat were organised by different socio-cultural organisations and greetings were exchanged with the traditional 'Nuakhai Juhar'.