Bengaluru ,13/08/2023: The launch of the book "Take Your Giant Step Now" by Braj Kishor Gupta at ISME Campus: on 04th aug 2023 was a grand success. The author is a Social Scientist & Global Keynote Speaker. Dr. B K Das, the Distinguished Scientist & DG at ECS Bangalore was the Chief Guest. There were other dignitaries on the stage like – Dr. (Col.) Bishwajeet Choubey a scientist from DRDO, Prof. Subhash Sharma – The Chief Mentor at Indus Business Academy, Dr. Nitin Garg – Director ISME, Prof. S. Venkateswaran, Prof. Rony G. Kurien – The Dean at ISME. There were some other eminent speakers like – Dr. Emma Sitambuli form Lusaka, Zambia, Dr. Rashmi Jeta– an eminent Film Maker, Prof. Saryug Yadav from NCERT, New Delhi, Prof. Satya Sidhartha Panda and some leading Journalists like Mr. Braj Mohan Singh & Mr. Santosh Singh. There were about 300 MBA students too. They all congratulated the author for 'bringing out a classic not on motivation alone but on life.'
The book 'Take Your Giant Step Now' assumes great significance for breaking new ground. This book is a beautiful compilation of 48 inspiring stories. Eash story written in poetic prose, is immensely insightful. In his inspiring address the Chief Guest Dr. B k Dassaid, 'writing a book is akin to creating an institution'. He appealed to the students to learn and master the new skill sets and help contribute towards making India a superpower.
The Guest of Honour Dr. (Col.) Bishwajeet Choubey, gave a clarion call to the students to become assets for society and described the book a rare literary work. Prof. Subhash Sharma, a Leading Management Guru opined that the book is a must read for those who wish to achieve something great in life. Dr. Emma Sitambuli who joined from Lusaka, Zambia had fulsome praise for the author and his beautiful creation. Dr. Saryug Yadav, Professor of English, compared the author with Francis Bacon and said, 'This book is a thing of beauty because it has the beauty of language, beauty of form, beauty of thoughts & beauty of emotions.'Prof. S.S. Panda, complimented the famed author for writing a book that explores the full spectrum of human potential. He further said 'This is certainly a book for generations. This book can help the readers identify their self-limiting beliefs, attitudes, and habits, enabling them to achieve splendid success and glory in life.'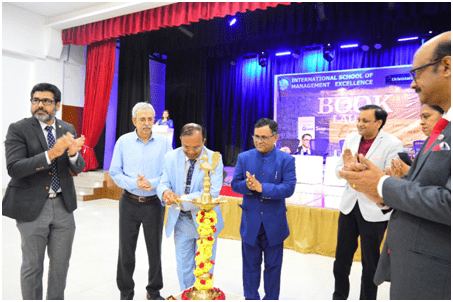 Mr. Santosh Singh, a well-known writer from Bihar, shared some personnel memories that he had with the author and observed, 'The book is happy blend of life experiences & pearls of wisdom in form of short motivational stories. The book flows like a calm river that hides intensity in its undercurrents.' Braj Mohan Singh, who is the Editor of News 18 Network, held that 'the book will help readers to determine their emotional outlook and enhance their capability to achieve higher goals in life.'
However, The Author in his address dwelt upon the relevance of this book, for the youth. He said, 'You matter the way you are, where you are and what you are!' The students got the opportunity to interact with the author and asked many questions.
Dr. Rony G. Kurien's interaction with the author was a very interesting session. Many students got the chance to ask questions and interact with the author. The book is available on Amazon.