I remember when I watched the film Pinjar starring Manoj Bajpai and Urmila Matondkar, I was shaken, such was the intensity of the story. But then all of Amrita Pritam's stories are intense, brooding, and rooted in reality. Not everybody can tell a tale quite like her. Pritam's career spanned over six decades in which she penned 28 novels, 18 anthologies of prose, five short stories, and 16 miscellaneous prose volumes. She is hailed as the first eminent female Punjabi poet, novelist, essayist, and the leading 20th-century poet of the Punjabi language.
Pritam was born as Amrit Kaur on 31 August 1919 in Mandi Bahauddin, Punjab, in present-day Pakistan. When India was partitioned into the independent states of India and Pakistan in 1947, she migrated from Lahore to India.
Partition her backdrop
Pritam mostly wrote on the pain and anguish of Partition. The Partition had left Pritam a Punjabi refugee at age 28 when she left Lahore and moved to New Delhi. It is a known fact that in 1947, while she was pregnant with her first child, and was traveling from Dehradun to Delhi, she is said to have expressed her anguish on a piece of paper in the form of a poem, "Ajj Aakhaan Waris Shah Nu" (I ask Waris Shah Today). This poem was to later memorialize her and become the most touching reminder of the horrors of Partition.
Due to the early death of her mother, Pritam started writing very early in life, her first anthology of poems, Amrit Lehran (Immortal Waves) was published in 1936, at age sixteen. Soon after she married Pritam Singh, an editor to whom she was engaged in early childhood, and changed her name from Amrit Kaur to Amrita Pritam. Between 1936 and 1943 she wrote almost half a dozen poems.
Change in gear
Though she began her journey as a romantic poet, soon she shifted gear, and became part of the Progressive Writers' Movement. The effect of which was seen in her collection, Lok Peed (People's Anguish) published in 1944, it openly criticised the war-torn economy, after the Bengal famine of 1943.
Pritam worked in the Punjabi service of All India Radio, Delhi until 1961. After her divorce with Pritam Singh her work became more feminist. Many of her stories and poems were inspired from the unhappy experience of her marriage. Her prominent works have been translated into English, French, Danish, Japanese, Mandarin, and other languages from Punjabi and Urdu. These include her autobiographical works Black Rose and Rasidi Ticket (Revenue Stamp).
One of the first books of Pritam to be adapted for celluloid was Dharti Sagarte Sippiyan, as Kadambari (1965), the next was Unah Di Kahani, as Daaku (Dacoit, 1976), directed by Basu Bhattacharya. But it was her novel Pinjar (The Skeleton, 1950) which narrates the story of partition riots along with the crisis of women who suffered during the times that turned out to be an award-winning Hindi movie by Chandra Prakash Dwivedi, because of its humanism. The film was shot in a border region of Rajasthan and Punjab.
For 33 years she edited Nagmani, a monthly literary magazine in Punjabi, with artist and writer Imroz. After Partition she wrote prolifically in Hindi as well and in later life, she turned to Osho and wrote introductions for several books of Osho. This includes Ek Onkar Satnam, and also started writing on spiritual themes and dreams, some of her works from the period are Kaal Chetna (Time Consciousness) and Agyat Ka Nimantran (Call of the Unknown). She then went on to publish autobiographies, titled, Kala Gulab (Black Rose, 1968), Rasidi Ticket (The Revenue Stamp, 1976), and Aksharon kay Saayee (Shadows of Words).
Her real life was no less dramatic
In the year 1935, she married Pritam Singh, son of a hosiery merchant of Lahore's Anarkali bazaar. They had two children together, a son and a daughter but in 1960, they separated. It is said that she had an unrequited affection for poet Sahir Ludhianvi. This love story is said to be the background of her autobiography, Rasidi Ticket (Revenue Stamp). Finally, Pritam found solace in the companionship of Imroz. With whom she spent the last forty years of her life. He in turn designed most of her book covers and made her the subject of his several paintings. The book Amrita Imroz: A Love Story is based on their life together.
On 31 October 2005 at the age of 86 in New Delhi, she died in her sleep, after a long illness. Her legacy was carried forward by her partner Imroz, daughter Kandala, son Navraj Kwatra, daughter-in-law Alka. Her grandchildren, Taurus, Noor, Aman, and Shilpi were her most cherished jewels.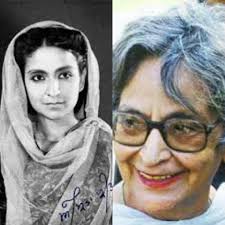 Awards and recognition
Pritam was the first recipient of the Punjab Rattan Award conferred upon her by the state of Punjab. She was the first female recipient of the Sahitya Akademi Award in 1956 for Sunehadey. She received the Bhartiya Jnanpith Award, India's highest literary award, in 1982 for Kagajte Canvas (Paper and Canvas). Pritam was awarded the Padma Shri in 1969 and Padma Vibhushan, India's second-highest civilian award, and Sahitya Akademi Fellowship, India's highest literary award in the year 2004.
Internationally, she received the Vaptsarov Award from the Republic of Bulgaria (1979) and Degree of Officer dens, Ordre des Arts et des Lettres (Officier) by the French Government (1987). She was nominated as a member of Rajya Sabha 1986–92. When she was in her twilight years, she was awarded by Pakistan's Punjabi Academy, and also Punjabi poets of Pakistan, sent her a 'chaddar', from the tombs of Waris Shah, and fellow Sufi mystic poets Bulle Shah and Sultan Bahu, after receiving these she became very emotional.
'Amrita recited by Gulzar', an audio album was released by noted lyricist Gulzar in 2007. It had poems of Pritam recited by Gulzar. M. S. Sathyu, renowned as the director of the partition movie Garam Hava (1973), paid a theatrical tribute to her through his rare theatrical performance 'Ek Thee Amrita'. On 31 August 2019, Google honored her by commemorating her 100th birth anniversary with a Doodle. The accompanying write up said that the Doodle celebrates Amrita Pritam, one of history's foremost female Punjabi writers, who 'dared to live the life she imagines.'
'Rest in Peace' Amrita Pritam, in the thought that you brought out the horrors of Partition and the hatred unleashed due to it through your work and of course the uselessness of it all.
Through her body of work, she told us of the miseries caused to humans by politics of displacement. And for this alone, there is no better time to remember her.
(The views expressed are the writer's own)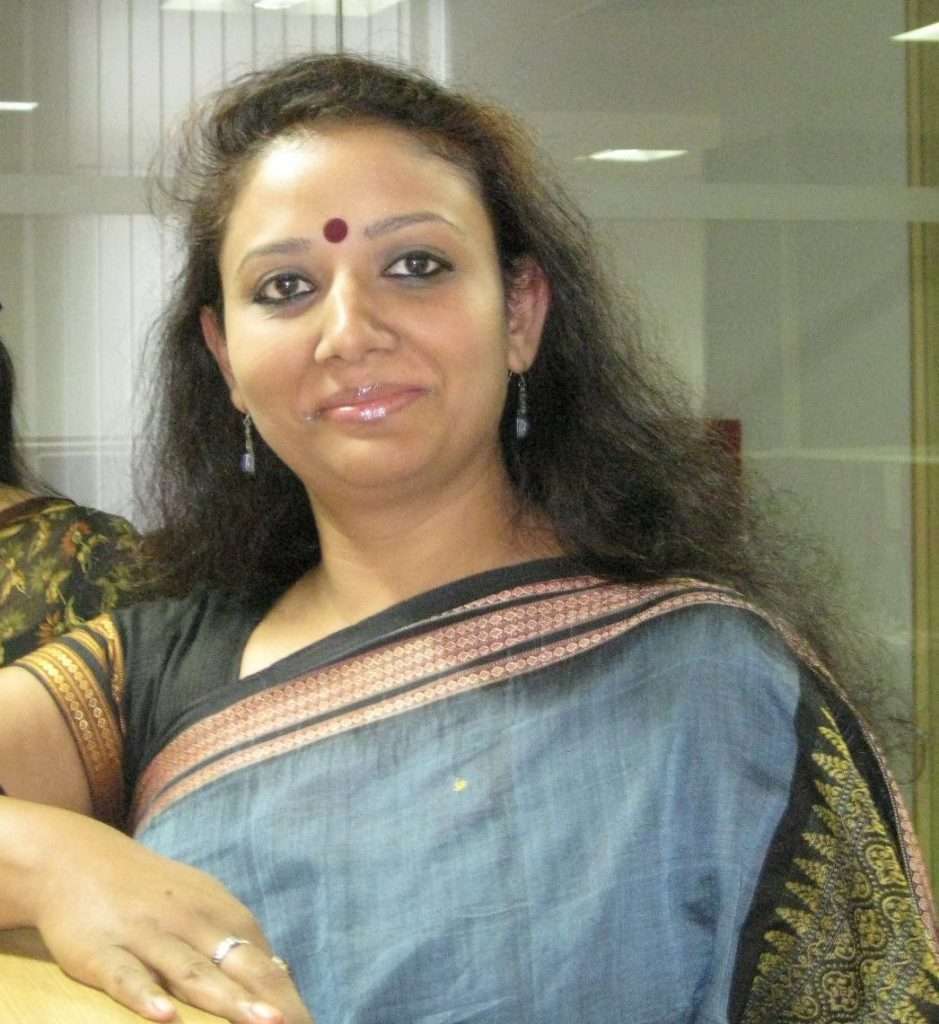 Smita Singh is a freelance writer who has over 17 years of experience in the field of print media, publishing, and education. Having worked with newspapers like The Times of India (as a freelancer), National Mail, Dainik Bhaskar, and DB Post, she has also worked with Rupa& Co, a book publishing house and edited over 30 books in all genres.
She has worked with magazines like Discover India and websites called HolidayIQ and Hikezee (now Go Road Trip). She has also written for Swagat (former in-flight magazine of Air India), Gatirang (magazine of MarutiUdyog), India Perspectives (magazine for Ministry of External Affairs) and Haute Wheels (magazine of Honda).
After turning freelance writer she wrote on art and architecture for India Art n Design. She also worked for Princeton Review as a full-time Admissions Editor and then IDP Education Private Limited as an Application Support Consultant. Smita has her own website called bookaholicanonymous.com which supports her love for books and reading!
You can reach her at: [email protected]
(Collage with images from the net)
Previous article:https://www.samacharjustclick.com/featured/online-classes-boon-or-bane-of-pandemic-times/, https://www.samacharjustclick.com/featured/the-teachings-of-dalai-lama-most-relevant-today/, https://www.samacharjustclick.com/featured/mental-health-is-a-silent-killer/