Subrat Mohanty
Sambalpur: Odisha Chief Secretary, Suresh Chandra Mahapatra on Sunday visited Bargarh and reviewed the progress of the ambitious Gangadhar Meher Lift Irrigation project, which will provide irrigation facility to around 31,35o hectares of land in Bargarh district, at the Zero point of Hirakud dam project.
Speaking to the media, Mohapatra said, the work is going on at full pace. The project is on the top priority list of the government. We are hopeful that the work on the project will complete within the next year.
Chief Engineer, Upper Mahanadi Basin, Ananda Chandra Sahu said, we exhibited the layout, design, and headwork pump house of the project besides the areas that will get the irrigation facility and the project progress before the Chief Secretary through a PowerPoint presentation, he said.
Sahu said the work on the project is being carried out in two phases. Around 62% of work of the phase-1 of the project, will irrigate 2650 hectares of the land of 129 villages of 4 blocks, Baragrh, Barpali, Sohela, and Bijepur in Bargarh district besides Dungripali and Sonepur blocks of Sonepur district, has already completed. A major portion of pipeline laying work of phase-1 of the project has been completed. The work on the pump house and intake well for the project is underway, he said and informed that a target had been set to complete the work of phase-1 of the Gangadhar Meher lift irrigation project by March 2023.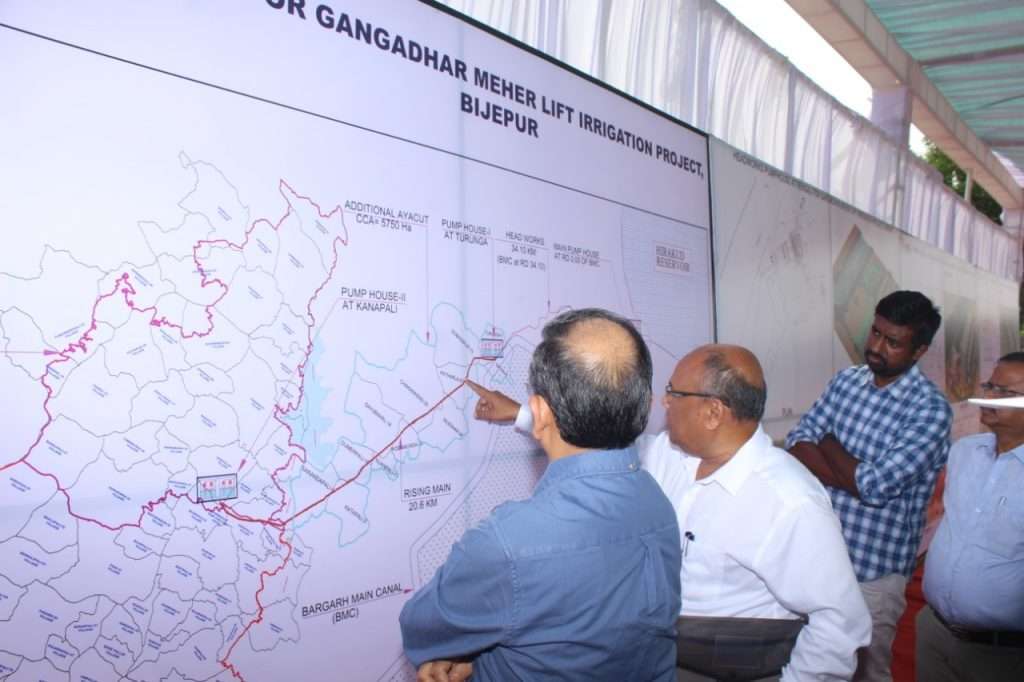 Sahu further said, the tender process for the Phase II of the mega irrigation project has already been completed. As many as 5,750 hectares of the land of 12 other villages of Bargarh Block and Barpali block of Bargarh district will be provided irrigation facilities under the phase II of the project. The project is waiting for the approval of the cabinet. It will get the cabinet approval at the earliest and the work on Phase II of the project will begin after that, he said.
Sahu also informed that a total of Rs 1680 crore will be spent on the Gangadhar Meher Mega Lift Irrigation Project.