Durga puja is an annual festival. Originated in India since ancient times. This puja is organized to pay homage to the Goddess Durga for her victory over Mahisasura. It is a victory of good over evil. This is an autumn festival. In Vedic times Autumn was the best season of the year. So Durga puja was started in the autumn season. Durga is woman power. What a man can not do a woman can do. Nari Shakti is the Summum bonnum of Durga puja. Different phases of Durga puja are – Mahalaya, Navaratri, and Dussehra.
Durga puja of Calcutta has been recognized as the intangible heritage of humanity by UNESCO. UNESCO has observed-
"Durga puja is seen as the best instance of the public performance of religion and art and as thriving ground for collaborative artists and designers. The festival is characterized by large-scale installations and pavilions in urban areas as well as by traditional Bengali Drumming and veneration of the Goddess. During the event, the divides of class, religion, and ethnicities collapse as crowds of spectators walk around to admire the installations.
Durga puja is particularly popular in the states of west Bengal, Assam, Odisha, Tripura and the country of Bangladesh Durga puja is a ten-day festival of which the last five are the most important. The puja was performed in homes and in public. Structural decorations are called pandals. The festival is marked by scripture recitations, performance arts, revelry, gift giving, family visits, feasting, and public processions. Durga puja is a significant festival in the Shaktism tradition of Hinduism.
Durga Puja is an old tradition of Hinduism. Its exact origin is unclear. Since Vedic times Durga is being worshipped. But in recent, memory in the 16th century, Durga puja was sponsored by royalty and wealthy families. During British time the prominence of the Durga puja increased in Bengal, Odisha, and Assam. In modern times, Durga puja has become more in modern times, Durga puja has become more a social and cultural festival than a religious one.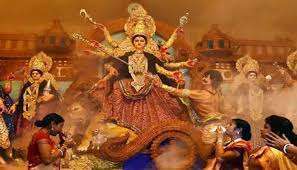 The eleventh or twelfth century Jaina text 'Yasatilaka' by Somadeva mentions an annual festival dedicated to a warrior goddess celebrated by the kings and their armed forces. The name Durga appears in Vedic literature. Rig Veda, Atharva Veda, and Taittiriya Aranyaka A key text associated with Durga puja is Devi Mahatmya which is recited during the festival. In Mahabharata, Shree Krishna advised Arjuna to worship Durga before starting the Mahabharata war. Devi Bhagavata Purana is also a text on Durga.
The Significance of Durga puja increased after the invasion of Islam on Indian soil. The Indians sought the help of Durga to thwart the Muslims. Durga is a war Goddess. From the medieval era to the present day Durga puja is celebrated as a socio-cultural event while maintaining the roots of religious worship.
Durga puja is also a harvest festival. Here is the hymn to start the Durga puja. "om you are rice, om you are life, you are the life of gods, you are our life, you are our internal life, you are long life, you give life, om the sun with his rays…
(The views expressed are the writer's own.)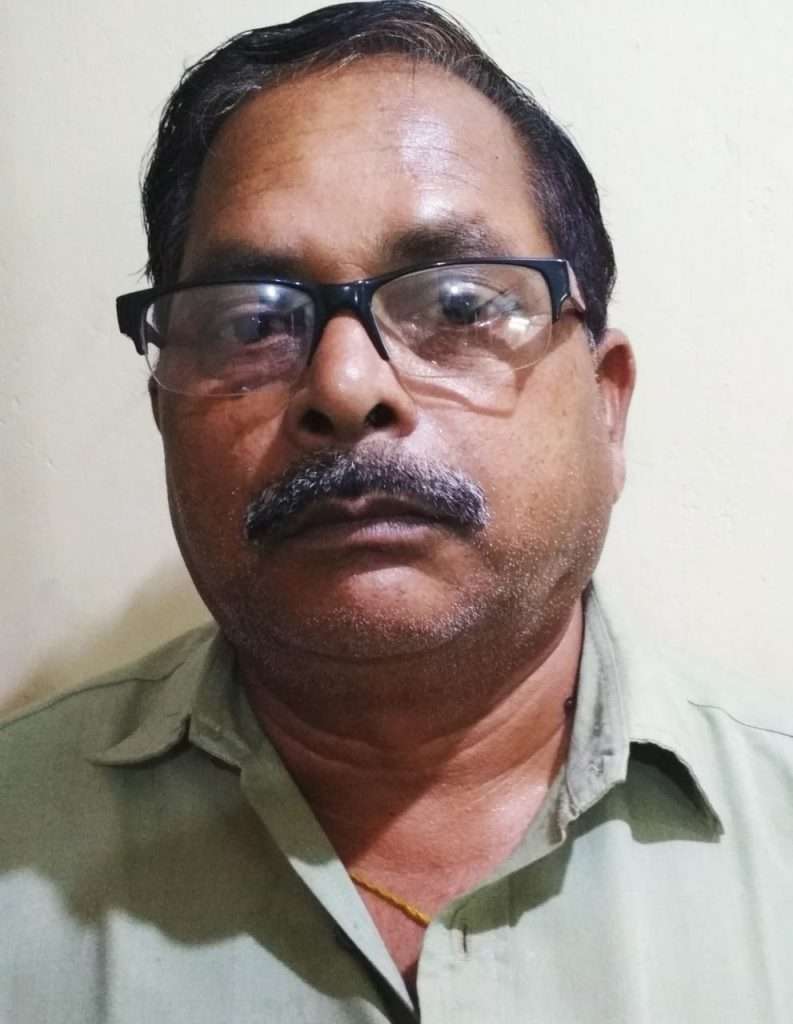 Radhakanta Seth is a former Income tax officer in Sambalpur. He is a freelance writer and his articles have been published in some Oriya dailies like Sambad, Samaj, Dharitri, and English dailies like The Telegraph and in a sociological journal 'Folklore' published in Kolkata.
He can be reached at [email protected]