Phanindra Pradhan
Bhawanipatna, Jan 16: Secretary, Odisha Sahitya Akademi, Prabodh Rout said the Odisha Sahitya Akademi is going to launch a mobile app, which will help to learn Odia language, on the occasion of Utkal Divas on April 1 this year.
Speaking during a webinar on 'Chala Dekhma Amar Kalahandi-8' (Let's see our Kalahandi-8) on Sunday, he said one can learn Odia language through this app sitting at home in any part of the world.
He also said the Sahitya Akademi has already signed MoUs with 11 e-commerce companies including Amazon to sell all the books published by the Akademi. The Akademi is going to start selling books through e-commerce companies shortly, he said.
He further informed the Akademi has already linked it with the Odisha Virtual Akademi and book lovers can read as many as 156 books published by the Akademi online free of cost.
Rout said the Akademi is going to publish as many as 1500 books in coming days and requested the writers of Kalahandi to write books based on various aspects of Kalahandi.
Secretary, Odisha Lalit Kala Akademi, Panchanan Samal said there is need to promote all the dying art forms and the Odisha Lalit Kala Akademi is working for the revival of the dying art forms. Each district of Odisha has its own distinct art form and it requires promotion, he said.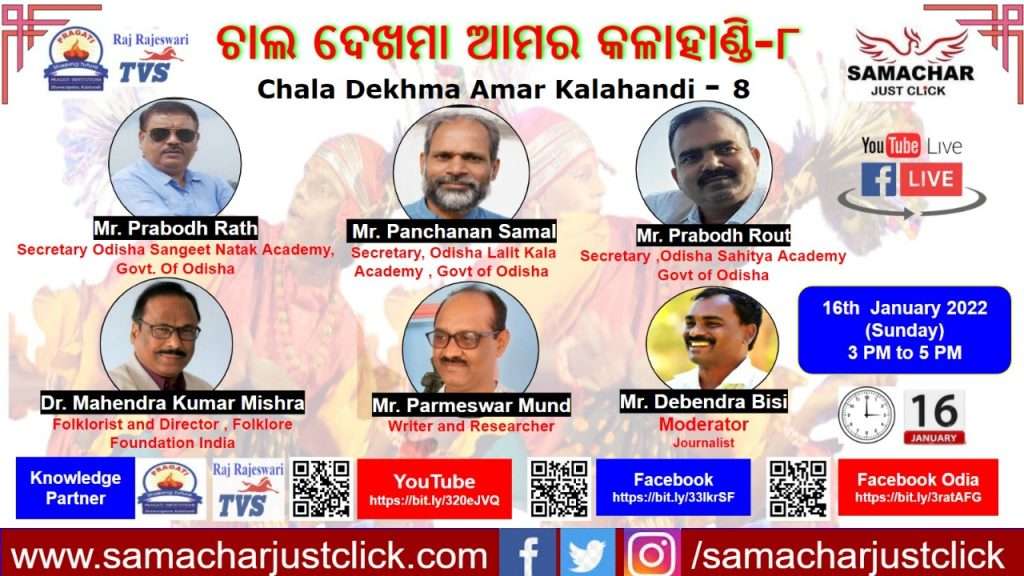 Secretary, Odisha Sangeet Natak Akademi, Prabodh Rath said all the traditional folk dances should be presented in a new way without affecting its originality to attract the new generation. The performance of a particular folk dance should not vary from place to place and the uniformity should be maintained, he said.
Folklorist and Director, Folklore Foundation India, Dr Mahendra Kumar Mishra said Kalahandi is known for its folk dances and the folk dances are popular as well. However, there is a lack of documentation on the folk dances of Kalahandi, he said. There is a need for research and documentation on the folk dances of the district, he added.
Writer and Researcher, Parmeswar Mund said the writers of Kalahandi and Khariar have contributed immensely in enriching Odia language and literature. This apart, many books pertaining to folk culture of Kalahandi have also been published, which is rare to see in other districts of Odisha, he said.
The role of moderator of the webinar was performed by journalist and host, Debendra Bisi. The technical support was provided by Niranjan Mahapatra of Odisha Library Academy. The inaugural song was sung by the noted singer Sarbeswar Bhoi. Subsequently, eminent singers Sangeeta Rout and Nilanchal Pan also sung during the webinar.
Moreover, performances of folk dances Ghumura by Tirtharaj Dalpati & Group of Jaipatna, Banabadi by Dasrathi Nial & Group of Chhoriagarh, Madli dance by Rubin Bandichhod & Group of Sanyasi Kundamal and Bajasal of Dhyananand Panda & Group of Pratibha Anusthan, Bhawanipatna were displayed during the webinar.
Er Ajay Panda of Pragati Group of Institution was the knowledge partner of the webinar.