Sophistically cozy lounges of the skyscrapers in USA, Canada, Japan suddenly turned in to live hostel rooms of Orissa Engineering College, Bhubaneswar, Odisha when friends across the globe recreated lively fun and frolic of their nostalgically bygone days on the virtual platform of zoom on 21 September 2020 even after 20 years.
In a bid to refresh their ever longing nostalgic memories and to knit them with present lives harmoniously, Er.Ajaya Kumar Panda, pioneer of Pragati group of Institutions, Bhawanipatna, Odisha and Diptiman Mishra from Colorado, US called upon their batch mates-2000 of Orissa Engineering college for an online meet, pushing aside their hustling and bustling life.
What an overwhelming response to connect the root and to abridge the gulf of past and present even after more than two decades!!. Responses to arrange online meet came pouring in from friends in the USA, Canada, UK, Japan to the convenors of the meet.
They were all passionate enough to see each other. "I am too emotional and excited enough to interact with my friends and their families right now.", said a friend from America to Mr. Panda, the joint convenor.
Thus more than two decades of segregation of college mates suddenly came to an end as friends abroad and home came together on the Zoom Platform conquering the time and distance. Many friends- Diptiman Mishra from Colorado, US, Biswa Mohan Mishra from New Jersey, US, Pankaj Sil from London, UK, Pradip Biswal from Jakarta, Indonesia, Ratikant Kar from Washington DC, Raghunath Pani, Dallas, USA, Sailendra Kumar from Pune, Anil Mishra from Hyderabad, Rasmi Ranjan Biswal. Amit Das Burma, Bijay Dash, Rudra Narayan from Banglore, Dilip Sahoo form Kudgi, Karnataka, Sh. Riazur Nabi, Bibeknanda Pratihari, from Bhubaneswar, Dipti Ranjan Behera, From Angul,Aniraban Chakroborti from Mumbai turned up virtually.
Everybody turned emotionally ecstatic refreshing their past memories, recounting their present state and experiences. Putting aside the family and professional burden, everybody went 20 years back to recreate the then college, classrooms, corridors, Laboratory, hostel, teachers, staff, and students in mind's eyes.
They all stayed in the Shastrinagar Hostel which turned out to be the cascade of their lovely memory. The familiar jokes, humor, funs and frolic of the bygone days revived lively on the online platform. Roaring laughter and smiles from the cores seemed to be unending.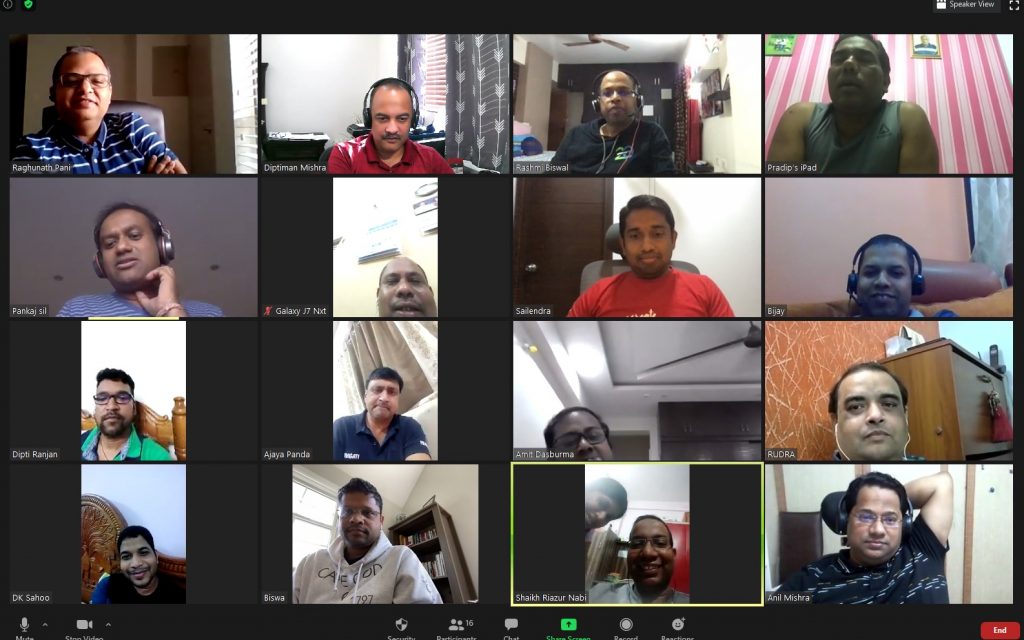 Eventually, the emotional session folded to climax with a firm commitment among the friends to do something united for the larger interest of Odisha and India. Productive discussions were made on the system of education being followed in different countries and how the same can be implemented in India and particularly in Odisha in the context of new education policy 2020.
Chairman of Pragati Group of Institutions Mr. Ajaya Panda showed eagerness to implement the program being followed overseas for a pedagogical development of students in Odisha. Friends are committed to repeat such meet frequently irrespective of their hectic schedules.