Mumbai, 28th Sept: Due to the prevailing Corona pandemic, Pashnim Odisha Parivaar resorted to celebrating Nukahai Bhetghat in both 2020 & 2021 online. With Maa Samaleswari's blessings POP celebrated the Nuakhai Bhetghat 2022 on 25th September 2022 at Swatantraveer Savarkar Auditorium Dadar Mumbai by the members with lots of enthusiasm. The packed auditorium spoke volumes about how they were missing their favorite event for 2 years.
The program started with Maa Samalai Puja by senior most member Shri Satyanarayan Panda followed by Prasad Sevan with Nuakhai Juhar to each other the members. Traditional sweets like Khiri, Manda Pitha, Kakara Pitha, and Arisa Pitha were enjoyed by all.
Son of soil Dr.Santrupt Mishra, Director HR of Aditya Birla Group was the chief guest. Shri Abhijit Patankar, Chief Commissioner of Income Tax – Mumbai was the guest of honor. Speaking to the audience Dr.Mishra recalled his childhood days at Burla & short schooling at Pattnaikpara School, Sambalpur. Smt Alka Santrupt Mishra, Special DG – National Academy of Indian Railway – Vadodara spoke about her love for Sambalpuri Saree.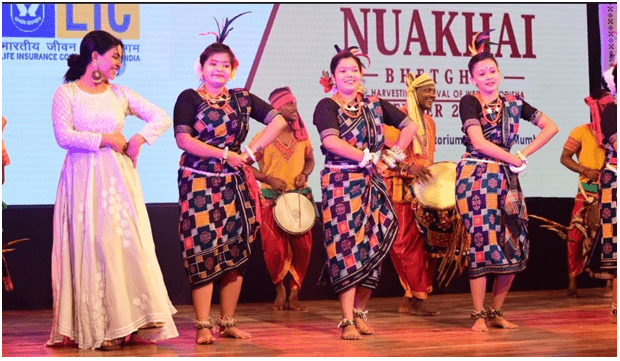 Celebrity guests Ms. Shubhangi Atre Poorey famous for her role of Bhabi in "Bhabiji Gharpe Hain" and Shri Tanmaya Vakharia famous for his role as Bagha in Tarak Mehta Ka Ulta Chashma also joined the program. They entertained the audience with their famous dialogues from those tele series. They also danced to Sambalpuri Tune with the dancers from Sambalpur Kala Parishad. Subhanghi also appreciated her love for Sambalpuri Sarees.
The 10th issue of the souvenir "JUHAR 2022" was unveiled by all the guests present at the function.
Folk dance troupe team Sambalpur Kalaparishad entertained the audience with their Sambalpuri songs and dance. For the 1st time in our 15 years of history, a few members staged a play based on Nuakhai Bhetghat by Prabasi Sambalpuria in the USA written by Shri Debu Panda from the USA and directed by the son of soil & successful TV actor Shri Aftab Karim. It was appreciated by the audience.
The 1st Paschim Odisha Parivaar Mumbai Gaurav Samman 2022 was presented to veteran actor-director of Hindi & Odiya cinema Padmashri Sadhu Meher for his lifetime achievement. Chief Guest Dr.Santrupt Mishra presented a shawl & memento to Padmashri Sadhu Meher.
Shiv Sainik Smt. Reena Mudliyar provided shelter to eleven-month-old baby Priyanshi Pujari daughter of a POP Mumbai member Rajashri & Pritam Pujari after both
of them turn Covid positive & needed to be hospitalized during 1st wave of April 2020. She kept her for 21 days leaving her own small kids as special guests at the event. She was honored with a flower bouquet & Sambalpuri Shawl by Smt Alka Santrupt Mishra. She narrated her experience with the order from her leader current CM Shri Eknath Shinde to keep the baby and she was initially reluctant but had to comply with the order. She now has developed a bond with Priyanshi Pujari and talks to her regularly. According to her, now she got a 3rd baby. She promised to be part of our Nuakhai Bhetghat every year.
A detailed video on activities of Juhar Foundation – Mumbai which is the social work arm of POP Mumbai was played on stage. Volunteers & other people who have contributed to the growth of the organization were honored with a memento & shawl. A request was made to all the members to extend technical and/or financial support to run the flagship education project VSS Fellowship program. Several members volunteered to provide the much-needed support.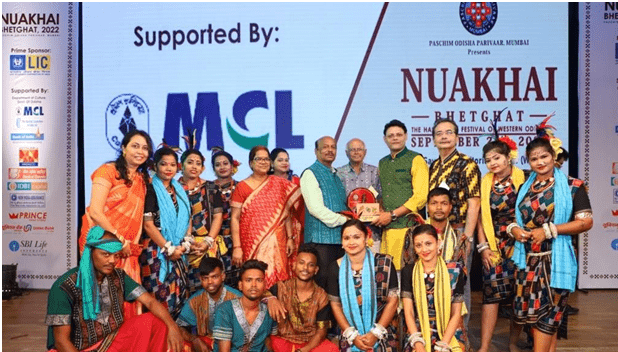 Members enjoyed the delicious Odia food – Ghanta & Ambila – in lunch. One Maharashtrian guest spoke on stage about how he enjoyed the taste of Ambila.
Finally, the Sambalpur Kalaparishad team was presented with a trophy for their outstanding performance.
Senior Member Shri Shubendu Pattaink thanked all the sponsors with a special thank to LIC for being the Prime Sponsor. He also thanked all the guests, artists, and members for making the event a grand one.