Pragati Degree College, Bhawanipatna, a premier avenue of education in Kalahandi, organized a Webinar, in a bid to unlock learning in the lockdown, on the theme"Wing up from campus to career" under the mentorship of Er. Ajaya Panda, secretary, and Sri Jagannath Tripathy, Principal of the Institution on 13th September 2020. The Webinar embellished with guests of eruditely seasoned professors and scholars aims at catering to the needs of 3rd and 5th-semester students.
The first session, unfolded the powerful presentation of Dr.Shyam K Masakapalli, M.tech (Kharagpur),P.hd (Oxford); associate professor, Bioxcenter, School of Basic Sciences, IIT, Mandi, HP on the topic-"Treasure hunting wonder phytochemicals".Dr.Shyam, renowned expertise on plant and microbial Metabolism, Photochemistry, and agrotechnology and a postdoctoral fellow at Oxford and Bath universities UK raised the session to stupendous height sharing his life experiences and journey from his native land to covetous IIT Campus and recounting his passion and interest for Botany. The students'responses with mesmerizingly enthusiastic note turned out to be the hallmark of the session.
The 2nd session in no less measure was presented resoundingly by Balamukunda Panda, senior faculty, Khan study group, New Delhi on the topic"Tips and tricks to crack competitive examination". Mr.panda, a versatile subject expert in Geography and an iconic IAS guide with vast teaching experiences at Vajiram & Ravi IAS coaching institute, and Gateway & ALS IAS coaching Institute, both from New Delhi and SIAS, Mumbaipresented his topic meticulously focusing on multi-facets of civil Service and other competitive examinations at National & State level. Mr.Panda had all praise for the students' online actively enthusiastic interaction and participation during the culminating session.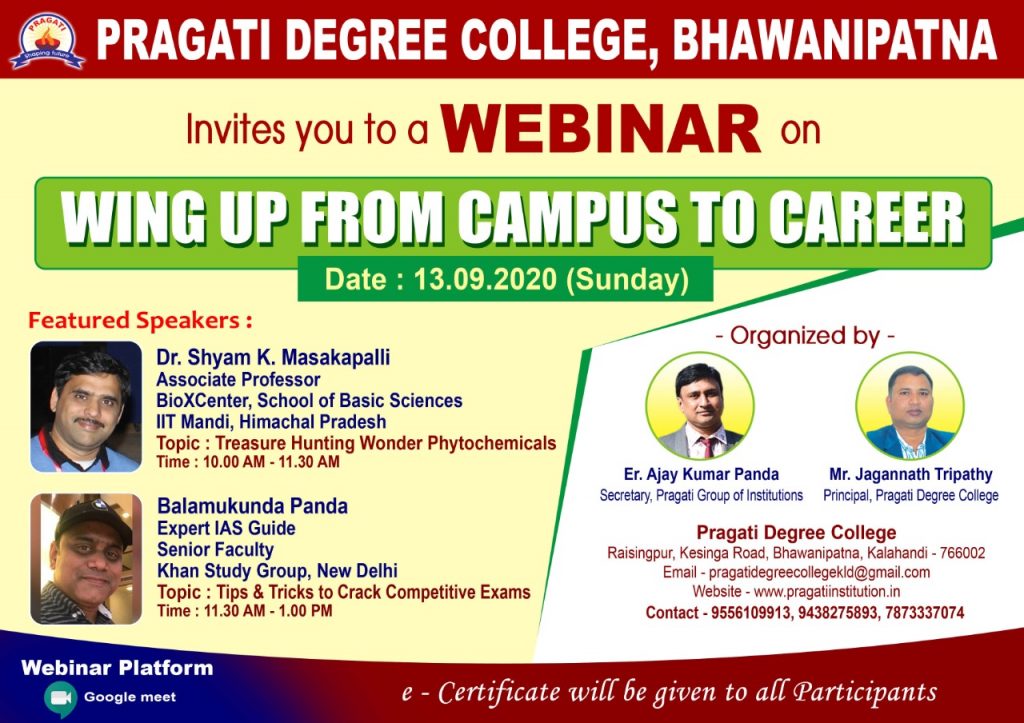 Addressing the online assembly, Er. Ajaya Panda, the pioneer, and secretary of the Institution highlighted the need for such Webinar during the lockdown to boost the morale and confidence of the students. Further, he reiterated his commitment to hold Webinars of such magnitudes periodically to let students realize their sky-high ambitions. Mr.Jagannath Tripathy, the principal of the Institution, urged the students to have commitment and discipline to realize their goal.
The Webinar was wonderfully coordinated by Mr.Santosh Kumar Pattnaik, Lect-in zoology keeping in unison the guests, the mentors, faculties, students, and staff online. Eventually, the webinar reached its culmination with a vote of thanks to the congregation tendered by the Principal.