Gone are the days when Kalahandi was stigmatised as a realm of poverty and miseries. Unlike the past, the fate and fortune of farmers and farming of the district is a different story altogether. Thanks to the iconic Indravati Irrigation project for enhancing the power and produce of the land.Today the farmers of Kalahandi are equipped enough to go beyond the traditional farming of staple food. To our admiration, they dare to  pursue the farming of exotic flowers and fruits. In this respect Baishnaba Sahu can be reckoned as an excellent example .Cultivating Dragon fruit,an exotic fruit successfully, Sahu weighs in the efficiency of Kalahandi farmers & farming on a global scale.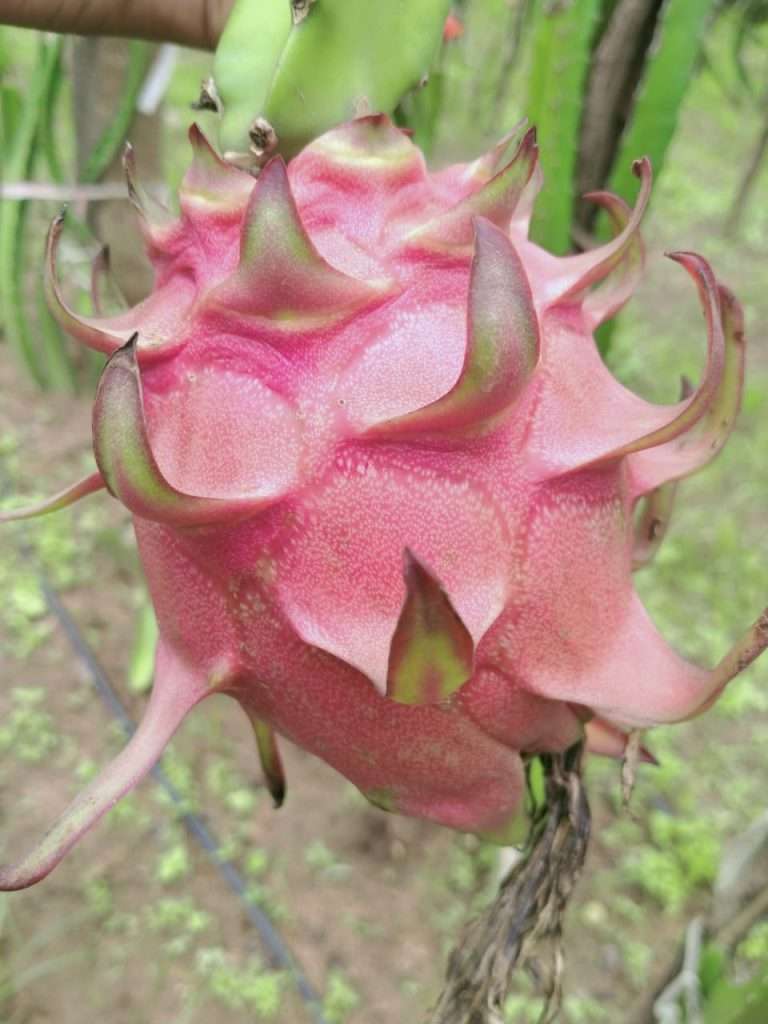 As an exotic fruit, the demand of Dragon fruit is sky high weighing Rs 500 /_ per kg. In Abroad, people are greedy enough love to devour this fruit. Gradually the fruit is being cultivated in different provinces of India. The States like Chhatishgarh, Maharashtra and Karnataka etc are at the fore front of heralding a successful story on Dragon fruit cultivation culminating with a sale at Rs 300 /-  to Rs 400 /- per KG. Nevertheless, Odisha's farmers are not lagging behind for its this praiseworthy produce. though a substantial success is a reachable longingness.
Amid such a locus standi, Mr.Gouranga Sahu, a farmer who comes under low with feeble economic vertebra group of Village : Bankel in Bamak Panchayat under M. Rampur block in Kalahandi district has turned out to be a successful farmer in cultivating the exotic flowers fruit in bulk.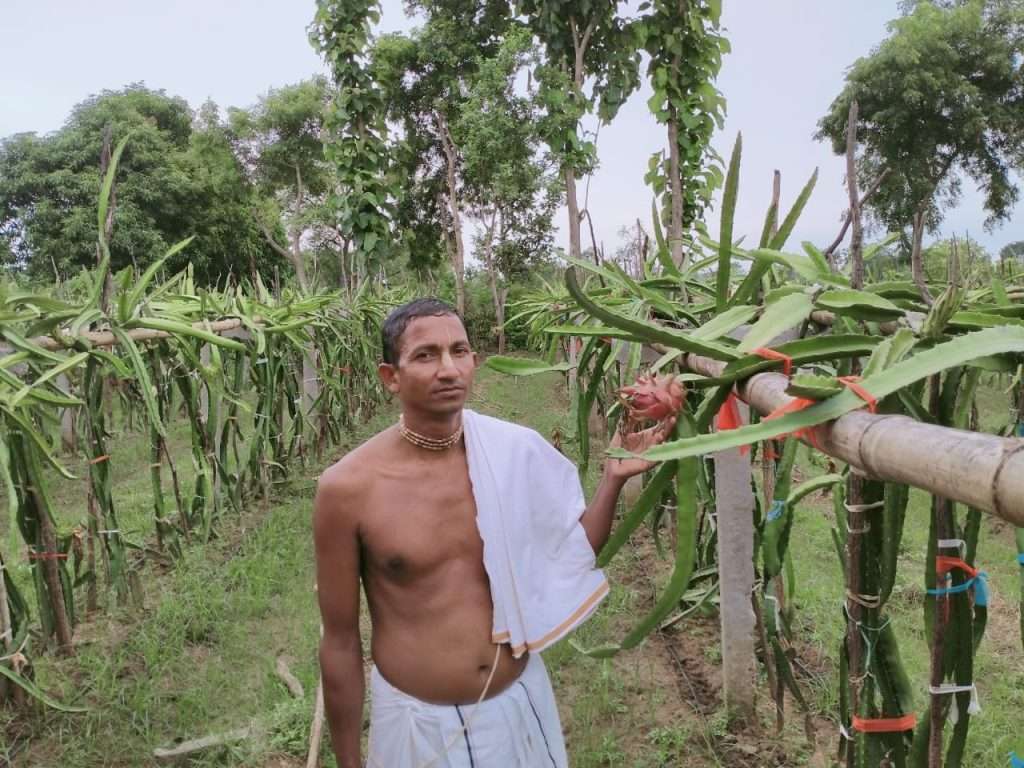 Mr.Sahu, a youthfully budding farmer has transitioned turned into a source of inspiration, even during lockdown , for the cultivating community of the district and state as well. Cultivating the exotic flower fruit successfully amid the adverse ambience of lethal corona virus, ,Mr. Sahu has earned a sizable profit. 
After matriculation he was compelled to wind up his academic study in the wake of unavoidably adverse situation and pursued vegetable farming. Meanwhile , being an ardent devotee of ISCON right from his childhood, he had been to Dwarika in Gujarat on a pilgrimage. At Dwarika , he stumbled upon Dragon fruit farming and developed a keen fascination for its cultivation.
Even he stayed there for two and half years to master the training and technique of Dragon fruit cultivation. Eventually, being equipped with the art of Dragon fruit cultivation, he returned home in 2018 buying about 1000 saplings of the exotic plant at Rs 100 /- per piece. He started his venture by cultivating the fruits in a paltry land of 20 decimals. Although the initial output was discouraging, yet he did not lose his nerve. In July last year, he had a  praiseworthy  production.
    Amid the gloomy game of lethal atmosphere of Corona lockdown when everyone is waging a war for life and livelihood, Mr Baishnaba has erected his economic vertebra backbone rather strongly by selling Dragon fruits. The cost of the fruit in abroad is about Rs 500 /- per KG where as in our country and particularly in Odisha, it ranges from Rs 300/- to Rs 400/-
per KG.
However, Baishnaba is selling it at Rs 300/- per KG. As a Dragon tree survives for 20 years, Baishnaba is optimistic about multiplying his present 700 trees to 4000 in an acre of land through hybridization.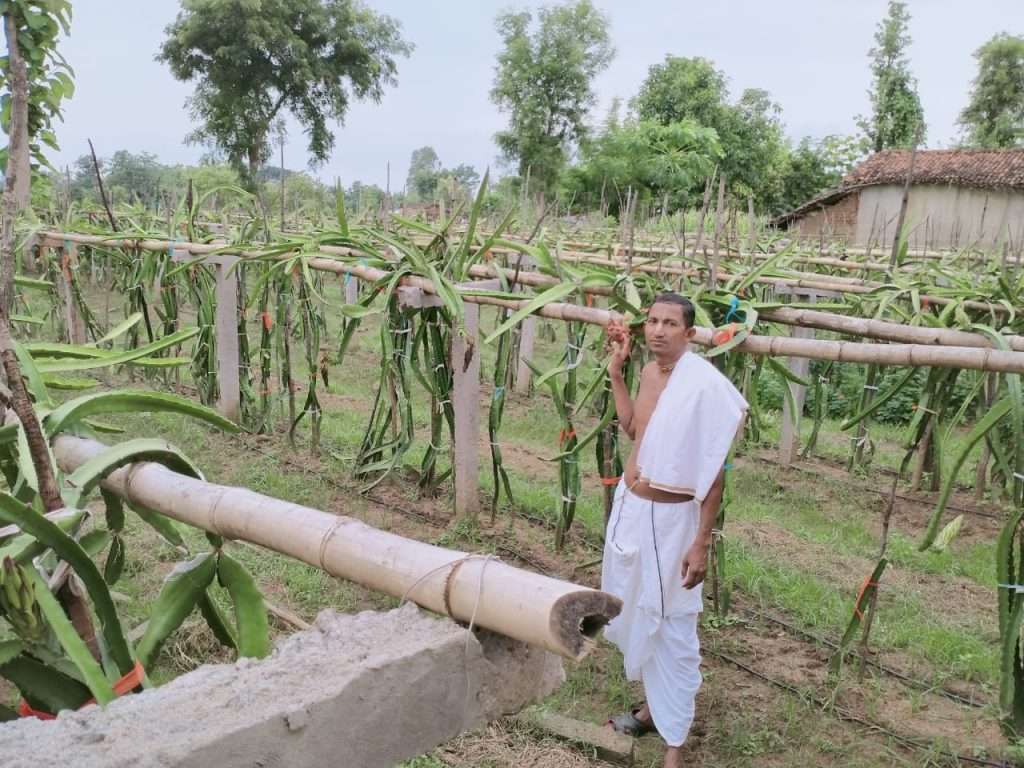 Further he believes that Massive production of the fruits would inevitably pave the way for feasible market and marketing as well.He expected to earn annually no less than Rs 500000/- in a meagre land of 20 decimals.
 Meanwhile ,Baishnaba has rendered himself into no less than an ambassador for the propagation, production and marketing of this exotic fruit .As such touring village to village of M.Rampur and Karlamunda blocks, he is selling and creating awareness and acquaintance among the people about this unique fruit.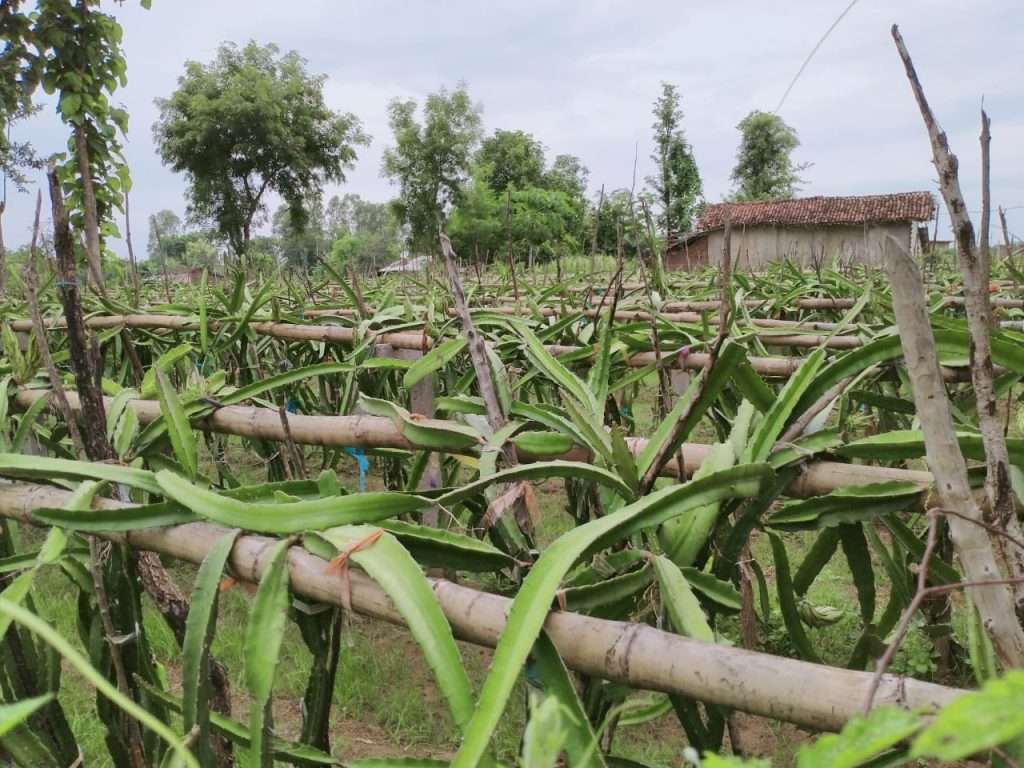 According to him, failures of some farmers with respect to the production of the fruit in different parts of Odisha can be attributed to lack of proper training and awareness among the cultivators.But for its foreign origin and being new to our state,even the Department of Agriculture,Government of Odisha can hardly provide technical aid and advice to our aspirant farmers.
Eventuall, he asserted optimal optimism about a sizable production and profit by our farmres on the condition that the the government at the centre and state must come out with a vision and mission to turn the exotic one into indigenous.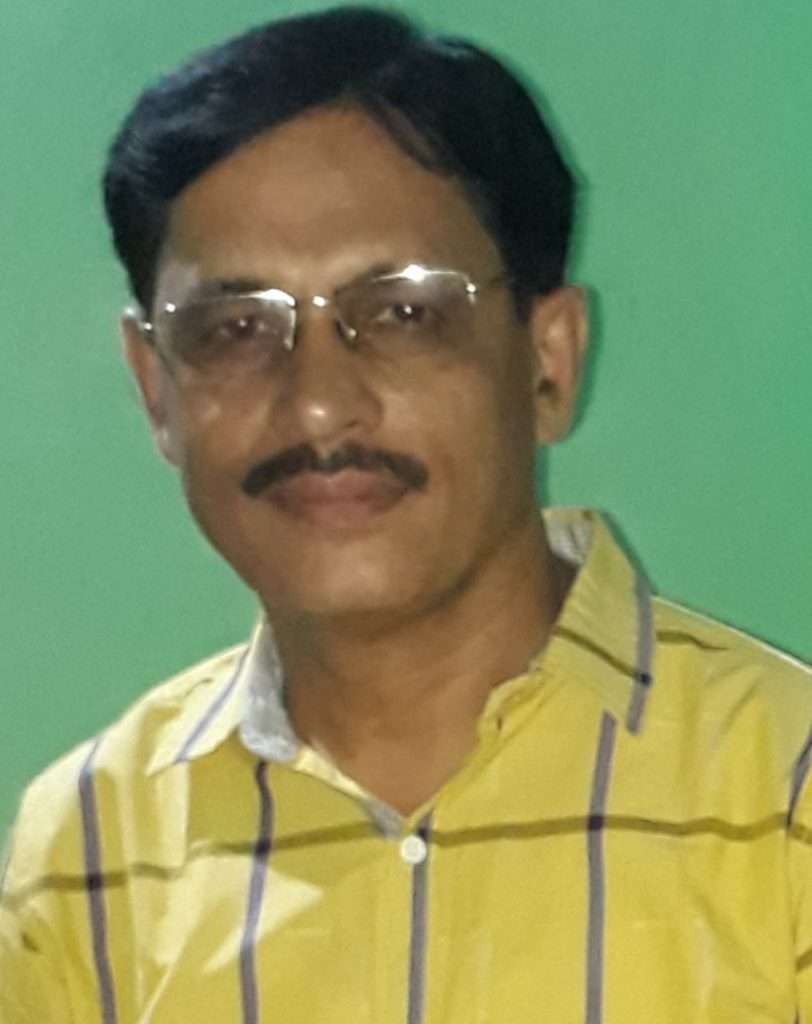 Bankim Mund
Lecturer in English
Dharmgarh Women's Jr. College, Dharamgrh, Kalahandi Mob 8327717672
You can reach to him : [email protected]