The pervasively azure sky tinged with tender Sun rising above the age-old mountains echoing the dancing fountains amid mystic wilderness and the vast verdancy adorned with huesome blossoms with babbling birds speaks out in volumes the eternal beauty of the vivacious nature of Kalahandi, which men, in a bid to mar the mundane mire, have been yearning for ages for pious peace, sheer serenity and spiritual solace and complete complacence. Assuming such exquisite beauty and possessing historical heritage,Gudahandi Dokri Chanchara , though yet to find a room in the map of tourism, inevitably perpetuates the legacy of aestheticism, tourism and historical perceptions.
LOCATION:
"Road leads to roads"-well said by illustrious American poet, Robert Frost and you tooadhering Frostian philosophy canfind roads and routes that lead to "Gudhandi-Dokrichanchara" if you are passionate about beholding its panoramic beauty and perceiving pre-historic heritage. On road you can have your access from Bhawanipatna, the district head quarter and Bhubaneswar, the state head quarter covering a distance of 90 KMs and 540 KMs respectively. As to the geographical location,theever longing spot coincides with 82°35´ east and 19°39´ North longitude and latitude respectively and its sea levelmeasures 1617 ft high. Today'sGudahandi and Dokrichanchara lie in Sahajkhol reserved forest of southern forest division of Kalahandi district in Odisha.
GEOGRAPHICAL GENRE:
Sahajkhol reserved forest spreads within an area of 1200 sq. ft lies at the south-east of the adjacent village,Khaligarh and towards the north of the village,Behera dam(Kabatdara pool)has been constructed by blocking the area, about50 meters, betweentwo curved mountains 'Poda dangar' and 'Kanshian dangar' to facilitate agricultural irrigations.The main source of this dam happens to be 'Dumer Tura Nal', a small river, which in turn has caused the origin of waterfalls of Dokrichanchara and eventually flowing past Khaligarh along east to west,all the water gets drained into Behera dam. Obviously,'Kabatdara' reservoir seems to have existed in remote past.As per a popular folk tale, the waterbody belonged to The Mahabharata period and was the work of Bhima, the second Pandava.Before reaching Dokrichanchara, one has to go past Haladigundi,Gudahandi and Amarlipi.Haladigundi is a stony flat floor, a unique of its kind in view of the fact that no sooner dothe rays of the evening Sun startsprinkling aroundthan it looks yellowish conjuring up the reminiscence of a pervasive mustard field with turmeric hues all along.The onlookers beholding such a golden sight turn ecstatic.
TALES & LEGENDS:
Gudahandi -Dokrichanchara encompases many a fascinating tale, story and legend.According to one popular legend,a certain king, probably descendant of Ganga Clan took refuge along with his queen in Khaligarh forest in the wake of the fierce rebellion by his subjects.The king and queen hid themselves in two separate caves situated in two different mountains. As the rebels' rigorous search for the king ended in a fiasco,they,out of fury,set the caves on fire, which resulted the tragic death of the king inside the cave.As the queen came to know about her husband's death, she broke down and eventually committed suicide by jumping into a deep water body.To one'sinformation, thethree mountainsin which the king, his mentor and the queen took shelter separately are known, even till date,as"Raja Pagad","Yogi Pagad" and "Rani Pagad" respectively.With the passage of time the deep waterbody and the vast plane paved with stones, in reminiscence of the queen,evolved to be known as Dokri Dara and Dokrichanchara respectively. Sincethen the local people started worshipping the queen as'Dokri devi' and with the ebb and flow of time,She has transitioned into the presiding deity of Dokrichanchara area.The rustic people seek the pious blessings of Maa Dokri for the successful accomplishment of any event or occasion of their day to day life. Even before venturing into the forest for collecting things for their livelihood, they pray the deity with passionately religious passion and fervor.
SCENIC SIGHTS:
Many a waterfall and rivulets enhance the scenic beauty of Dokrichanchara to manifold. The most famous among them are 'Bhainra Ghumar' and 'Dokridar'waterfalls, bothhavinga height of 200 ft. Bhainra ghumar waterfall is also known as Bhairav dhara, for the name is derived from the tribal God-'Bhainro'.At the falling point of Bhairav,there is ditch like structure named as 'Sita Kund'. It is said that,its resounding ripplingsare quite akin to the musical note-'Ghum.. ghum.. ghum.."of the Ghumura, the famous folk music of Kalahandi.These apart, some peripheral rivulets like San Bhaira Ghumar,Chandan dar,Punai dar and etc add further beauty and splendor to the enchanting site.
MYTHOLOGY :
Myriads of mythological tales Pertaining to Dokrichanchara are in the air.As per one mythological tale,Lord Sri Ram, Sita and Laxman in the course of their 14 years exile had passed through this forest. Their foot prints are still found on some flat stones of Dokrichanchara. Even the existence of 'Jhoti', a kind of drawing thereon is believed to have been the handiwork of Maa Sita.What is more, the research and findings of Dr.Rajendra Gupta,an eminent researcher and Professor of Delhi University labelling the site as Ramayana's Kishkindhya further reinforce such mythological belief.Putting forward as many as ten evidences, Prof. Gupta opined that there has been close affinities between thedescriptions in the Ramayana and Khaligarh-Gudhandi-Dokrichanchara. His thesis on "The first Archaeological Ramayana site : A Kalahandi rock shelter as Ram's home during the 14th years exile" has already been presented at the Annual session of Indian Archaeological society, Bhubaneswar and at 5th International Congress ofSociety of South-Asian Archaeologist(SOSAA), Raipur in 2014.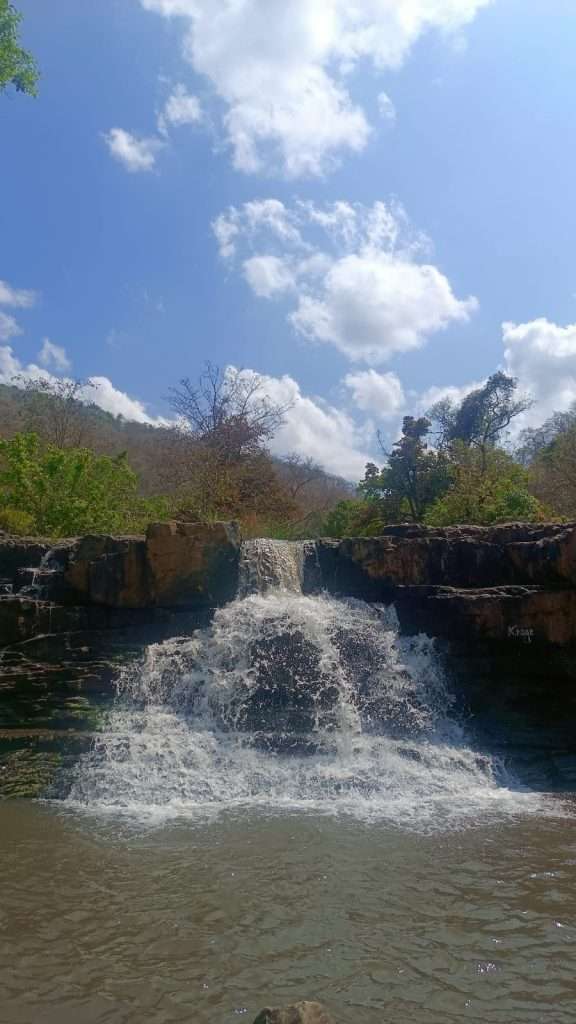 MADHU MADHABA KSHETRA:
It is said that once there were abounding beehives across the length and breadth of Dokrichanchara and had conjured up Madhuban(Honey forest).Consequently, some saint named Raghu Chandra baba designated the place as Madhu Madhaba Kshetra and which eventually evolved into Madhu Madhaba Pilgrim place over the ages.Later Raghu Chandra baba enshrined the'Linga' of lord Siva in Jhada forest and started worshipping lord Shiva as Jhadeshwar. In its vicinity there liesa shallow well called 'Punny Kunda'. As soon as one tkes a holy dip therein, there emerge innumerable milky bubbles in no time. A dip therein is believed to have washed away all the sins of human life. Obviously, there is hardly any visitor who leaves Dokrichanchara without having a dip therein.Even people perform mundane rituals(offering hair to god on ritualistic pursuit)here.At a stone's throw distance from the Punnya Kunda, there lies "Rishi Gumpha"(cave of saint).A certain saint used to render meditation amid its serene and peaceful ambiance.Beneath the Rishi Gumpha, there is Swarga Ganga or Akash Ganga and at its adjcent, there lies "Kalpa Bata"(A holy banyan tree) since time immemorial. On beholding this age-old tree, people turn emotionally and devotionally ecstatic.
CRADLE OF CIVILIZATION :
In no way it would be redundant to entitle Kalahandi as "Cradle of Civilization"in the wake of the the glimpses of human activities in pre-historiccave paintings coupled withpaleolithic -mesolithic stone toolsof hunter gatherers found in various parts of Kalahandi including Gudahandi-Dokrichanchara zone of Shajkhol reserved forest of southen forest division of the district.
Three small hills, allof curved length taken together,are known as Gudahandi as they together resemble to a pot with a lid on.The word 'Gudahandi', is derived from two Odia words 'guda' means raw sugar and 'handi' means a clay pot.
Pre-historic pictographs, drawingsand inscriptions, date back to 25000 to 2000 CE, crafted on the stone walls of Gudahandi cavesmake the site worth visiting, particularly for beholding and perceiving the pre-historic crown of Kalahandi.
At Gudahandi, the facades and the walls of the natural cavesexhibit east-west orientation adhering to 19°31.2'N and 82°42'E latitude and longitude.They are decorated with beautiful drawings in ochre red and blue black tint.As many ad 31 specimens of paintings, said to have been detected earlier, are fast fading for want of proper care and preservation. One of the interesting specimen of these pre-historic drawings happens to be a hunting scene, which depicts Pre-historic man throwing a stone missile at a running bison.The missile unfailingly hits the target before the agile right hand of the hunterrestores to its normal position and the wounded animal turning its head towards the savage man casts a pathetic look.Another paintings depicts a certain figurine standing on the back of an animalpossessing a lotus head.Its hands,displayed in outlines,consist of eight and four fingers in left and right palms respectively.These apart,varieties of geometric patterns of single or double squares and rectangles either empty or filled in with straight and diagonal lines or dots on the border grid patterns,wheels with spokes, apsidal patterns, oval shapes with dots executed either in monochrome of red or in polychrome of red, blue and blackspeak out in volumesthe pre-historic traditionof Odisha. Moreover,the availability of Hand axes and scrappers, which are of pre-historic oeigin,in Khaligarh-Gudhandi and Dokrichanchara further reinforces the inhabitation of pre-historic men in Kalahandi.
RESEARCHERS' REACH:
All praise for late Satya Narayana Rajguru, who for the first time in 1946,projected the historical heritage of Gudahandi in public domain,may be nationally and internationally,by publishing his research paper on Gudahandi-Dokrichanchara in Kalinga Historical Journal, issue-09. Mr. Rajguru in his research work focused more onlocational, naming aspect of Gudahandi and its affinities with Mahenjodaro civilization thanthe pre-historic cave paintings and drawing.Nevertheless, his endeavors in no less measure can be a stepping stone for the future researchers to reveal the historical mystery and Marvell of Gudahandi -Dokrichanchara.
Apart from Mr. Rajguru, the other one who deserves to enjoy our overwhelming appreciationfor his research on "Gudahandi Caves' isnone but Mihir Routray, Lecturer in Zoology in Government College,Bhawanipatna during 1970 to 1972. Mr. Routray's research and observation on Gudahandi cave paintings was published in the illustrious Odia magazine, Jhankar(November1972, issue-08,serial no-24).Mr Routray in his research paper illustrated as many as 31 drawings.Thereafter, Prof.Sadashiba Pradhan of Utkala University, Bhubaneswar, through his research,confined the number of paintings /drawings on the Gudahandi caves to 24.Prof. Pradhanattributed these drawings to have belonged toPalaeolithicperiod down to the Neolithic.However, all these paintings /drawings seem to be no less than a riddle and as such unintelligible.Nevertheless,what seems to be more praiseworthy with optimistic note is that the joint venture of the departments of History and Geography of Government College, Bhawanipatna (Kalahandi University ) have started research works on this iconic site and hopefully, they would be successful in their endeavours by revealing the manifold mystery and marvel and riches of Gudahandi -Dokrichanchara.
NEED OF THE HOUR TO FOSTER TOURISM :
Gudahandi -Dokrichanchara with its treasure trove of rich historical and cultural heritage coupled with nature's unravished beauty, as delineated above, can be designated on its own merit as a potential place for tourism and like puri and Konark, it would undoubtedly attract tourists in myriads from home and abroad, which in turn would inevitably generate ample employments for local people and might boost the economy of the district and the state as well. But the same seems to be no less than a nightmarefor want of right measures in unison with the concern department and private agencies and the public as well.Good quality roads,conveyance, guest house, hotels, water supply,iron rallings, rope way and above all far reaching researches and advertisementsare the need of the hour for attracting the tourists from far and near to Gudahandi -Dokrichanchara.
DOKRICHANCHARA -GUDAHANDI MOHASTAV:
Atinge of pious and spiritual ambience was sprinkled all over this enchanting realm in the wake of construction of a beautiful temple of Lord Ram, Sita and Laxman in 1972-73and initiation of seven days long 'Dokrichanchara -Gudahandi Mohastav' to mark the pious Ram Nabami, the birthday of Lord Sri Ram are all thanks to the lavish donations and contributions of economically deprived but religiously abounding rustic people.
May the vivacious voice of 'Dokrichanchara -Gudhandi Megha Festival' for the cause of this ever enchanting site be far-reaching to entitle the place as "Treasure trove of Historical heritage &scenic sights."
(The views expressed are the writer's own)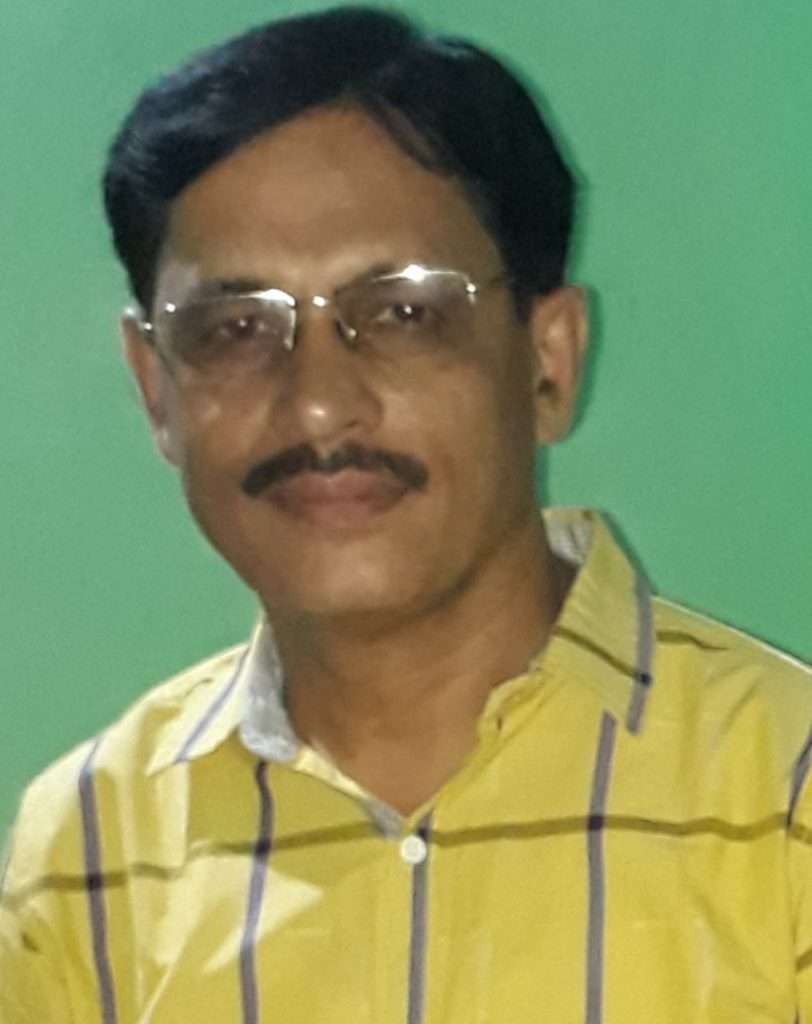 Bankim Mund
Lecturer in English
Dharmgarh Women's Jr. College, Dharamgrh, Kalahandi Mob 8327717672
You can reach to him : [email protected]
(Images are collected from net)