Phanindra Pradhan
Bhawanipatna, Sept 05: Vice-chancellor of Central Tribal University of Andhra Pradesh, Prof TV Kattimani said tribal knowledge system should be recognised as Indian knowledge system.
Speaking during a national webinar on 'Development of Tribal Education through Innovation & Technology' on Sunday, he said the Covid-19 pandemic has recognised tribal knowledge system besides tribal living style, tribal medicinal style, tribal mental style and tribal phycological style as the finest one.
He further said tribals are born innovators and they know how to earn livelihood from their traditional knowledge.
Moreover, they know how to make their life comfortable by adopting their innovative practices, he said.
He also stressed on mother tongue education for tribals and steps should be taken to upgrade their knowledge system with proper utilisation of technology and opening up of innovation training centres.
Apart from this, spoken English and Hindi skills of the tribals should be developed so that they can express themselves. The tribals have to be ambassadors of their ownership, he added.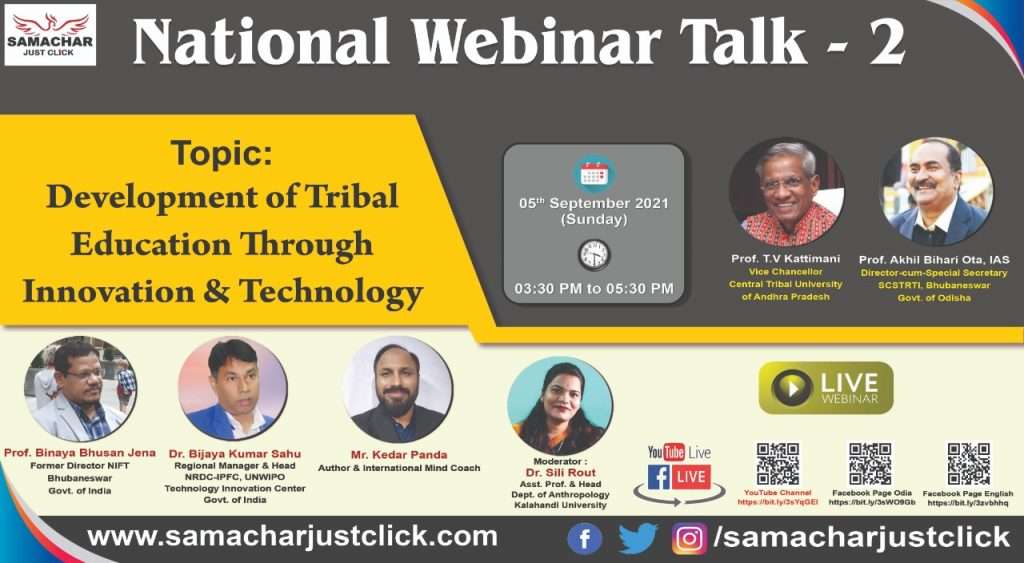 Director-cum-Special Secretary, SCSTRTI, Bhubaneswar, Govt of Odisha, Prof Akhil Bihari Ota said education aims at livelihood and priority should be given to indigenous knowledge. Tribals should be educated beyond the school curriculum, he said.
He stressed on skill development and value addition besides digital marketing of various products generated by the tribals. It is high time to identify various tribal products and popularise them with proper GI tag, he added.
Former Director, NIFT, Bhubaneswar, Prof Binaya Bhusana Jena also advocated mother tongue-based education and adoption of technology in education. He said the government should develop teaching materials in the local dialect.
He said technology must reach the doorsteps of tribals and steps should be initiated to promote digital tools and technologies among the tribal students.
Regional Manager & Head NRDC-IPFC Technology Innovation Centre, Govt of India, Dr Bijay Kumar Sahu said technology plays a pivotal role in reforming and transforming the society.
Laying thrust on innovation, he said innovation converts knowledge into money. Innovation is the key for development, he added.
Author and International Mind Coach, Kedar Panda said inner engineering or internal education is vital for development of tribals. Apart from internal education, perception has to be changed, he said.
The role of moderator of the webinar was performed by Assistant Professor & Head, Department of Anthropology, Kalahandi University, Bhawanipatna, Dr Sili Rout. The technical support was provided by Niranjan Mahapatra of Odisha Library Academy.